Posted on
22 January 2016
Protection Crisis
By Robert Piper, the Humanitarian Coordinator for the occupied Palestinian Territory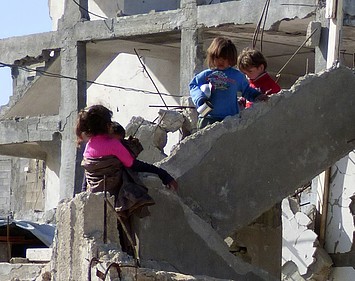 Forty-eight years of occupation of the Palestinian territory by the State of Israel has left many Palestinians highly vulnerable. Whether they find themselves in 'Area C' – that 60 per cent of the West Bank still under Israeli civil and military control – or in a village or East Jerusalem neighbourhood isolated between the Barrier and the 'Green Line' or in Gaza, locked-in by a land, air and sea blockade, theirs is a precarious existence. These people living under occupation – 'protected persons' according to international humanitarian law – need and deserve a robust protection response from the humanitarian community. This remains our main priority.
Protection can take many forms. It ranges from indirect measures, including the monitoring of home demolitions, negotiating access of staff and material and advocating for accountability for IHL violations, to more direct measures like accompanying students exposed to settler violence on their way to school, providing psycho-social assistance to the children of Gaza, or the removal of unexploded ordnance after the last Gaza hostilities.
This protection imperative permeates all of our work. It informs our efforts to deliver basic services – particularly water, health, housing and education – to those highly vulnerable Palestinians currently denied this right. It explains our mounting concern for those households struggling to cope with recurrent shocks – demolitions, obstructions to livelihoods, outbreaks of violence – and who we are seeing turn to increasingly negative coping strategies that risk placing their families on an even more fragile trajectory.
And while these concerns are present throughout the occupied territory, to differing degrees, these stresses are most acute in Gaza, where the suffering resulting from 2014's 51-day hostilities are compounded by the effects of an eight year blockade and by internal Palestinian divisions that have generated their own set of shocks and stresses. The quicker Gaza's recovery and reconstruction efforts go, the quicker the residual humanitarian needs that are addressed in the following pages will reduce.
The humanitarian operation in the oPt shares many of the features of other operations around the world. We will deliver food assistance to 1.4 million people. Health care to 1 million. Shelter assistance to 200,000 and much more. Yet the context of oPt is unique - a protracted protection crisis that stems from the impact of occupation. A crisis that urgently requires a political resolution.
* This article was published as a foreword to the Humanitarian Response Plan 2016.