Some 320,000 West Bank ID holders permitted into East Jerusalem for Ramadan Friday prayers
As in previous years, UNOCHA and humanitarian partners monitored the checkpoints controlling access into East Jerusalem and Hebron during the holy month of Ramadan (5 May- 4 June 2019), identify potential protection risks and possible mitigation measures for Palestinians seeking to cross the checkpoints. Particular attention was given to the most vulnerable amongst those seeking access including children, pregnant women, the disabled, and the elderly. This monitoring also informs UNOCHA's analysis of broader access trends. On the four Fridays of Ramadan 2019, monitoring teams comprising staff members from UNOCHA, the Ecumenical Accompaniment Programme in Palestine and Israel (EAPPI) and the United Nations' Office for Human Rights (OHCHR) observed access at permitted entry points into Jerusalem (Qalandiya, Gilo/Bethlehem and Zaytoun) and access into the Old City of Jerusalem. In addition, monitoring teams were stationed at the entrance of the Al-Ibrahimi Mosque in the H2 area of Hebron.
With the exception of men aged over 55 and women over 50, West Bank ID holders require a permit to access East Jerusalem throughout the year.[1] During the month of Ramadan, the Israeli authorities put in place special measures that have a positive impact on the right of Palestinians to freedom of movement, to freedom of worship and to family life, all of which are otherwise restricted throughout the rest of the year. In 2019 the Israeli authorities made significant investment in the checkpoint infrastructure, (estimated to be as high as NIS 300 million) which included additional measures specifically aimed to facilitate access for Palestinian residents to East Jerusalem. These investments included increased provision of humanitarian lanes at Qalandiya and Gilo Checkpoints to serve the most vulnerable and additional buses from the checkpoints to the Old City of Jerusalem. Together with the regulations applied to manage access to East Jerusalem on the four Fridays of Ramadan 2019, these measures enabled women of all ages, and men under 16 and above the age of 40 to cross without permits; men between 17 and 39 years of age needed to apply for permits.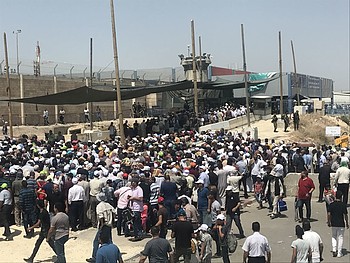 In addition, during Ramadan, West Bank ID holders were able to apply for family visitation permits to enter East Jerusalem and Israel on all days of Ramadan and the Eid al Fitr holiday, which marks the end of Ramadan, excluding entry on Fridays and Saturdays. In Ramadan 2018, family visitation permits for 100,000 people were allocated for Ramadan and Eid al Fitr. For 2019 an additional 50,000 family visitation permits were allocated for West Bank ID holders.[2] According to information received, no special Ramadan permits were issued this year for the residents of Gaza.
As shown in the graph, a total of 319,783 West Bank ID holders were permitted into East Jerusalem for Ramadan Friday prayers, with the majority of people passing on the last Friday and via Qalandiya checkpoint. Fewer people crossed into East Jerusalem in 2019 than in Ramadan 2018 as there were only four Fridays this Ramadan instead of five last year and Laylat al Qadr [3] (Night of Destiny) coincided with the fourth Friday of Ramadan.
Overall, in comparison to previous years, this year recorded fewer incidents of disrupted access and casualties.[4] Access to Jerusalem during the four Fridays of Ramadan 2019 showed general improvements in processing persons crossing through the three checkpoints. In large part this can be attributed to the installation of speed gates at Qalandiya and Gilo checkpoints by the Israeli authorities for people holding magnetic ID cards in early 2019.[5]
Ramadan Access Figures, 2008-2019

The operation of humanitarian lanes
The allocation of humanitarian lanes at checkpoints greatly facilitates access for vulnerable people. As in previous years, the Israeli authorities introduced special arrangements to facilitate the crossing of people at the three designated checkpoints, including separate lanes for men and women and dedicated lanes for humanitarian cases. The authorities also installed latrines and created shaded areas for those waiting to pass through the checkpoints. In addition, volunteer paramedics were on site, and wheelchairs were available at Qalandiya and Gilo checkpoints where volunteer staff stood ready to assist vulnerable people.
Despite these positive developments, the journey from the remainder of the West Bank to East Jerusalem remained particularly challenging for vulnerable groups such as children, pregnant women, the elderly and people with chronic illnesses or disabilities. These challenges included the lack of clear criteria on eligibility to use humanitarian lanes; the lack of visible signs indicating the availability of humanitarian lanes; and long walking distances leading to the checkpoints, and between the checkpoints and buses. Those permitted to use the humanitarian lanes were primarily men and women in wheelchairs, accompanied by volunteer paramedics. On the second and third Fridays at Qalandiya checkpoint use of the humanitarian lanes was extended to men over the age of 55. However, it was found that specific categories of vulnerable people, such as pregnant women, persons accompanying infants, the elderly and persons with chronic illnesses were generally not able to use the humanitarian lanes, an area for improvement in the future.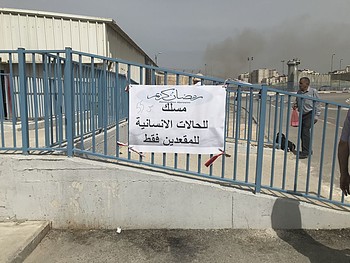 Sustained access challenges
Despite access regulations allowing men over the age of 40 to cross checkpoints into East Jerusalem without permits during Fridays in Ramadan, several hundred men in this category (including elderly and men accompanying children) were reportedly denied access to East Jerusalem. This was particularly evident at Qalandiya and Gilo checkpoints on the last three Fridays. While no specific reason for the denial of access was provided it is understood that it was related to security concerns.
Status of East Jerusalem
The unilateral annexation of East Jerusalem to Israel following the 1967 war is not recognized by the international community. The UN has resolved that ''it will not recognize any changes to the 4 June 1967 lines, including with regard to Jerusalem, other than those agreed by the parties through negotiations".[6] Since the early 1990s, Israel has imposed a closure on East Jerusalem, citing security concerns severely limiting the access for most Palestinians by requiring Palestinian residents of other parts of the West Bank and the Gaza Strip to obtain access permits in order to access East Jerusalem.
Access to Al-Ibrahimi Mosque in Hebron during Ramadan
Access and movement to the Al-Ibrahimi Mosque was generally steady over the four Fridays of Ramadan and was enhanced compared to previous years. Although, there were a record number of 18,000 persons in the first week, the second and the third week noted a steady decline, which can be attributed to a number of factors, including security restrictions and a heatwave. The two sections of the mosque were accessible based on the agreement detailed in the 1997 Hebron Protocol. Special arrangements included separate entry points for men and women. The Palestine Red Crescent Society (PRCS) ambulances and emergency teams were allowed to reach the entrance of the mosque. Positively during each of the four Fridays, there were reduced checks and physical searches at the checkpoint leading to the mosque and access was generally eased.
Personal Story: "Praying in Al Aqsa during Ramadan holds a big importance to us."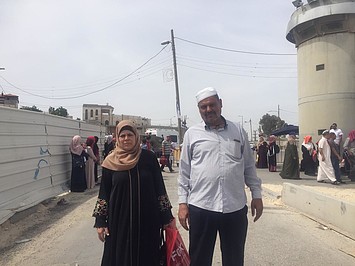 Mahmoud Hassan Sheikh Ali is a 55-year-old refugee from Tulkarm refugee camp in the north of the West Bank. He came to pray in Al Aqsa Mosque with his 54-year-old wife Khairiya Hasan on Friday 24 May. This was their third successful access to Jerusalem this year through Qalandiya checkpoint.
Mahmoud explained: "I haven't been crossing for Ramadan Friday prayers for about ten years; I have a chronic lung condition. The journey from Tulkarm was very difficult. Taking public transportation was not an option for me since I have a respiratory problem. This year I purchased a small car, which I parked as close as possible to the West Bank side of Qalandiya checkpoint."
Men under the age of 55 usually need a permit to cross into Jerusalem but during Ramadan the Israeli authorities allow men over the age of 40 to cross for Friday prayers. Mahmoud explains: "We have relatives here in Jerusalem. Sometimes there were family weddings that I could not attend as I only turned 55 recently. My wife usually goes to visit our relatives, or our relatives visit us, but I couldn't cross so I haven't been to Jerusalem for many years. Now during Ramadan, we can both cross and we are very happy about that. Praying in Al Aqsa Mosque holds a big importance to us as it is the most sacred site and one prayer during Ramadan is worth a lot. We are also going to cross next week as Friday will fall on Laylat al Qadr."
Mahmoud and Khairiya started their journey from Tulkarm at 9 a.m. "This week access was generally easier than the previous weeks and we got through quickly. I passed through the humanitarian lane since I am over 50 and it was very easy. My wife entered in previous years because it is much easier for females. However, it is not a trip for the ill and elderly. There are long distances to be walked on foot. This is particularly difficult for older and weak people. The humanitarian lane is good but the buses should be closer to the checkpoint. At least some buses should be assigned for the elderly and weak."
Mahmoud and Khairiya have five sons and one daughter. However praying as a family remains a challenge. Their daughter aged 33 is married and can cross to East Jerusalem every Friday during the month of Ramadan, while the five sons need permits. Mahmoud explains further: "My oldest son is 32 and has a work permit. My youngest son is 17 and needs a permit, while my other three sons got visitation permits during Ramadan and Eid al Fitr, excluding Fridays and Saturdays, so they cannot cross for prayers. I wish my sons could come to pray with us as well."
---
[1] As of 15 March 2015.
[2] According to COGAT, these measures included permits for residents of Arab countries to visit relatives in the West Bank; flight permits through Ben Gurion airport for these visitors; and the extension of the crossing hours of various crossings and gates. See here
[3] Laylat al Qadr falls on the 27th of Ramadan and is considered by Muslims as the holiest night of the year.
[4] With the exception of the third Friday at Qalandiya checkpoint when 70 Palestinians, including 45 females and 30 children, were injured as a result of severe tear gas inhalation. OCHA Protection of Civilians Report, 21 May – 3 June 2019
[5] COGAT account, 21 February and 11 April 2019 .