Posted on
8 December 2015
Protection Cluster partners respond to needs resulting from escalation in violence
The escalation in violence since 1 October across the oPt triggered a range of interventions by members of the Protection Cluster (PC). These interventions fall within four broad categories: monitoring and documentation; legal aid; psychosocial support; and a protective presence. Several incidents during this period heightened concerns about the safety of humanitarian workers and human rights defenders, and the undermining of their ability to provide a protective presence where it is most needed.
Monitoring and documentation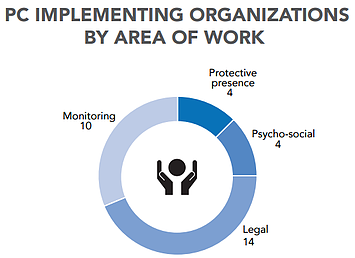 The documentation of events and monitoring of related violations of international humanitarian and human rights law is ongoing by ten different PC members. Work focuses on casualties, arrests and detention, violations of children's rights, restrictions on movement, and collective penalties related to punitive demolitions and the revocation of residency status. Partners engaged in these activities sometimes face difficulties in reaching the scenes of killings, or speaking with witnesses and the families of those deceased, injured or detained for fear of reprisals and punitive measures by the Israeli authorities, especially in East Jerusalem and Hebron. The UNICEF-led monitoring and reporting mechanism technical working group on children and armed conflict (MRM CAAC) is documenting the effects on children of the escalation of violence.
Legal interventions
The Legal Task Force, a sub-working group chaired by the Norwegian Refugee Council (NRC), is coordinating legal responses by 14 Palestinian, Israeli and international NGOs.[1] These include the channeling of relevant cases and questioning the legality of measures adopted in response to violence through various legal procedures: supporting individuals to file complaints with the relevant authorities; providing legal representation; and sharing of information with international human rights mechanisms on issues of concern.
The legal interventions have sought to address accountability for killings and excessive use of force; arrests and detention of both children and adults; settler violence; punitive demolitions and residency- related issues; access restrictions in East Jerusalem; and the retrieval of the bodies of perpetrators or alleged perpetrators.
Psychosocial interventions
Three Palestinian organizations[2] and UNRWA provide a psychosocial response through the Mental Health and Psychosocial Working Group in East Jerusalem. UNRWA also provides psychosocial responses in refugee camps in the rest of the West Bank. This response has focused on children who are prosecuted for security offences and released, and support to families affected by the killing or serious injury of one of their members.
A number of additional interventions have been conducted in schools, where mental health and psychosocial support teams address children impacted by violence, such as the death of a classmate, raids on their school, and searches at checkpoints or settler violence while en route to school.
Partners have provided guidance materials for parents and teachers on how to communicate with children about the current situation and respond to signs of distress. Gaps have been identified regarding community-based referral pathways for those in need of individual support.
Protective presence
Currently there are four PC members dedicated to providing a protective presence at checkpoints or accompanying children to and from schools. This is inadequate to meet the increased need resulting from the escalation in violence, in particular in East Jerusalem, in some refugee camps and in the Israeli-controlled part of Hebron city (H2).
Staff and volunteers in Hebron city have experienced intimidation and physical assaults from Israeli settlers. They have also faced arrests and raids on offices by Israeli forces, and access restrictions and denial of entry visas. On 3 November, the Israeli authorities banned the entry of international staff to a main road in the H2 area linking the Tel Rumeida and Beit Hadassa settlements, which has been the scene of a number of deadly incidents.
During October, 15 different PC organizations (Israeli, Palestinian and international) provided a coordinated protective presence in 64 hotspots vulnerable to settler violence during the olive harvest.
* This article was contributed by the Office of the High Commissioner for Human Rights (OHCHR)