Posted on
23 October 2019
Mothers at risk: limited access to medicine and family planning services compromises maternal health in Gaza
* This article was contributed by the UN Population Fund.
For Sahar Al Nabaheen, the lack of access to regular, high-quality family planning information and services has all but defined her life. At 31, she lives with her husband and their six children in Al Bureij Camp, Middle Area Gaza. Three of Sahar's pregnancies were unplanned due to a lack of available contraceptives. With her and her husband unable to find work, her family of eight are living on no income.
At any given time, there are around 45,000 pregnant women in Gaza. While the mortality rates among women in childbirth in the occupied Palestinian territory (oPt) have sharply declined over the past 25 years, there are indications that 2018 recorded a worrying reversal in the trend.[1] According to the Ministry of Health in Gaza, so far in 2019 (as of end August) there were as many maternal deaths as in all of 2018.[2] A review is ongoing to ascertain the contributing factors, such as possible weakened primary health care, stock outs of essential drugs and disposables, and lack of access to family planning services.
According to the Ministry of Health in Gaza, so far in 2019 (as of end August) there were as many maternal deaths as in all of 2018.
Years of blockade and other movement restrictions on people and goods, including medical resources, the deepening intra-Palestinian political divide, and a chronic energy crisis, have led to a serious deterioration in the availability and quality of health services in the Gaza Strip.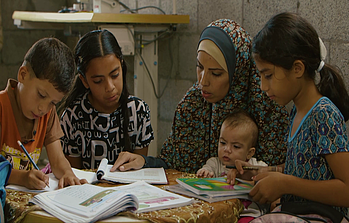 Continued stock outs of essential life-saving maternal and child health pharmaceuticals and disposables are significantly impacting services and are increasingly placing pregnant women and newborns at risk of disability and death. While this has been a longstanding issue in the Gaza Strip, the situation since 2018 has sharply deteriorated: the percentage of essential medicines with less than a month's supply increased from 38 per cent in 2017 to 46 per cent in 2018, reaching 50 per cent in August 2019. Maternal and child health pharmaceuticals are regularly the most affected by the stock outs. Moreover, so far in 2019, an average of 42 per cent of essential medicines were completely depleted, with no stocks left in the Gaza Ministry of Health (MoH) Central Drugs Store.
Percentage of essential drugs at zero stock level (less than a month of stock)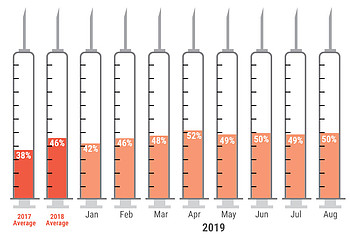 Items affected by recurrent shortages include iron and folic acid, used to prevent and treat common forms of anemia resulting from micronutrient deficiencies in pregnancy. These shortages have contributed to a rise in anemia, which in 2018 affected nearly 40 per cent of pregnant women.[3] Anemia in pregnancy increases the risk of complications for the mother, such as hemorrhage and decreased ability to tolerate blood loss, possibly leading to circulatory shock and death, as well as increased risk of preterm delivery and low birth weight babies.[4]
Additionally, two out of the five essential family planning supplies (progesterone only pills and male condoms), have been at zero stock at MoH and UNRWA clinics in Gaza for much of 2019. Family planning is essential to save lives, as unplanned pregnancy is a major underlying cause of maternal death. Globally, it is estimated that around 44 per cent of maternal deaths could be avoided if the woman had had access to family planning.[5] Most of the remaining maternal mortality cases could be avoided with access to quality medical care during and after pregnancy.
"Sometimes, I go to the hospital and I can't find my medicines," Sahar said. "We receive these medicines from Ramallah, but often they arrive late or they don't arrive at all".
The shortage of drugs in Gaza has been partly driven by the financial crisis affecting the Palestinian Authority, which is responsible for their supply in Gaza too. Additional factors include the increased strain on the health system due to mass casualties from the Great March of Return demonstrations, as well as the unpredictability of medicines shipments to the Gaza Strip, in the context of internal Palestinians tensions.
The situation affects women like Sahar across the Gaza Strip. Sahar has a chronic blood disorder called thalassemia which, in her case, requires life-long treatment, including occasional blood transfusions. Repeated blood transfusions can cause a build-up of iron in the body, which means Sahar requires medicines to remove excess iron.
"Sometimes, I go to the hospital and I can't find my medicines," Sahar said. "We receive these medicines from Ramallah, but often they arrive late or they don't arrive at all".
Sahar's story is one of many, stressing the urgent need to address existing shortages and gaps in Gaza, including for maternal and child health, hematology and family planning supplies.
The UN Population Fund (UNFPA), with support from the UN Central Emergency Response Fund (CERF) and the government of Japan, has since July 2019 delivered life-saving maternal health drugs and disposables for government and NGO maternity wards, which support around 20,000 pregnant women in Gaza. However, even with the support provided by UNFPA and other humanitarian agencies, 70 per cent of essential maternal and child health drugs remain at zero stock in the MoH.[6] These drugs are critical to ensuring that no woman dies giving birth and that children can live long and healthy lives.
UNFPA is procuring the most critically needed drugs, such as antibiotics and oxytocin, which are used to stop severe bleeding after child birth (post-partum hemorrhage), one of the most common causes of maternal mortality globally.
The drugs and disposables procured with CERF funding are delivered to the MoH to be used in maternity wards across the Gaza Strip, as well as NGO hospitals; Sahaba Hospital, Al-Awda Hospital, and Al Amal Hospital.
---
[1] According to MoH in Gaza, there was a decline from 74 deaths per 100,000 live births in 1994 to 5.9 deaths in 2017, which subsequently increased to 16.7 in 2018; as of end August 2019 there were as many maternal deaths as in all of 2018. A UN global report estimates that in 2017 there were 27 deaths per 100,000 live births in the entire oPt (Gaza and West Bank), but it does not provide comparable figures for other years. (Trends in maternal mortality 2000 to 2017: estimates by WHO, UNICEF, UNFPA, World Bank Group and the United Nations Population Division).
[2] Gaza Maternal Mortality Committee.
[3] MoH in Gaza presentation April 2019
[4] Young, M. (2018). Maternal anemia and risk of mortality: a call for action. The Lancet Global Health, 6(5), e479-e480. doi: 10.1016/s2214-109x(18)30185-2
[5] The lancet: Maternal deaths averted by contraceptive use: an analysis of 172 countries
[6] MOH in Gaza – End of August 2019