Posted on
14 February 2020
Mobile clinics: funding for delivering basic health care to vulnerable communities in West Bank drying up
This article was contributed by the World Health Organization
This dusty tent in a remote part of the northern Jordan Valley is normally home to 11 women and girls from the Daragmeh family in Al Maleh herding community in Tubas governorate. But for the past 14 years, for two days a week, it has also periodically functioned as a health clinic, providing primary healthcare to some of the region's most vulnerable people.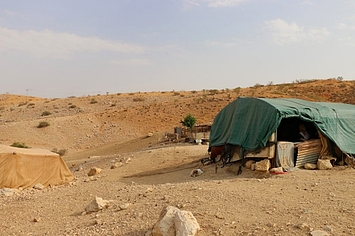 With no electricity or clean running water, and providing limited privacy, it has been the only space available to provide the women and girls of this community with routine, non-emergency healthcare services. The mobile clinic visits Al Maleh twice a week with a doctor, a nurse and a midwife, with patients using the Daragmeh tent for consultations during the visit.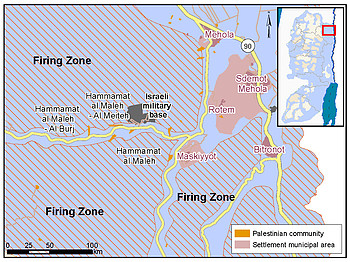 Al Maleh consists of three separate residential areas, home to over 200 people.[1] Water in the community has to be trucked in and stored in tanks. This water is purchased at significantly higher costs than piped water, adding a financial burden on vulnerable families. According to clinic gynecologist, Dr Watan Rajab, there is no guarantee the water is clean, creating multiple issues for women: "women suffer from regular and painful infections such as urinary tract infections, vaginitis or inflammation of the vagina."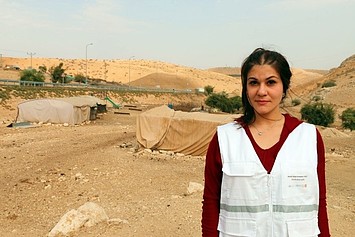 Fifty-nine-year-old grandmother Amal (real name withheld) lives 17 kilometers from the nearest hospital in Tubas town. "I have chronic blood pressure issues and I don't know what to do about it. I was told I had to see a heart specialist in Tubas, but it is stressful and costly to get there, because no public transport is available. Private transport costs 50 shekels [US$14], and I don't have the money. That's why the service for Al Maleh is so important for my family."
The mobile clinic in Al Maleh is part of project implemented by a Palestinian NGO, the Union of Health Work Committees, which serves 20 communities in the Tubas, Hebron and Bethlehem governorates. The project is supported by the World Health Organization (WHO), in partnership with the international NGO, CARE International, and the Palestinian Authority's Ministry of Health, with funding by the UN Central Emergency Response Fund (CERF).
The clinics operated by this project provide general practice consultations (to address chronic and severe illnesses); women's health services (for family planning; pregnancy needs, and to address gender-based violence); in addition to mental and psychosocial services; health education; basic laboratory services; and home visits. From May 2019 and through the end of 2019, these mobile clinics provided more than 16,700 primary healthcare consultations, with 65 per cent of those targeting women and girls.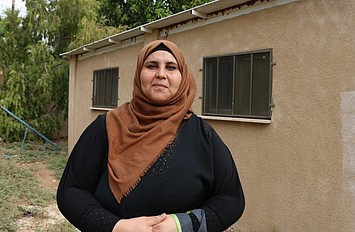 It is estimated that over 100 vulnerable communities in Area C of the West Bank, home to about 162,000 Palestinians, have limited or no access to primary healthcare and are therefore in need of mobile clinics services. This is primarily because of the restrictive Israeli planning regime, which prevents the construction of the necessary facilities, as well as the prevailing access and movement restrictions, which impedes access to main service centers.
These restrictions on access to basic health services are one component of a coercive environment affecting many Palestinians across the West Bank, particularly in Area C. Other elements include the demolition and threat of demolition of homes, schools and livelihoods lacking issued building permits; denial of service infrastructure; access restrictions on farming and grazing land; poor law enforcement on violent settlers; the active promotion of 'relocation' plans; and revocation of residency rights, among others.
Frush Beit Dajan, 800 people, located east of Nablus in the Jordan Valley is also affected by a highly restrictive Israeli planning regime, along with restrictions on access to its traditional farming and grazing land, much of which is designated as a firing zone. The health concerns the community face, include respiratory infections, diarrhea, chronic pain, hypertension and women's health issues.
According to Mahmoud (real name withheld), one of the community leaders, "due to Israeli planning policies, we haven't been able to build a proper clinic. A mobile structure, originally provided as a children's play area, must double both as a clinic and a village meeting room. We're surrounded by three settlements and a checkpoint and there is no public transport, so it's challenging getting to the nearest hospital, a 40-kilometer drive away."
In emergency situations, the need is exacerbated. According to mother-of-two Ghada Abu Gheesh, "I got distressed recently when I had two emergencies and couldn't get assistance. First, my son had a severe cut and bleeding, then my daughter had burns, and I had no car to get help."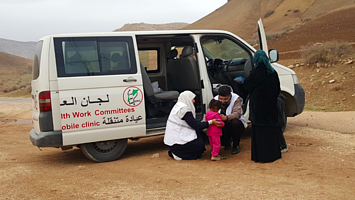 Although Mahmoud appreciates the support of WHO and other providers, ultimately, he wants his people to be respected as human beings and given lifelong access to health: "The most important thing for humans is access to health for life. It's about securing dignity, access to health and education and life saving measures."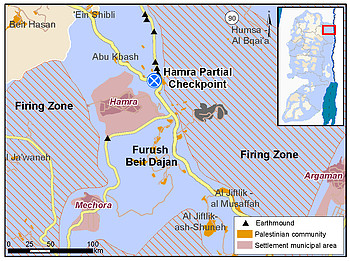 At the end of 2019, mobile clinic coverage of communities in Area C fell from 85 to 60 per cent of people in need, according to WHO's tracking system, due to severe funding shortages and the conclusion of two major humanitarian projects funded by CERF. Al Maleh and Furush Beit Dajan are among the communities left without access to essential healthcare.
For 2020, WHO and Health Cluster partners, are requesting US$2.7 million through the Humanitarian Response Plan to ensure access to essential primary health care services, through mobile clinics, in the West Bank. These resources would enable WHO to deliver services to 176 communities and expand coverage to more than 120,000 out of the more than 160,000 in need. This funding would also support capacity building in first aid and preparedness for frontline health workers in local communities, to help them respond to emergencies when services are not available.
---
[1] These include Hamamat Al Maleh – Al Meiteh, Hamamat Al Maleh, Hamamat Al Maleh – Al Burj.