Increase in Palestinian live ammunition injuries in clashes with Israeli forces
In 2016 about half of Palestinian injuries from live ammunition occurred in refugee camps
During July and August, nine Palestinians were killed in the West Bank by Israeli forces, mainly in clashes during search and arrest operations (four cases), or during Palestinian attacks and alleged attacks (three cases). Those killed included a 27-year-old pregnant woman shot dead in the H2 area of Hebron city, after allegedly trying to stab a border policeman; a twelve-year-old child hit by a rubber bullet fired by Israeli soldiers during clashes with Palestinian stone throwers in Ar Ram town (Jerusalem); and a 38-year-old man with mental health problems who failed to respond to orders to stop and was shot while walking near a military tower at the western entrance of Silwad.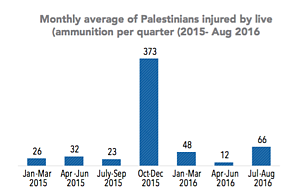 Clashes with Israeli forces during search and arrest operations, demonstrations and spontaneous stone throwing incidents across the West Bank also resulted in the injury of 509 Palestinians: 361 men, 11 women, and 130 boys and 7 girls. Another 25 Palestinians were injured in the Gaza Strip during protests near the perimeter fence, and during Israeli airstrikes and tank shelling on 21 August that targeted military training sites and facilities. Although no fatalities were recorded, these attacks, which followed the firing of a projectile into southern Israel, were the most intensive since the 26 August 2014 ceasefire.
In July and August one Israeli settler was killed and another 16 Israelis were injured, including six soldiers and three children. The fatality was a 48-year-old man driving near Hebron who was shot by a Palestinian; his wife and two children were injured.
Increase in Palestinians injured by live ammunition in the West Bank
Although the number of injured Palestinians fell during July and August compared with the monthly average during the first half of the year (255 vs 277), the number of injuries caused by live ammunition more than doubled (66 vs 30). The number of injuries from live ammunition is over 60 per cent higher than the average for the period January to September 2015, but still well below the average for the last quarter of 2015, which witnessed the most serious escalation in violence in the West Bank during the past decade.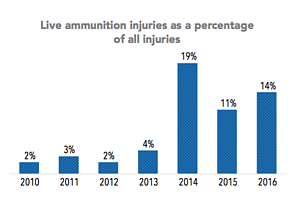 Multi-year data indicate a rise in the percentage of injuries from live ammunition in recent years. The high figures recorded in 2014 can be attributed to the violent clashes during July and August in protest against the hostilities in Gaza.
Refugee camps - hotspots for clashes
The most violent clashes during July and August took place in the densely-populated refugee camps and accounted for some 25 per cent of all injuries, including two-thirds of injuries from live ammunition. These clashes mainly occurred during search and arrest operations in the governorates of Hebron, Bethlehem and Ramallah. From the beginning of 2016 until the end of August, around half of injuries from live ammunition (153 out of 312) occurred in West Bank refugee camps, almost all during search and arrest operations.
One of the most serious clashes took place on 16 August in Al-Fawwar refugee camp (Hebron) during a search and arrest operation, which camp residents described as the largest in years, possibly since the second Intifada. During the operation, a 19-year-old Palestinian youth was killed and another 51 residents were injured, including 31 injuries from live ammunition. Many of the latter were shot in their lower legs, either just under their knees or near their ankles.
Israeli forces entered the camp at around three to four in the morning and, according to the Israeli army Spokesperson's Unit, encountered stones and Molotov cocktails.2 The Israeli forces fired tear gas canisters, stun grenades and live ammunition. The tear gas permeated homes and resulted in multiple cases of severe inhalation. The soldiers occupied a number of homes to use as vantage points and to site snipers on rooftops. During intensive house searches, the army caused extensive damage to homes, including six cases of holes made in walls. The troops remained in the camp until around eight in the evening.
In Ad Duheisha Camp in Bethlehem governorate, Israeli forces carried out seven search operations in July and August. Three of these developed into violent confrontations, which resulted in 17 injuries, all from live ammunition and mainly in the lower limbs.
Concerns over excessive use of force
Law enforcement officials, including members of the armed forces acting in that capacity, have a duty to protect the public and the right to protect themselves. However, firearms are only to be used to the minimum extent necessary when less extreme means are insufficient to protect others or themselves from an imminent threat of death or serious injury, or to prevent the commission of a crime involving grave threat to life. Whenever the use of force and firearms is unavoidable, law enforcement officials should – among other measures – exercise restraint and act with proportionality, taking into account the seriousness of the offence and the legitimate objective to be achieved, and ensuring that damage and injury are kept to a minimum. In particular, the use of firearms with intent to kill must be a last resort, when strictly unavoidable in order to protect life.3
In September the Israeli media reported that the Israeli military had launched a new training programme to equip soldiers deployed in the West Bank with non-lethal measures to address "the changing nature of threats" facing them.4
The frequent use of firearms in densely-populated areas, as described above, and the resulting deaths and serious injuries raise concerns about the possible use of excessive force that may have led to unnecessary serious injuries and unlawful killings. The Israel authorities have an obligation to conduct prompt and effective investigations into these cases and to hold potential perpetrators accountable.
R., a 15-year-old from Ad Duheisha Camp
R. was shot with live ammunition on 1 August 2016 when clashes erupted during a search and arrest operation in Ad Duheisha refugee camp. According to R., he was shot three times in the legs by a sniper. A friend who ran to assist him was also shot twice in the legs. Palestinian Red Crescent (PRSC) paramedics evacuated them to hospital. R. had to undergo six surgical operations and requires further medical treatment to avoid future disabilities.
R. is finding it difficult to attend school with his crutches, but is determined not to miss his education. He said, "I love reading about Greek mythology and philosophy. I am a big fan of Aristotle and Alexander the Great. I want to be a great man and a philosopher like Aristotle."