High level of demolitions continues across the West Bank
A vulnerable herding community in the Jordan Valley targeted for the third time this year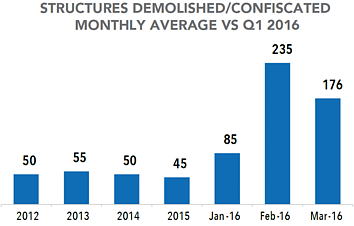 In March, the Israeli authorities demolished or confiscated 176 Palestinian structures, displacing almost 200 people, including 77 children, and otherwise affecting an additional 274 people. This is almost four times the monthly average for demolitions in 2015. Most demolitions were on the grounds of lack of a building permit, which is nearly impossible to acquire. Roughly 83 per cent of the structures demolished were in Area C (146), 16 per cent were in East Jerusalem (28) and two were punitive demolitions in Area A. Almost 500 structures have been demolished and more than 650 people displaced in the first quarter of 2016.
More than half the structures demolished (94) were located in the Palestinian community of Khirbet Tana (Nablus). The targeted structures included 41 homes (35 inhabited), resulting in the displacement of 123 people, among them 46 children. The other structures destroyed were agriculture-related (36), latrine units (9), traditional ovens (7), a water reservoir and a school. Khirbet Tana is home to approximately 250 people who rely on herding and agriculture for their livelihood and have lived in the area for decades. Some community structures date back to prior to the start of the Israeli occupation in 1967. The community is located in an area declared as a "firing zone" for Israeli military training purposes (Firing Zone 904A).
A longstanding petition filed with the Israeli High Court of Justice against the demolition orders pending against most of Khirbet Tana's structures was rejected in November 2015. As a result, in the first quarter of 2016, the community experienced three waves of demolition, two occurring in March and one in February.
Next to Khirbet Tana, within the boundaries of the firing zone, there are two Israeli settlement outposts, which were established in recent years without authorization from the Israeli authorities. Although the latter have issued dozens of demolition orders against structures in these outposts, only a few have been implemented.
Following a visit to Khirbet Tana, the Humanitarian Coordinator for the oPt, Robert Piper, stated that "destroying homes and livelihoods in order to place pressure on households to move places communities at risk of 'forcible transfer', a grave breach of the laws of occupation".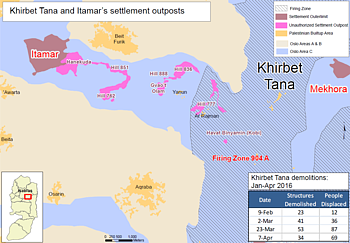 Also in March, 82 structures were demolished in 22 other communities. Only four other communities had demolitions that resulted in displacement: Ein el Qilt (Jericho), 46 people displaced; Rammun (Ramallah), 17 displaced; and Hebron city and Jinba (Hebron), eight persons displaced in each location. In East Jerusalem, 28 structures were demolished, almost equal to the total for the previous two months combined. The demolitions in the city of Hebron were punitive measures that targeted the family homes of suspected perpetrators of attacks against Israeli soldiers in November and December 2015; the displaced included three children.
During March, 32 structures provided as humanitarian assistance were demolished or confiscated, three times the monthly average for 2015. All demolitions of humanitarian assistance took place in Khirbet Tana and Jinba. The latter is also located within a firing zone in the Massafer Yatta area of Hebron (Firing Zone 918).
Large-scale demolitions continued in April
During the first half of April, the Israeli authorities demolished another 93 structures, displacing nearly 200 people. The total number of structures targeted and individuals displaced since the beginning of 2016 now exceeds the total for all of 2015. The April incidents included the fourth wave of demolitions this year in Khirbet Tana and targeted 34 structures, including 13 donor-funded structures, leaving 69 Palestinians displaced, 29 of them children.