Gaza Strip: Snapshot | June 2020
Monthly highlights
Two infants died after their exit arrangements for treatment in Israel and East Jerusalem have been delayed due to the halt of coordination between the Palestinian and Israeli authorities since 21 May.
As part of the arrangements introduced by the Palestinian and Egyptian authorities in the context of COVID-19 crisis, the Rafah passenger crossing with Egypt has remained closed in both directions since 15 May.
The volume of imports via the Kerem Shalom Crossing with Israel increased, while imports from Egypt declined; no change in the types of items imported.
Supply of potable water in parts of Gaza city improved following increased production at the Gaza seawater desalination plant.
Per capita GDP in the first quarter of 2020 dipped to US$331, down from $355 in the previous quarter. (PCBS)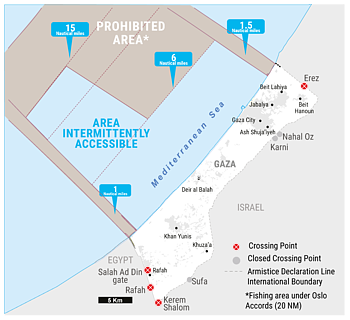 Access
255 exits of people were recorded through the Israeli-controlled Erez Crossing, a slight increase compared to May: 78 per cent were patients and their companions, whose permits were coordinated by NGOs and international agencies, while most of the rest were staff of INGOs, the UN and diplomats.
287 people entered Gaza via Erez, 42 per cent fewer than in May, and were sent to mandatory quarantine for 21 days.
14 people and three corpses were exceptionally allowed to enter Gaza from Egypt, despite the continuous closure of the Rafah Crossing due to COVID-19, and were sent to mandatory quarantine.
Some 9,600 truckloads of goods entered Gaza via the Kerem Shalom Crossing with Israel, 28 per cent above the monthly average in the previous five months. Another 407 truckloads entered from Egypt via the Rafah Crossing, the lowest volume of imports since the beginning of 2020.
Some 228 truckloads, carrying mostly agricultural produce, exited Gaza to the West Bank (180 truckloads), Israel (47) and markets abroad (15), a slight decrease compared to May (284 truckloads).
Comprehensive data on Gaza crossings is available at OCHA's interactive database.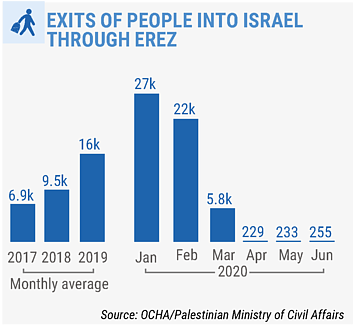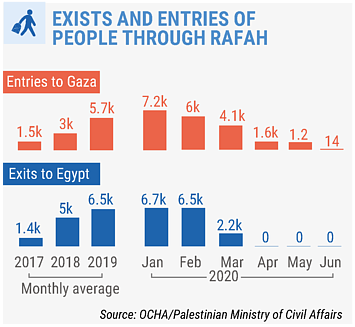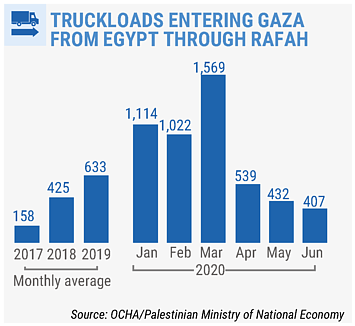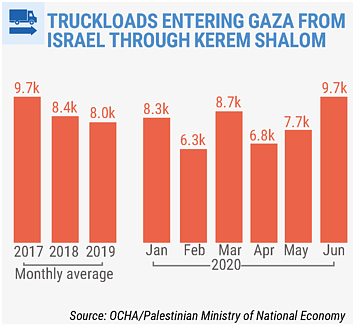 Services, Livelihoods and Shelter
The percentage of essential drugs at zero-stock reached 45 per cent in June, a slight increase compared to previous months. The shortages of drugs are taking place in the context of the PA's increasing deficit and the longstanding internal Palestinian divide.
The waiting time for elective surgeries at Gaza's largest hospital (Shifa) decreased to 18 months, down from 20 months reported since December 2019, following the readiness of additional health providers to conduct such surgeries.
Over 191,000 cubic metres of drinkable water were produced by the seawater desalination plant in June, a record high since 2017, following the operation of a dedicated electricity line since April.
Electricity was supplied during June for an average of 14 hours a day, a slight decline compared to April and May, due to the increased demand triggered by the hot weather.
An interactive database on electricity supply in Gaza is available at OCHA's website.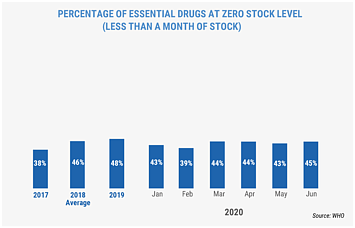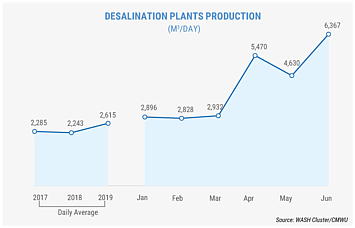 Protection of civilians and casualties
Three rockets were fired from Gaza towards Israel, following which Israeli forces attacked several, reportedly military sites in Gaza, resulting in no injuries; four homes adjacent to the targeted sites sustained damage.
On at least 82 occasions, Israeli forces opened warning fire near its perimeter fence and off the Gaza coast, presumably to enforce access restrictions.
On 11 occasions, Israeli bulldozers entered Gaza and levelled land near the perimeter fence.
Comprehensive data on conflict-related casualties is available at OCHA's interactive database.