Gaza Strip: Snapshot | February 2020
Monthly highlights
Low intensity hostilities between Israel and a Palestinian armed group continued throughout the month, without resulting in civilian fatalities.
Access restrictions on people and goods between Gaza and Israel tightened intermittently in the context of these hostilities; imports of goods through Kerem Shalom crossing declined; exit of people via Erez crossing also decreased, compared to previous month.
Water supply to Rafah area disrupted, following destruction of infrastructure in an Israeli attack.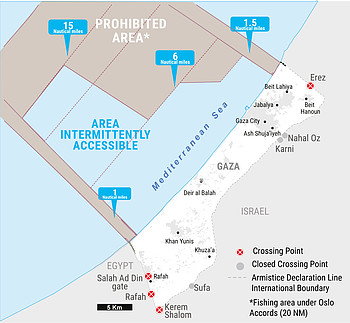 Protection of civilians
The intermittent launching of explosive/incendiary balloons and projectiles from Gaza towards Israel continued during February; Israel launched airstrikes targeting military facilities across Gaza, resulting in no fatalities on either side.
Hostilities between Israel and a Palestinian armed group escalated on 23 and 24 February: 16 Israeli and 15 Palestinians were injured, including 10 Palestinians hit by a rocket falling short in Gaza.
On at least 102 occasions, Israeli forces opened warning fire in the areas adjacent to the perimeter fence with Israel, and off the coast of Gaza. A Palestinian farmer and a fisherman were injured, while agricultural and fishing livelihoods were severely disrupted.
One Palestinian was shot dead and another was injured after planting an explosive device next to the perimeter fence.
Comprehensive data on conflict-related casualties is available at OCHA's interactive database. Click here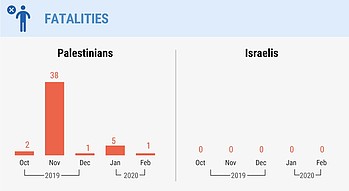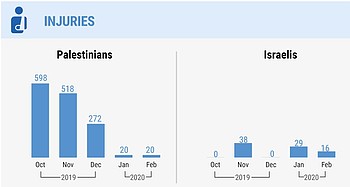 Access
In response to the continued launching of rockets and incendiary balloons from Gaza, the Israeli authorities tightened access restrictions, including halting the entry of cement for two weeks and intermittently reducing and closing the permissible fishing area.
Additionally, Israel temporarily suspended the exit permits of 500 business people; these were reinstated on 18 February and the overall quota for such permits was later raised from 5,000 to 7,000.
The Israeli-controlled Kerem Shalom commercial crossing operated on 18 days for the entry of goods (closed on two days due to the escalation), allowing the entry of 6,300 truckloads This was down from 8,300 the previous month and from a monthly average of 8,000 in 2019, attributable to the temporary ban on cement imports.
Another 1,022 truckloads entered Gaza through the Egyptian-controlled Rafah crossing, constituting 14 per cent of all imports, and a 67 per cent increase compared to the monthly average in 2019.

396 truckloads of locally-produced goods were allowed to exit Gaza via the Kerem Shalom crossing with Israel, up from 362 truckloads in February 2019 (at the height of the cash crop season).
Despite the closure of the Erez pedestrian crossing by Israel during the two-day-escalation on 23 and 24 February, some 22,000 exits from Gaza were recorded, a 38 per cent increase compared to the monthly average in 2019. Seventy per cent of applications for exit permits for patients were approved, a six per cent increase above the 2019 monthly average.
Around 6,500 pedestrian exits were recorded through the Rafah crossing with Egypt, equivalent to the monthly average in 2019. 6,000 people also entered Gaza through the Rafah crossing, a slight increase compared to the monthly average in 2019 (5,700).
Comprehensive data on Gaza crossings is available at OCHA's interactive database. Click here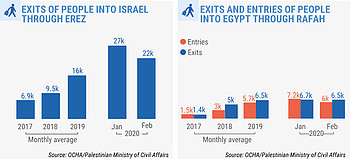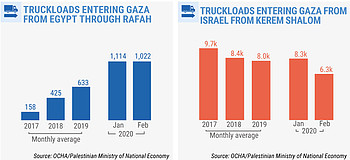 Services, Livelihoods and Shelter
A major well was hit and destroyed during an Israeli airstrike on 31 January, halting water supply to 30,000 people in the Rafah area. Partial supply to the affected households was subsequently restored from another well, at the expense of reduced supply to other areas.
Another Israeli airstrike on 6 February, damaged a pipeline used to discharge storm water from Beach Refugee Camp to the sea.
Following two shipments of medicines from the West Bank to Gaza, the percentage of essential drugs at zero stock level in Gaza's Central Drug Store decreased from 43 per cent in January to 39 per cent in February.
Qatari funding to Gaza's power plant continued during the month, allowing an average supply of electricity for 12 hours per day, up from 11 hours in January, despite increasing demand caused by the low temperatures.
The waiting time for some elective surgeries at Gaza's main hospital (Al Shifa Hospital) remains high (20 months); this may increase further in the event of a COVID-19 outbreak in the Gaza Strip.
An interactive database on electricity supply in Gaza is available at OCHA's website. Click here