Gaza Strip: Snapshot | April 2020
Monthly highlights
In the context of COVID-19 restrictions, the passenger crossings with Egypt and Israel were largely closed during April, with crossing limited to humanitarian cases. The Rafah crossing was briefly opened in one direction to allow for the return of some 1,630 Palestinians from Egypt.
Relative calm in the Gaza Strip continued. During the month, there were no incidents of rocket firing or air strikes.
Municipalities across Gaza reported a gradual reduction in basic services, particularly waste collection, due to reduced revenues since the start of the COVID-19 crisis.
The Qatari fund for purchasing fuel for the Gaza Power Plant was extended until September 2020, facilitating the provision of an average of 15 hours per day of electricity supply to residents.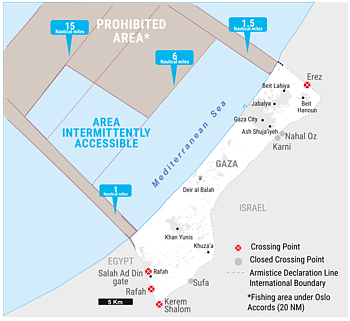 Protection of civilians and casualties
Despite relative calm, Israeli forces opened fire on at least 120 occasions to enforce access restrictions near the perimeter fence with Israel and off the coast, nearly double those recorded in March 2020. Four fishermen were injured in April.
Eight incidents of incursions by Israeli bulldozers, resulting in land levelling in Gaza, were recorded near the perimeter fence.
Comprehensive data on conflict-related casualties is available at OCHA's interactive database.

Access
During April, access was significantly restricted, particularly for the movement of people, as a result of restrictions imposed in the context of the COVID-19 epidemic.
Approximately 230 people, mostly patients and companions, exited through Erez Crossing in April, a decline of around 99 per cent in exits of people, compared to the monthly average since the beginning of the year.
Some 380 people were recorded entering through Erez into Gaza, all of whom have been placed by the health authorities in mandatory quarantine for 21 days.
As a result of COVID-19 restrictions, only 159 permit applications were submitted for treatment in Israeli or West Bank, including East Jerusalem, hospitals in April, a decline of 88 per cent compared to March (1,279).
Rafah Crossing with Egypt remained closed in both directions, except between 13 to 16 April, when it was open in one direction to allow for the return of some 1,630 Palestinians from Egypt, who were sent to quarantine centres for 21 days. (For additional details see OCHA's weekly Situation Report).
The volume of imports declined during April, compared to the previous month, with a 22 per cent decrease through the Kerem Shalom Crossing with Israel and a 66 per cent decrease through the Rafah Crossing with Egypt; this is also attributed to restrictions related to COVID-19.
Comprehensive data on Gaza crossings is available at OCHA's interactive database.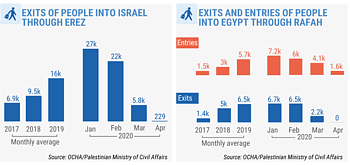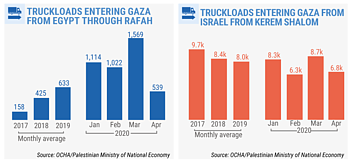 Services, Livelihoods and Shelter
The percentage of essential drugs at zero stock stood at 44 per cent, similar to March 2020.
Chemotherapy treatment for cancer patients was made available in a private hospital in Gaza, contracted by the Ministry of Health in Ramallah. The treatment was offered so that patients could avoid travelling outside Gaza and expose themselves to COVID-19, and also avoid the mandatory quarantine upon their return to Gaza.
Daily power supply reached 15 hours in April, the highest since June 2019, due to the increased availability of fuel.
The production of water for household usage by the Gaza Seawater Desalination Plant increased by 81 per cent, compared to March 2020, due to the increased electricity supply.
Israeli airplanes conducted aerial herbicide spraying near the Gaza perimeter fence on one occasion, damaging 588 dunums of farmland, significantly affecting the livelihoods of dozens of farmers.
An interactive database on electricity supply in Gaza is available at OCHA's website.