Deterioration in the mental health situation in the Gaza Strip
Suicide increasing particularly among youth
This article was contributed by the Protection Cluster
A disturbing number of suicides in recent months has highlighted a growing public health issue in the occupied Palestine territory (oPt), particularly in the Gaza Strip. Since the beginning of 2020, 24 people,[1] including four women and five children, have reportedly taken their lives, compared to 22 reported suicides in all of 2019. These figures probably do not convey the full extent of the problem in the oPt, where suicide is shrouded in social stigma, 'shame' and 'sinfulness', as well as potential legal ramifications.[2] The is a clear shortage in reliable documentation of cases, with suicides often being misclassified as 'accidents'. According to the World Health Organization (WHO), for every adult who dies by suicide, there may be more than 20 others who attempt the act.[3]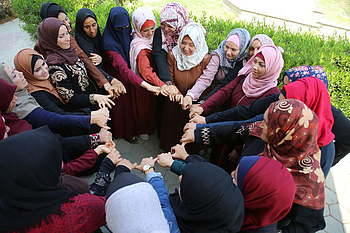 The reported suicide of S.A in July 2020 raised the attention on the situation that many young people face in Gaza. S.A, a 23 year-old man, university graduate and activist who founded the We Want to Live movement,[4] reportedly took his life due to frustration about his future and extreme financial hardship. Subsequently, three other Palestinians in Gaza reportedly killed themselves, and three others attempted suicide within 24 hours of his death.
A comment reposted by We Want to Live, captured the essence of the extensive social media activity following S.A's suicide: Gazan youth are killing themselves because they have lost hope that anyone cares about them. They have lost hope because Palestinian parents are unable to meet the needs of their children. They have lost hope because when they graduate from university, they can't find jobs. Young men have lost hope because they can't afford to get married until their 30s; instead, they must remain at home, still asking for a handful of money from their parents and feeling useless.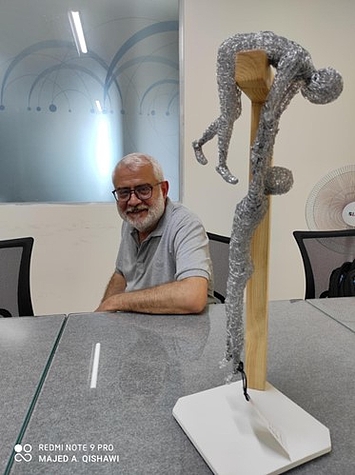 Dr. Mustafa Al-Masri, a clinical supervisor and trainer at AISHA, the Association for Woman and Child Protection, who has worked with traumatized people across the world in conflict-riddled contexts, concurs. "We are seeing youth communicating with their friends about suicide, fascinated by it, discussing suicide methods on social media. In Palestinian society, it used to be considered taboo, so this change shows the impact of exposure to long-term stress. Chronic stress changes your philosophy on life."
What particularly concerns Dr. Al-Masri is the changes he sees in the resilience of people in Gaza. "Gazans were resilient, creative at handling problems." He sees this breaking down and increasing behavioral problems in young people and children.
Of concern is the high prevalence of suicidal thoughts among young people.[5] According to a 2017 study, a quarter of Palestinian pupils in grades 7-9 have contemplated suicide, with males being more likely than females to report suicidal thinking.[6] Similar patterns were identified by AISHA: Some 30 per cent of the people aged 18-50 with whom the organization worked in 2020 reported suicidal thoughts and seven per cent had attempted suicide.
Causes of the mental health crisis in Gaza
Mental health and psychosocial issues constitute one of the largest, least acknowledged, health problems in the oPt. The findings of the abovementioned 2017 study, indicate that the oPt has the largest burden of mental disorders in the Eastern Mediterranean region, where nearly every country has a rate of mental disorders higher than the global average.[7] Common mental health disorders include depressive and anxiety disorders. Other mental disorders, including schizophrenia, affective disorder, and neurosis, are also likely to be under-treated and under-reported.
According to the study, the main causes of mental health deterioration in Gaza are recurrent violence, the ongoing blockade, deteriorating living conditions, including increasing poverty, and a sense of hopelessness. While the extended family in Palestinian society has traditionally been an important coping mechanism, increasing poverty has put enormous strain on families and eroded its resilience– a key trigger for mental health issues among children in Gaza.[8]
The Great March of Return (GMR) demonstrations, which took place between 2018 and 2019, initially had a positive effect on mental health, injecting a sense of agency, hope, and unprecedented community mobilization.[9] However, it had since been offset by the heavy burden of death, disability and trauma, copounded by the perceived failure in achieving tangible improvement in the living conditions for Palestinians in Gaza.[10]
The toll on children was particularly damaging; a study conducted by the Norwegian Refugee Council (NRC) found that 68 per cent of schoolchildren in areas close to Israel's perimeter fence, where the GMR demonstrations took place, showed clear indications of psychosocial distress. As Dr. Al-Masri observes: "I've worked in other countries such as Cambodia but there was a political process and international support that gave hope. Here we just keep people breathing."
COVID-19
More recently, widespread COVID-19 restrictions, and the resulting economic deterioration, have exacerbated the situation, with mental health service providers reporting a spike in calls to hotlines and for phone counselling from people threatening self-harm and general psychosocial distress.[11] SAWA, which runs Mental Health and Psychosocial Support (MHPSS) and gender-based violence (GBV) helplines across the oPt, reported a 30-35 per cent increase in calls in June-July compared with May. Accordingly, MHPSS service providers in Gaza have rapidly had to develop methods to reach people remotely, some operating around the clock.[12]
There is growing concern about a surge in domestic GBV in the context of pandemic-related lockdowns and increasing socio-economic hardship. According to Dr. Al-Masri, "what we see here at AISHA is GBV and intimate partner violence or girls exposed to violence. There are increasing numbers of women and girls coming to the clinic with post-traumatic stress disorder, anxiety disorders, and all types of stress-related illnesses."
The Women's Affairs Centre has also reported an increase in GBV, including verbal, physical, psychological, and sexual violence, resulting in increased fear, tension, grievance, and psychological stress.[13] The number of reported cases of femicide recorded between January and September 2020 in the oPt stands at 24, the same number as in all of 2019. Many women in Gaza see suicide as a 'way out' of their particularly oppressed position in society and the lack of options to escape violence and pressures in the home. Living in a conservative society, where speaking openly about private matters such as domestic violence, is taboo, can further have a profoundly negative impact on women's mental health.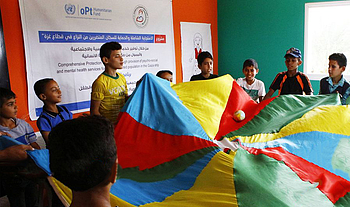 A system in need of urgent reforms
"Trauma and complex stress and anxiety is the basis of much of the work here in Gaza," Dr. Al-Masri explains. "The stress here for people is long-term and continues to increase every year. It won't go away until you address the root causes."
Against the backdrop of increasing need, the mental health system is in urgent need of reform. Specifically, the system is under-developed, frequently inaccessible to those requiring care, and lacking proper resources, including human resources. The referral mechanism is poor, there are chronic shortages of drugs[14] and increasingly fragile social structures, which are essential for improving accessibility, need building and strengthening.
Rapid investment is also needed in key areas clearly outlined in the National Government and Humanitarian Sector Development Response Plan (July 2020). Substantive and sustained commitment and action is needed on health sector reforms identified in the Government's MHPSS strategy. This includes: support to develop community mental health services, including psychosocial rehabilitation services, and for GBV survivors; integrating mental health into health facilities (primary health care facilities and general hospitals); strengthening school mental health; and developing a multi-sectoral suicide prevention strategy to strengthen detection, treatment and referral for suicide attempts in Gaza.
In parallel, community-level work is needed to build awareness of the prevalence of poor mental health, and to change social norms and attitudes that hinder people from seeking protection from harm or support for mental health issues. Family honor, while important in Palestinian society, can inhibit people from speaking out and seeking help when experiencing violence, depression, and suicidal thoughts. Similarly, much work must be done to support and encourage duty bearers to urgently build a comprehensive mental health care system that addresses the increasing and complex mental health needs.
The importance of mental health and psychosocial wellness and the need for immediate responses is highlighted in the 2020 Humanitarian Response Plan (HRP). Cross cutting in nature, MHPSS interventions were developed and coordinated by the Protection/ Child Protection, Health and Education clusters. Overall, the HRP includes 22 projects budgeted at nearly US$21 million, which address the MHPSS needs of vulnerable women and children, GBV survivors, injured people, the chronically ill, people with disabilities and the elderly. However, the ability to implement these projects have been curtailed by the limited funding levels. By the end of September 2020, only two projects (both in Gaza) have been funded for a total of $3.5 million, which means that less than 17 per cent of the overall financial requirements have been met.
Finally, while institutional reforms and humanitarian assistance can improve the treatment given to people in need of MHPSS, the prevalence of mental health problem is expected to decline only with a genuine improvement in the living conditions. This requires significant political decisions, including a lifting of the blockade, a halt of hostilities and an end to the internal Palestinian divide.
---
[1] Al Mezan Centre for Human Rights (as at 10 September 2020).
[2] Suicide is banned under both Sharia law and the Palestinian Penal Code. Those attempting suicide, or aiding or abeting such a person, may be subject to criminal prosecution.
[3] WHO, Preventing Suicide: A Global imperative, 2014.
[4] The movement protests against the grim economic and employment situation in the Gaza Strip.
[5] The terminology regarding suicide has not been standardized. See: De Leo D, Burgis S, Bertolote JM, Kerkhof AJ, Bille-Brahe U. Definitions of suicidal behavior: lessons learned from the WHO/EURO Multicentre Study. Crisis 2006;27(1):4e15.
[6] Itani, T., Jacobsen, K. H., & Kraemer, A. (2017). Suicidal ideation and planning among Palestinian middle school students living in Gaza Strip, West Bank, and United Nations Relief and Works Agency (UNRWA) camps. International journal of pediatrics and adolescent medicine, 4(2), 54-60.
[7] Charara, Raghid, et al: The burden of mental disorders in the eastern Mediterranean region, 1990-2013." PloS one 12.1 (2017): e0169575.
[8] A Decade of Distress: The harsh and unchanging reality for children living in the Gaza Strip (2018) Save the Children
[9] Health and Human Rights Journal, June, 2020.
[10] Two years on: people injured and traumatized during the "Great March of Return" are still struggling, The Humanitarian Bulletin, March 2020.
[11] OCHA, COVID19 Situational Reports May-July 2020.
[12] The MHPSS Working Group is currently undertaking a survey to map all hotline providers to strengthen coordination and service coverage.
[13] Juzoor, UNFPA, Haya programme, GBV SC, Impact of the COVID19 Outbreak and Lockdown on Family Dynamics and Domestic Violence in Palestine - June 2020, 2020
[14] Including some psychotropic drugs in short supply.