Posted on
27 November 2018
West Bank demolitions and displacement | October 2018
Highlights
Increase in demolitions compared to previous months and to 2017 monthly average.
Eleven donor - funded structures demolished or seized and seven served with stop-work orders.
Israeli authorities partially dismantle the proposed relocation site for the Khan al Ahmar – Abu al Helu community.
Overview
In October, 51 Palestinian-owned structures were demolished or seized by the Israeli authorities in Area C and East Jerusalem, displacing 43 people and affecting the livelihoods of over 200 others. This is the second highest number of structures targeted in a single month so far in 2018 (after July), and is well above the monthly average in 2017 (35). All the demolitions and seizures were carried out on grounds of lack of Israeli-issued building permits, which are almost impossible to obtain.
Of the 16 communities in Area C affected by demolitions and seizures this month, eight are vulnerable Palestinian herding or Bedouin communities, mostly in the Jordan Valley. The three largest incidents accounting for 25 of the structures targeted occurred in the herding communities of Al Jiftlik al Mussafah (Jericho) and Al Hadidiya (Tubas), and in a farming area next to Bardala village (also in Tubas). The structures in the latter community are located in an area designated as a 'firing zone' for Israeli military training.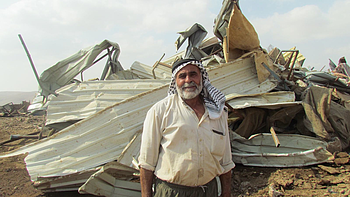 Eleven of the 47 structures targeted in Area C during October were humanitarian assistance structures, all but one funded by the EU and its Member States. This is the largest number of donated structures demolished or seized in a single month since May, bringing the total during 2018 to 43 structures, an equivalent of almost 40 per cent of donated structures targeted in 2017.
Of the donated structures targeted in October, five were residential shelters, including three provided in response to previous demolitions in a herding community in south Hebron (Halaweh), also located in a 'firing zone'. During the latter incident, the batteries and cabinets of three solar systems funded by the EU were seized (but not counted as structures), rendering the systems inoperative (a value of 16,500 euros). In another herding community in the Jordan Valley (Ibziq), an EU-funded structure serving a school was demolished, while two other EU-funded schools/classrooms (in Jenin and Jericho) were served with stop-work orders. According to the Education Cluster, there are 40 schools in Area C with pending demolition or stop work orders against all or part of their facilities.
Following the postponement of the demolition of Khan al Ahmar-Abu al Helu Bedouin community, despite a final ruling by the Israeli Supreme Court authorizing the demolition, the Israeli authorities dismantled structures they had installed at the proposed relocation site (Al Jabal West); however, concerns about a mass demolition and forcible transfer of the community remain.