Suspected settler violence claims the lives of a Palestinian father and son
Chronic lack of accountability at the core of a culture of impunity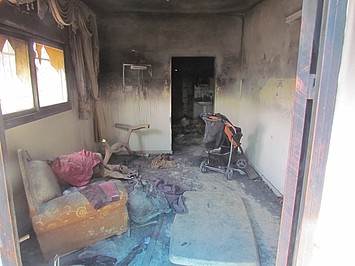 On 31 July, suspected Israeli settlers attacked and burned the Dawabsheh family home in Duma village, Nablus, killing 18-month-old Ali Dawabsheh, and critically injuring his parents and four-year-old sibling. Graffiti reading "long live the Messiah" and "revenge" was spray-painted on the outside house walls. The surviving family members sustained severe injuries and were transferred by the Israeli military to a hospital in Israel. The 32-year-old father died on 8 August; his wife remains in critical condition. The condition of the four-year-old is stable. These are the first two fatalities as a result of Israeli settler attacks in 2015.
Senior Israeli, Palestinian and UN officials condemned what they referred to as a "terrorist attack". Israeli President Reuven Rivlin stated that 'The law enforcement and the legal system will find the murderers, and bring them to justice.'[i] Following the attack, the Israeli military issued administrative orders against approximately 10 Israeli civilians, including minors, placing some under house arrest, or prohibiting them from visiting the West Bank or Jerusalem, or from contacting specified individuals.
The graffiti spray-painted onto the outside walls was widely interpreted by media to indicate that the attack was "in response" to the Israeli authorities' demolition of two buildings in the settlement of Beit El, which had been constructed without an Israeli-issued permit on privately-owned Palestinian land. This type of attack which is also referred to as a 'price tag' attack or 'ideologically motivated crime' was adopted by certain Israeli settlers as a "strategy" whereby Israeli settlers attack Palestinians and sometimes the IDF in retaliation for the Israeli authorities efforts to dismantle settlement structures, arrests and other administrative measures against settlers and in retaliation or Palestinian attacks.[ii]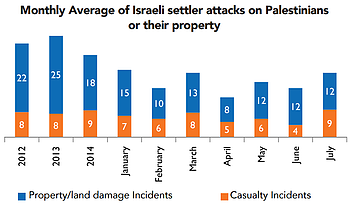 The July arson attack was the sixteenth such attack in the West Bank since the beginning of the year, leading in total to the death of two Palestinians and injury of eleven, in addition to five incidents involving setting fire to crops and equipment and religious sites, amongst others. Other types of settler attacks resulting in injury to Palestinians or damage to their property involves physical assaults, opening of fire and stone throwing at Palestinians and their property, vandalism, theft, and the takeover of property.
Since the beginning of the year, OCHA has recorded a total of 127 Israeli settler attacks[iii] on Palestinians and their property across the West Bank, including East Jerusalem. During the same period, OCHA (based on Israeli media reports) has recorded a total of 48 Palestinian attacks on Israeli settlers and other Israeli groups, leading to three fatalities and at least 46 injuries.[iv] The monthly average of Palestinian attacks on Israeli settlers and other Israeli groups so far in 2015 has declined by 22 per cent, compared to 2014 (14 vs. 18).
The majority of incidents in 2015 involved stone throwing at passing Israeli vehicles. In addition, there were two incidents involving a Palestinian vehicle running over Israeli civilians and a physical assault involving the stabbing of an Israeli settler in East Jerusalem, which in total resulted in 31 injuries. In 2015, similar to 2014, the majority of attacks have been recorded in the Jerusalem governorate.
Similar to 2014, the highest number of Palestinian casualty incidents in 2015 was recorded in the Hebron governorate followed by the Jerusalem governorate, whereas in 2012 and 2013, the majority were recorded in Hebron followed by Nablus. The highest number of property damage incidents in 2015 was recorded in Hebron and Ramallah. Since the beginning of 2015 a total of 10,358 Palestinian-owned trees and saplings have been vandalized by suspected Israeli settlers. On a monthly average, this represents the highest such figure since 2010 when OCHA began recording this indicator.
While the frequency of Israeli settler attacks varies over time and location, the fear generated is often long-lasting affecting the daily lives of Palestinians. Furthermore, it has resulted in the progressive takeover of Palestinian land and resources.[v]
The root cause of settler violence is Israel's policy of illegally facilitating the settlement of its citizens inside Palestinian territory occupied since 1967, in violation of international humanitarian law, and a chronic lack of adequate law enforcement which has led to a culture of impunity.[vi] This impunity is further encouraged by official efforts to retroactively legalize the takeover of land by settlers. [vii] To date, 25 out of approximately 100 outposts, which are also unauthorized under Israeli law, have been legalized, or are in the process, by the Israeli authorities. This includes recent efforts to legalize the two abovementioned buildings erected on privately-owned Palestinian land in the Beit El settlement, which were ultimately demolished following an order by the Israeli High Court of Justice.
The Israeli government's failure to enforce the rule of law in relation to violent settlers remains a key concern, one which has been repeatedly highlighted by a range of local and international stakeholders, including the UN Secretary-General for years.[viii] According to the Israeli Human Rights Organization, Yesh Din, a complaint submitted by a Palestinian to the Israel police has less than a two per cent chance of leading to an investigation, trial and conviction.
Special measures implemented by the Israeli authorities to address Israeli settler violence against Palestinians include the establishment of an inter-ministerial law enforcement streamlining team and a new unit within the police in 2013 (the Nationalistic Crimes Unit in Samaria & Judea District), responsible for addressing 'ideological motivated crimes' or 'price tag' attacks by Israeli settlers against Palestinians, and perpetrators are now reportedly classified as belonging to "illegal associations". However, the number of cases that actually lead to any kind of accountability is negligible. [ix] Over 90 per cent of cases monitored by the organization are closed without indictment. [x] The low rate of indictment not only contributes to the culture of impunity for settler violence but has also fostered mistrust on behalf of affected Palestinians and discouraged them from filing complaints.[xi]
In his latest report to the Human Rights Council, the UN Secretary General has emphasized that "[w]here there is a willingness on the part of the Israeli authorities to enforce the law, they are able to do so effectively." As an example, he highlighted the response to an attack by Israeli settlers against the Israeli Defense Forces on 8 April 2014, which was triggered by the demolition of some structures in the settlement of Yitzhar, including adopting a position of "zero tolerance" and reportedly making several arrests as well as stationing Israeli forces in the settlement of Yitzhar, resulting in a decrease in settler violence incidents in surrounding villages.[xii]
Eyewitness account of the Israeli settler attack in Duma village
On 31 July, at approximately 02:10 am, the witness approached his neighbour's burning home, and saw two masked men standing over two people lying on the ground and screaming as they burned. The men turned towards the witness, so he fled. He returned a few minutes later to find that the masked men had left. He helped the two severely injured parents to a neighbor's house. Then, guided by the screaming of a child and covered with a water-soaked blanket, he entered the burning house, and found the four-year-old boy and pulled him out. Fire had already spread to the lower part of the boy's body. Tragically, 18-month-old Ali Dawabsheh died in his crib before he could be rescued.
---
[ii] Report of the Secretary General to the Human Rights Council, 12 February 2014. A/HRC/25/38, para. 47.
[iii] These figures reflect incidents resulting in fatalities and injuries requiring medical intervention, as well as incidents resulting in property damage, but do not include settler incidents involving access prevention, trespass onto Palestinian private property, and the expulsion of farmers from their land by various means of intimidation, which occur on a more frequent basis. Incidents involving both casualties and property damage are recorded as casualty incidents.
[iv] In addition, 17 Israeli civilians were injured by Palestinians in stabbing incidents in Israel (Tel Aviv and West Jerusalem), according to the Israeli internal security agency
[vii] Summary of the Opinion Commissioned by the Prime Minister Bureau Concerning Unauthorized Outposts-Talya Sason also known as the "Sasson Report", 10 March 2005
[ix] Report of the Secretary General to the Human Rights Council, 9 March 2015, A/HRC/28/44, para 50
[x] According to Yesh Din's figures, 85.3 percent of investigative files are closed due to the failure of the police investigators to locate suspects or to find sufficient evidence to enable indictment. See Yesh Din, Mock Enforcement: The Failure to Enforce the Law on Israeli Civilians in the West Bank, May 2015, pp. 31-33
[xi] Yesh Din, Mock Enforcement: The Failure to Enforce the Law on Israeli Civilians in the West Bank, pages 97-102
[xii] 9 March 2015: A/HRC/28/44, para 50.