Supporting Palestinian farmers affected by Israeli settlements
An oPt Humanitarian Fund success story
Mustafa is a 47-year-old Palestinian from the village of Bruqin, in the northern West Bank. As a father of 15 children, he struggled for a long period to make ends meet by working as a tile setter. However, due to a physical disability, this work became progressively harder for him.
To increase income, Mustafa wanted to tend an olive grove that he owns, which had been cultivated until a nearby settler-run industrial zone started streaming sewage into it. The runoff had damaged his trees and made it difficult and unsafe to access the land, which became full of harmful weeds.
In 2019, Mustafa received assistance that allowed him to rehabilitate the plot, including by putting up a fence to protect it from the sewage. Funded by the Humanitarian Fund for the occupied Palestinian territory (oPt HF), the support was given by MA'AN, in partnership with Oxfam, the Economic and Social Development Center and the Land Research Center, as part of a project aimed at helping farmers affected by settlements or settler violence.
"Seeing my land alive again," said Mustafa, "brought happiness and hope to me and my family. It was very hard for me as a leg amputee to keep working in tiling, especially in multi-floor buildings. Thanks to the fence, I can now take my kids to the land without fearing they might fall into the sewage, which used to be my nightmare."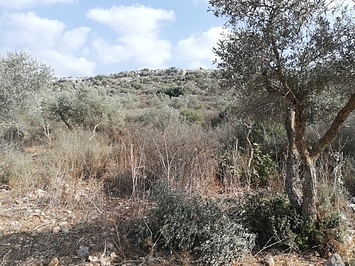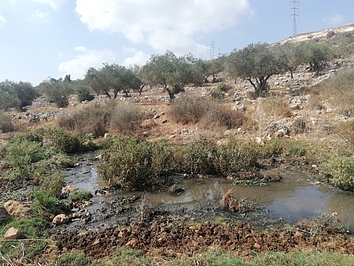 Mustafa's land before the rehabilitation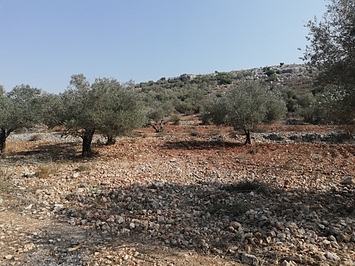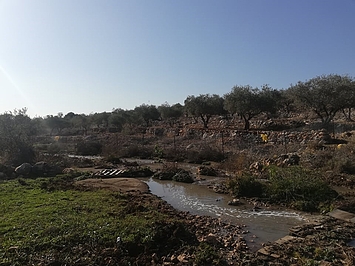 Mustafa's land After the rehabilitation