Summer Camp activities in Gaza: addressing children's needs in a safe environment
UNRWA, in partnership with UNICEF and with the support of the European Union, has concluded the "Keeping Kids Active" (KKA) project in Gaza. Over five weeks, from 29 June to 1 August, KKA reached 90,000 children throughout Gaza, providing recreational activities, psychosocial assistance, and referrals to more specialized mental health services, where needed.
"I live in Jabalia camp, where there are no recreational spaces and the only place to play is the street, which is not safe", said Adam Abu Jalhoum, a 10-year-old pupil. In the summer activities I had somewhere to go, get out of the house, find a safe space to play and learn with friends… I really liked the art sessions! I get excited when I colour different pottery with my friends. We had fun making colourful shapes and paintings on pottery!" explained Adam.
Across the Gaza Strip, more than eleven years of blockade, recurring escalations, mass casualties during the Great March of Return (GMR) demonstrations, and the longstanding Palestinian internal divide have all contributed to an unprecedented decline in the humanitarian situation. In an increasingly destabilized economy, the ability of families to earn a living has been progressively eroded, exacerbating their vulnerability.
Children, who constitute nearly half of the two million people living in Gaza, have been affected in multiple ways, including due to their participation in the GMR and the related exposure to violence. Since March 2018, a total of 44 Palestinian children have been killed in Gaza (43 boys and one girl) and some 7,000 have been injured during demonstrations alone.[1] The large number of child casualties, including the high percentage of those injured by live ammunition, has raised concerns about excessive use of force by Israeli troops. The violence in Gaza has increased the already high levels of psychosocial distress, with over 50,000 people, half of them children, in need of mental health and psychosocial responses.[2]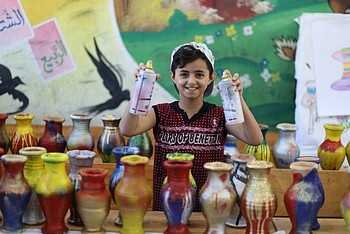 The KKA project contributed towards children's physical and mental wellbeing, by providing equal opportunities for boys and girls, from grades 1 to 9, to participate in skill-oriented fun and supportive activities. The aim was to alleviate distress among the children and promote positive coping mechanisms in a safe environment, while keeping children away from potentially harmful activities.
The summer camps operated in more than 50 locations, including UNRWA schools and Local Staff Union Clubs (LSUCs), covering all areas of the Gaza Strip. Transportation was provided to children who live in distant locations to promote equal access to the activities. In every location, a team of animators and mental health counsellors provided a wide range of activities, including art, sport, popular games, free-drawing and life-skill sessions. A team of approximatively 260 counsellors deployed across the locations where the summer camps took place were also responsible for referring children in need of specific psychosocial interventions to appropriate service providers.
According to Ahmad Thabet, a supervisor in UNRWA's Community Mental Health Programme, "summer camp is important because it offers a structured opportunity for children to grow…. It allows kids to become independent and self-confident, while socializing and making new friends, and even learning new skills".
The project developed from the positive experiences of UNRWA over the last decade in arranging summer activities for children in the Agency's schools, in cooperation with civil society partners. It also built on the lessons learned and the positive community response to the UNRWA-UNICEF Keep Kids Cool (KKC) after-school activities implemented in the first and second semesters of the 2018-19 school year.
UNRWA's financial crisis
In 2018, UNRWA faced the greatest financial predicament in its history, following the abrupt end to funding by the United States. This crisis has undermined the Agency's ability to meet the increased demand for services to Palestine refugees, including by limiting the number of children that can be offered summer activities, as well as the scope of such activities.
In 2019, UNRWA requires a total of $1.2 billion for its operations in the region, including human development and humanitarian aid service delivery. During the annual international Pledging Conference held on 25 June in New York, UN member states pledged more than $110 million in support of UNRWA. Despite this, the Agency continues to face significant challenges to meet its financial requirements through the end of the year.
---
[1] As of 31 May 2019. See: OCHA Snapshot.
[2] 2019 Humanitarian Needs Overview, p. 7.