Some 348,000 Palestinians permitted into East Jerusalem for Ramadan Prayers
Vulnerable groups most affected by access arrangements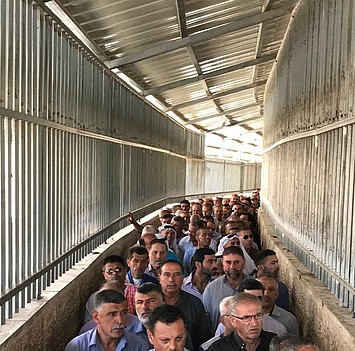 During the month of Ramadan (27 May-26 June), Israeli authorities reported that around 348,000 Palestinians holding West Bank ID cards entered East Jerusalem for Friday prayers and Laylat al Qadr (the night of destiny[15]) at Al Aqsa Mosque in relaxed measures to mark the month of Ramadan. This represents an increase of 15 per cent over the equivalent figures in 2016. Additionally, 453 Palestinians from the Gaza Strip were allowed access to East Jerusalem for these events. While arrangements at checkpoints to facilitate travel to Al Aqsa Mosque, were put in place, vulnerable groups including elderly, children, and people with disabilities faced several challenges. During the month, one major Palestinian attack resulted in the death of an Israeli police officer and led to the partial suspension of the relaxation measures.
As in previous years, UNOCHA and humanitarian partners monitored checkpoints controlling access into East Jerusalem from the rest of the West Bank. The purpose of this activity has been to identify protection risks and mitigation measures, particularly for vulnerable groups such as the disabled, the elderly and children, and contribute to UNOCHA's analysis of broader access trends.
Since 2008, the Israeli authorities have applied gender-based age criteria to regulate access to East Jerusalem during Ramadan. In 2017, access without a permit was permitted for men above 40 years of age and women of all ages, men between 30-40 years of age were eligible for permits but males aged between 13 and 29 years were banned. Family visitation permits allowed West Bank ID holders to access East Jerusalem and Israel on all days except Fridays and Saturdays. These permits (200,000) were suspended following a Palestinian attack, in East Jerusalem, on 16 June, resulting in the killing of an Israeli border police officer, and the three suspected Palestinian perpetrators.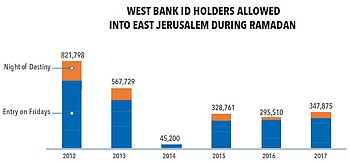 Entry to East Jerusalem from the remainder of the West Bank was allowed through one of three checkpoints along the Barrier separating the city from the rest of the West Bank: Qalandiya, Gilo and Az Zeitun. As in previous years, special arrangements were put in place to facilitate the crossing of people at these checkpoints, including separate lanes for men and women and a special lane for humanitarian cases.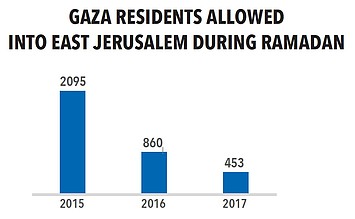 Challenges included inter alia the lack of clear criteria on eligibility to use humanitarian lanes especially at Qalandiya checkpoint, long walking distances leading to the checkpoints especially at Gilo/Bethlehem checkpoint, and the lack of shaded waiting areas for women on the Jerusalem side of checkpoints who generally crossed checkpoints at a much faster rate than men due to the lack of age restrictions
Since October 2014, a negligible number of Palestinians from Gaza, generally over 60 years of age, have been granted permits to exit Gaza and access East Jerusalem for Friday prayers at Al Aqsa Mosque during Ramadan. This year, the Israeli authorities announced a number of relaxation measures, including up to 100 permits for women and men above 55 years of age for prayer on Fridays, and up to 300 permits for Sundays through Thursdays for people above 50, only for employees with international organizations and worker unions. In practice, 435 Palestinians were granted permits compared with 860 Palestinians, in 2016. As the Egyptian-controlled Rafah crossing remained closed during the month of Ramadan, those hoping to make the pilgrimage to Mecca were prevented from crossing.
---
[15] Laylat al Qadr falls on the 27th of the month of Ramadan, and is considered by Muslims as the holiest night of the year.