Posted on
14 October 2015
Rising tensions following settlement expansion in Palestinian neighbourhood of East Jerusalem
Concern over further deterioration in the living conditions of Palestinian residents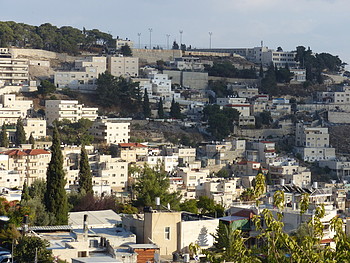 Settlement expansion in Silwan has generated tension and violence in recent years. It has further undermined the precarious living conditions of Palestinians, already suffering from overcrowding, inadequate services, and threat of demolition and displacement due to unauthorized construction.
On 26 August and 1 September, Israeli settlers, under police escort, moved into two residential buildings in the heart of the Palestinian neighborhood of Silwan in East Jerusalem. The buildings occupied are believed to have been sold by the Palestinian owners. Settlement activities in the neighbourhood also include archaeological excavations and the operation of the City of David National Park and Visitor's Centre, which attracts substantial numbers of visitors annually.
The recent settler activities in Silwan were reportedly supported by the settler organization Ateret Cohanim, which also spearheads the takeover of Palestinian property in the Muslim Quarter of the Old City. Since 2002, the organization has filed legal claims against an estimated 250 Palestinians in the neighbourhood on the grounds that the land and/or property they currently inhabit was owned by Jews prior to 1948. The area affected covers over five dunams and is home to 84 Palestinian families comprising 1,400 individuals. On May of this year, Israeli settlers moved into a building with three separate apartments, displacing three families. In July 2015, another three households received eviction orders from the Israeli authorities, placing seven Palestinians at risk of displacement. The Al Bustan area of Silwan has been designated as an 'open' or 'green' area where all Palestinian construction is prohibited. Al Bustan is the proposed site for a tourist park to be constructed by the Jerusalem Municipality. If this plan goes ahead, more than 1,000 Palestinians residing in approximately 90 houses will lose their homes.
These developments are part of a wider plan for settlement expansion within Palestinian residential areas in the so-called 'Holy Basin' area of East Jerusalem: the Muslim and Christian quarters of the Old City, Silwan, Sheikh Jarrah, At Tur (Mount of Olives), Wadi Joz, Ras al-Amud, and Jabel Mukaber. An estimated 2,000 settlers reside in Palestinian neighborhoods in the Holy Basin area. There is also a government-backed initiative to link these settlements together by creating a series of contiguous parks around the Holy Basin and the eastern slopes of Mount Scopus: the 'Open Spaces' plan.
Settler organizations have taken control of properties in this area using various means, including the Absentee Property Law, alleged prior Jewish ownership and purchase from Palestinian owners. Under Israeli law, Israelis may pursue claims to land and property allegedly owned by Jews in East Jerusalem prior to the establishment of the State of Israel. However, it denies Palestinians the right to reclaim land and property in what is now Israel.