Protecting vulnerable children in Gaza
An oPt Humanitarian Fund success story
Nour is a 17-year-old Palestinian from Beit Lahyia (Gaza Strip). When she was four, Nour survived an attack that took place during a round of hostilities, and during which her mother was killed right next to her, leaving deep emotional scars. Her father remarried after her mother's death and their relationship almost severed. When she turned 16, her father made her drop out of school and tried to force her into early marriage, to protect her from being harassed on her way to school.
Noticing her distress at leaving school, Nour's school counselor referred her to a child protection centre run by Terre des Hommes Lausanne (TDH-L). Social workers from the centre conducted several counseling sessions with the father, convincing him that the best option for Nour, rather than forcing her into early marriage, is to continue with her studies. Nour's father, who had also dropped out of school as a child, increased his awareness and understanding of the dangers associated with early marriage.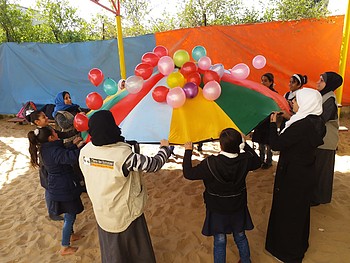 Nour is one of thousands of vulnerable children in Gaza who received child protection services with funding received from the Humanitarian Fund for the occupied Palestinian territory (oPt HF). Services included case management and psychosocial support and work to reduce risks of violence. To that end, TDH-L and its partner organizations – including the Beit Lahiya Development Association, the Near East Council of Churches, and the Bayt Al Mustaqbal Society – used a web-based case-management system as well as referral pathways developed with UNICEF.
Thanks to this intervention, Nour is currently back in school, though she missed an entire school-year. She was received enthusiastically by her teachers and peers. "When I came back, they were all happy for me and hugged me deeply," she says, noting that she is going to take part in a story-writing competition. Her relationship with her father has also improved. By overcoming the pressure to conform to the cultural and social norm of girls dropping out of school, she was spared the extreme risks associated with child marriage, and, thanks to the counselling she got, she is now better able to cope with distress.
Children in Gaza are growing up in a society permeated by restrictions and conflict-related violence. This leaves them with a deep sense of insecurity for their future. Palestinian children older than ten living in Gaza have now witnessed three conflicts in their short lives. Since children aged 11 or less in Gaza have only known life under blockade, there are increasingly more children displaying high levels of stress-related symptoms, requiring family and community-based support and individualized interventions.
Nour will continue benefiting from support offered at TDH's child protection centre, especially by attending structured psychological group support sessions.
| | |
| --- | --- |
| Project name: | Meeting the Protection Needs of Vulnerable Children in the Gaza Strip through Child Protection Case Management System |
| Cluster: | Protection |
| Number of beneficiaries: | 9,680 |
| Benefitting communities: | Gaza, Beit Lahiya, Khuza'a, Al Bayuk |
| Allocation: | US$250,001.86 |
| Implementing partner: | Terre des Hommes Lausanne |
| Start year: | 2018 |
* This story was contributed by Terre des Hommes Lausanne