March escalations in Gaza result in more displacement
Between 25 and 27 March, the Gaza Strip and southern Israel witnessed one of the most significant escalations of hostilities since 2014, up to that point, after a rocket was fired from Gaza, severely damaging a house in central Israel, injuring seven Israelis. Following the incident, Israeli air force struck multiple locations across Gaza while Palestinian armed groups fired dozens of projectiles towards southern Israel.
According to the Shelter Cluster, based on figures from the Ministry of Housing and Public Work (MoHPW), the Israeli air strikes in Gaza left 32 residential housing units and 33 other non-residential units destroyed, two houses severely damaged and approximately 180 housing units partially damaged. A total of 16 families, comprising 83 people, including 44 children, were internally displaced as a result. In response to the needs of the internally displaced families, the International Red Cross/Palestinian Red Crescent Society conducted an assessment and distributed mattresses, blankets, hygiene kits, kitchen sets and baby diapers. The MoHPW provided cash assistance and liaised with other specialized organizations to provide one-year rental assistance for the families.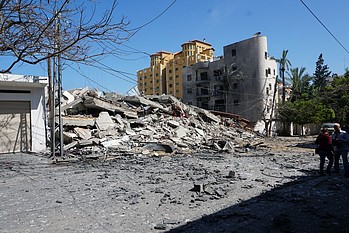 Over 12,000 still displaced from 2014 conflict
The July-August 2014 escalation of hostilities in Gaza resulted in the largest internal displacement since 1967, with 17,800 homes destroyed or severely damaged. According to the Shelter Cluster, over 2,200 families or 12,300 people were still displaced in February 2019. In total, US$128.5 million is still required to address needs from the 2014 conflict, including for shelter repair (US$75 million), reconstruction of houses (US$47 million) and cash assistance (US$6.5 million).
The Shelter Cluster appealed for US$11.4 million for Gaza in the 2019 oPt Humanitarian Response Plan (HRP); no funding had been received by the end of April, with the result that partner organisations are unable to cover even the most basic needs of displaced families. Nor can support be provided for those who have been evicted, or are at risk of eviction, due to their inability to pay rent in circumstances of severe socio-economic deterioration.
Funding gaps in the Cluster prevent many projects in Gaza from being implemented, among them: transitional shelter cash assistance to IDPs; cash or NFIs (Non-Food Items) to Palestine refugees; repairs and rehabilitation assistance to the most vulnerable households exposed to harsh weather or facing protection concerns; and equipping schools, hospitals and community centres to be used as shelters during hostilities.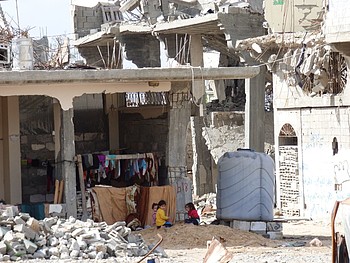 "Our life has turned upside down"
Rajab Al Ghazali, a 64-year-old man, lost his home in Gaza city on 25 March 2019 when the four-storey residential building in which he lived was destroyed by an air strike. According to Rajab, 27 people, including 17 children, were living in the building:
"We received a call from the Israeli authorities informing us that the building would be targeted and ordering us to evacuate. My neighbours received the same call. At first, we didn't believe it, but a few minutes later, a warning missile hit the building. We rushed outside, running for our lives.
"The situation was very difficult. Children woke up in panic and started crying. There was no time to take any of our belongings. All of us were running in the street looking for refuge in a relative's house.
"Everything is gone: money, furniture and personal belongings. We managed to return to the site and rescue some pieces from under the rubble when the situation calmed down. Now we are staying in a house temporarily. Our life has turned upside down.
"We have received only one payment of US$1,000 from the MoHPW, plus a few contributions to buy some clothes, since we lost our house a month ago. To make a living, we're selling sweets on the street."
Rajab's wife, Alia, takes up the story: "We're barely managing. There's no refrigerator and we wash our clothes and wait until they dry to wear them again."
Their daughter-in-law, who is staying at the same house, said: "My four-year-old daughter, Seba, goes to the kindergarten. She was provided with a new uniform and bag, and free transportation. She passes by our destroyed building every day and tells me: 'Today I saw our destroyed house; the rubble is being removed from the ground. My house is gone.'"