Humanitarian snapshot: escalation of violence in the Gaza Strip
Overview
Since 30 March 2018, the Gaza Strip has witnessed a significant increase in Palestinian casualties in the context of mass demonstrations taking place along Israel's perimeter fence with Gaza. The demonstrations have occurred as part of the 'Great March of Return', a series of mass protests, expected to continue up to 15 May. The large number of casualties among unarmed demonstrators, including a high percentage of demonstrators hit by live ammunition, has raised concerns about excessive use of force. Gaza's health sector has struggled to cope with the mass influx of casualties, due to years of blockade, internal divide and a chronic energy crisis, which have left essential services in Gaza barely able to function.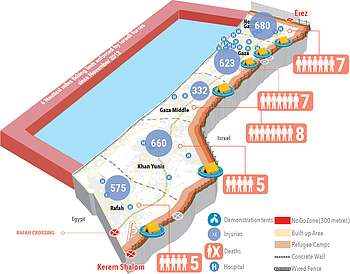 Key humanitarian needs
Replenishment of 59 essential drugs, 128 medical disposables and 5 laboratory reagents, needed for the treatment of injuries at public hospitals.
Funding for NGO hospitals, field medical teams and the Central Blood Bank, including blood donation campaigns.
Funding to immediately preposition emergency trauma and surgical kits.
Enhancement of documentation and information collection activities during and after clashes.
Programs supporting education of children at home or hospitalized due to injuries.
Awareness-raising interventions targeting families with children injured or traumatized.