Posted on
14 January 2021
Helping Rafiq and Siham improve their living conditions
A success story of the oPt Humanitarian Fund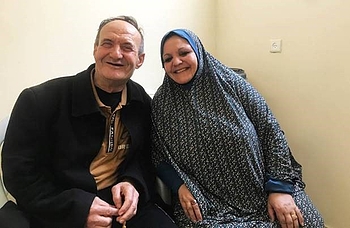 In the Shuja'iyeh alleys east of Gaza city, Siham, her 63-year-old husband Rafiq and their son's family of eight lived for years in a dilapidated home.
Before the Israeli-imposed blockade, which started in 2007, Rafiq was among the many Palestinians from Gaza who could work in Israel. "We used to have a good life and help others in need," Siham recalls, as her husband adds: "my job was the lung that allowed the family to breathe, but it clogged." No longer allowed to exit, just like many other former workers, Rafiq failed to secure another job inside the blockaded enclave. Throughout the years, his health has deteriorated, and he gradually lost his eyesight.
Siham and Rafiq's home was not renovated for over 20 years. They were forced to seek assistance, and thus became dependent on humanitarian aid. "It was barely enough to feed us," Siham said. "Our toilet and kitchen lacked even basic infrastructure. We couldn't save to pay for maintenance; the little income we had, if my son found temporary work, was hardly enough to put food on the table for one day." The kitchen floor had cracks in it, and rats found their way to the kitchen. "We used to spend scary moments in the kitchen, not to mention the insects and lizards," said Siham who ended up storing food in her bedroom instead of the kitchen.
Using the toilet was a daily hassle for all, but a true hazard for Rafiq, because of his shortsightedness.
On May 2020, Oxfam, through funding received from the Humanitarian Fund for the occupied Palestinian territory (oPt HF), renovated dilapidated kitchens and toilets for 310 families who shared similar challenges in Gaza. Siham and Rafiq's family was lucky to be among them. The renovation meant that Rafiq can now safely use the bathroom as the floor surface has been flattened. "The renovation has made a big difference to our lives," said Siham. "I am no longer afraid every time I enter the kitchen as it has now become safe and clean."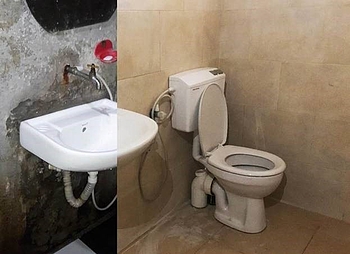 Having lived through armed escalations and recurrent displacement, Rafiq knows the taste of fear and agony. But his optimism has never faded out: "I hope people in Gaza can access decent job opportunities, to earn their living and live in dignity. Everything depends on the economic situation. When people have jobs, they can build their homes, they can afford medication and send their kids to school. I hope my grandchildren get to live in a much better social, political and economic situation and the international community unites to find a solution to this conflict."