Gaza two years on: Less than nine per cent of referred incidents have led to a criminal investigation
Two years after the 2014 escalation of hostilities, justice remains elusive. Serious concerns persist regarding the lack of investigations and accountability by both the Israeli and Palestinian authorities into alleged violations of international humanitarian law and international human rights law, including allegations of war crimes, as well as lack of civil remedies and compensation to victims.
Criminal investigations
On 24 August 2016, the Office of the Israeli Military Advocate General (MAG) issued an update on the status of its investigations into alleged international law violations committed by the Israeli army during the 2014 hostilities.[1]
This was the first such update issued by the MAG in over 14 months. No meaningful investigation into alleged violations has been announced by the Palestinian authorities so far, although the Palestinian authorities do not usually make public any information about the status of internal investigations and any possible accountability measures taken in this regard.
According to its latest update, the MAG received 500 complaints relating to approximately 360 incidents. Of the 31 criminal investigations opened by the MAG into possible misconduct,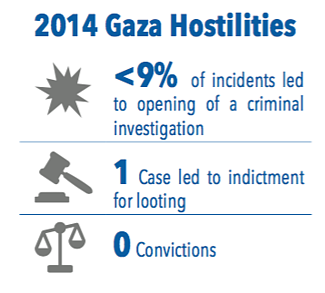 13 cases were closed without any administrative or criminal proceedings and one case led to the indictment of three soldiers for a single instance of looting. It remains unclear when the decisions on the other 17 pending investigations can be expected. The MAG closed around 80 additional cases for lack of reasonable grounds to suspect criminal behaviour. These cases were closed based on an evaluation of the facts by the IDF's General Staff Mechanism for Fact-Finding Assessments without any criminal investigation.
One of the cases closed without any criminal investigation was that of an airstrike on 3 August 2014 at the entrance to an UNRWA school in Rafah –sheltering at that time between 2,700 and 2,900 displaced civilians –in which 15 persons were reported killed, including 9 children, and 30 others injured. The decision to close the case without criminal investigation was accompanied by an announcement by the MAG that the IDF has implemented operational lessons following the incident "with the aim of minimizing the risk of reoccurrence of similar incidents in the future".[2]
Intimidation of human rights organizations
Palestinian human rights organizations have called for the use of foreign jurisdictions and international justice mechanisms to address gaps in accountability. Some of these organizations have reported facing increased threats and harassment over the past year. In March 2016, Al-Haq NGO reported a smear campaign and death threats against its director and one of its staff members.[3]
The organization believes the threats were directly linked to its work related to the International Criminal Court. Since then, attacks have been reported against other Palestinian human rights organizations seeking accountability for alleged Israeli violations of international law, including Al-Mezan, the Palestinian Centre for Human Rights (PCHR) and The Resource Center for Palestinian Residency and Refugee Rights (BADIL).[4]
Compensation
Civil society organizations reportedly submitted 1,148 requests for civil remedies for victims of alleged IDF wrongdoing during the 2014 escalation to the Israeli Ministry of Defence within the 60-day deadline of the time of the incident. Due to the physical, financial, legal and procedural barriers, only a very small percentage of compensation claims have actually been filed with Israeli courts following initial notification. The main legal obstacle is the "act of war" exemption which bars victims from making claims against Israel for actions taken in the course of "combat[ing] terror, hostile acts or insurrection."[5]
In addition, residents of an "enemy territory" are excluded from the scope of Israel's civil liability legislation. The declaration of Gaza as enemy territory by the Israeli Prime Minister in October 2014, with retroactive applicability to 7 July 2014, effectively exempts Israel from civil liability for every wrongful act committed by Israeli forces during the 2014 escalation. Failure to ensure accountability leaves victims and families without redress and creates an environment in which perpetrators on all sides are able to act with impunity, thereby encouraging further abuses.
---
[1] IDF Military Advocate General, Decisions of the IDF MAG regarding Exceptional Incidents that Allegedly Occurred During Operation 'Protective Edge', Update No. 5, 24 August 2016 (www.law.idf.il/163-7596-en/Patzar.aspx).