Gaza two years on: the impact of the 2014 hostilities on the health sector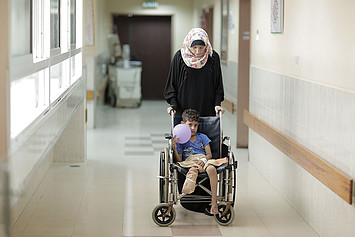 In early July 2014, the Palestinian Ministry of Health (MoH) and the World Health Organization (WHO) warned that Gaza's struggling health sector was near to collapse due to the severe shortages of medicines, medical disposables and fuel, and the lack of capacity to expand services to meet population needs. In the days and weeks following that warning, the health sector was confronted with over 11,200 injuries, among them more than 3,800 children, which is the highest number of injuries for such period of time it had ever faced. The challenge to the health system posed by the 2014 hostilities has extended into the present; approximately 900 of those injured sustained some form of permanent disability and require continued attention, while a significant part of the health infrastructure was damaged.
For 51 days, Gaza's main hospital, Shifa, was overwhelmed with thousands of Palestinian civilians brought to its emergency room with injuries, many of them suffering from severe trauma. "It was a difficult experience for both the victims and for the medical staff," stated Dr. Mahmoud Matar, an orthopedic surgeon who is also the head of the limb reconstruction unit at Shifa. "The number and type of casualties were a great challenge. At first, it was life-saving issues, then treatment to prevent disabilities." About two-thirds of all orthopedic injuries treated at Shifa resulted in disability and required rehabilitation: some patients had amputations of upper limbs or lost one or both legs.
"Some patients are still suffering two years after their injury and need ongoing care. Many others are still waiting for prosthetic limbs. The state of prosthetics in Gaza is still very precarious," said Dr. Matar. Most patients need to be referred outside of Gaza, especially those who lost upper limbs. Those who need continuous treatment visit local hospitals and can be referred to Shifa's eight-month-old Complex Fractures Unit for more advanced care and procedures. Referrals to Shifa were necessary after al-Wafa hospital, Gaza's only rehabilitation hospital, was completely destroyed in an airstrike in 2014. The International Committee of the Red Cross has provided important multidisciplinary support for the care and rehabilitation of amputees through the Artificial Limbs and Polio Center, in cooperation with the Gaza municipality.
The conflict also had a major impact on the mental wellbeing of the population. The WHO estimates that 20 per cent of the population (360,000 people) in Gaza may have suffered mental disorders and require some form of mental health support or psychosocial intervention.
Reconstructing and repairing health facilities
During the hostilities, one hospital (al-Wafa in Gaza City) and three primary healthcare clinics (PHC) – Atta Habeeb, Johr al-Deek and Khuza'a – were completely destroyed, while another 18 hospitals and 60 PHCs were damaged to various degrees. To date, all of these facilities have been or are in the process of being repaired/reconstructed, with the exception of the al-Wafa hospital which requires major funding to proceed with reconstruction. With the blockade on Gaza still in place, the Temporary Gaza Reconstruction Mechanism (GRM) has played a critical role in facilitating the entry of the building materials required for the rehabilitation of these facilities.
Ten PHCs were identified as requiring expansion and additional equipment to accommodate the increased number of patients and related needs (e.g. laboratory and physiotherapy services), but to date only two (al-Salam and Deir al-Balah PHCs) have received donor funding. The remaining eight (Abasan, Atatra, Hala Shawa, Sheikh Radwan, Rafah, al-Falah, Shouka and Zaytoon PCHs) face significant gaps in their ability to respond to existing health needs in their catchment areas.
The lengthening health care queue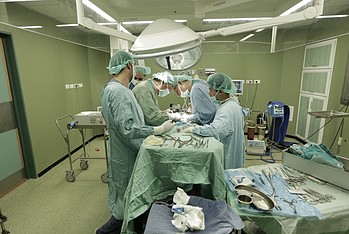 As of June 2016, Shifa hospital had 3,839 registered patients waiting for scheduled operations: 60 per cent are classified as major surgeries of long duration, 35 per cent moderate, and five per cent minor surgeries. Surgical appointments are being scheduled for as far away as 2018.
The long waiting lists have left many frustrated, sometimes in unnecessary pain and facing health risks associated with delayed care. For example, an operation for a woman whose thyroid gland was enlarged with a benign mass was recently scheduled for one year's time although she was in distress and her speech was disturbed. Some patients resort to asking health personnel for favours in scheduling appointments based on their personal connections.
Shortages in skilled personnel for operating room teams, especially anesthesiologists, surgical nurses and technicians, are the main reason for the backlog. This situation is partially a result of the blockade, which limits outside training opportunities, and of the internal Palestinian divide, which has left public employees recruited by the de facto authorities, including health staff, without regular salaries.
Shifa hospital boasts 14 operating rooms, but currently only ten theatres are being used (five for general surgeries, one for cardiac surgery, two for emergencies and two for day procedures). The Ministry of Health was forced to downsize its open heart cardiac surgery service after one of its two specialty surgeons left Gaza. The cardiac unit in the Gaza European hospital was closed, cutting the usual Ministry caseload of 500 patients to only 250 in Shifa hospital, with the remaining heart patients now requiring referrals to outside facilities.
* This article was contributed by the World Health Organization (WHO)