Gaza Strip: Snapshot | March 2021
Monthly highlights
Three Palestinian fishermen killed in an explosion and two others injured off the Gaza shore.
Increase in passengers and imports via the Israeli-controlled crossings of Erez and Kerem Shalom.
The pollution level of wastewater discharged into the sea declined to the lowest level in years.
Local authorities reinstate movement restrictions due to a steep rise in COVID-19 cases.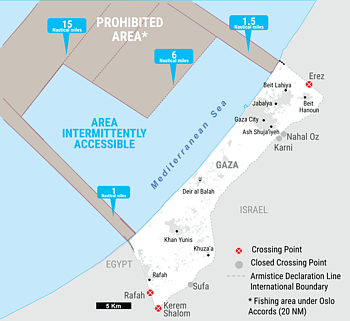 Protection of civilians and casualties
On 7 March, an explosion occurred in a Palestinian boat off the coast of Khan Younis, resulting in the death of three fishermen, two brothers and a cousin, in circumstances that remain unclear.
On at least 55 occasions (compared with 58 in February), Israeli forces opened warning fire towards Palestinians near Israel's perimeter fence and off the Gaza coast, presumably to enforce access restrictions. As a result, two fishermen were injured and their boat was damaged.
One rocket was fired from Gaza into southern Israel, falling in an open area and resulting in no injuries or damage. Israeli airstrikes followed, striking military sites in Gaza, causing some damage.
Comprehensive data on conflict-related casualties is available at OCHA's interactive database.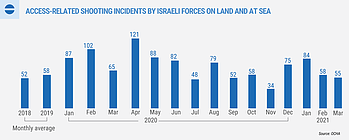 Access
In March, there were 2,212 entries in and 2,191 exits from Gaza, via the Israeli-controlled Erez Crossing, most of whom were Palestinian patients and their companions. This is an increase of about 25 per cent compared with February 2021 (total 3,538 crossings), but lower than the monthly average (about 50,000) crossings recorded in January and February 2020, prior to the imposition of movement restrictions related to the COVID-19 pandemic.
During the month, 1,293 applications for exit permits were submitted to the Israeli authorities, by patients referred to specialized treatment in the West Bank or Israel, a 23 per cent increase compared with February. Only 66 per cent of the applications were approved, while the remaining were denied or received no answer by the time of the medical appointment.
The Egyptian-controlled Rafah Crossing with Gaza continued to open on five consecutive days a week in both directions. During March, 6,195 exits and 7,332 entries were recorded.
A total of 8,645 truckloads of goods entered Gaza via the Israeli-controlled Kerem Shalom Crossing, and 1,046 others via the Salah Ad Din gate with Egypt. 422 truckloads of goods were allowed by Israel to exit Gaza; 128 to Israel; 277 to the West Bank; and 17 to international markets.
On 27 March, the local authorities tightened restrictions in Gaza, including imposing a night curfew and a ban on movement between governorates, which had been lifted during February. Active COVID-19 cases increased significantly from 1,737 at the end of February to 7,917 by end-March.
Comprehensive data on Gaza crossings is available at OCHA's interactive database.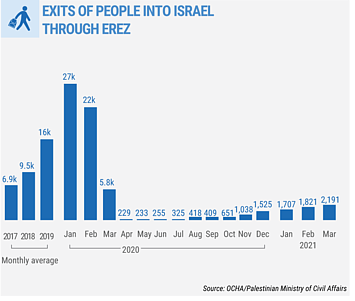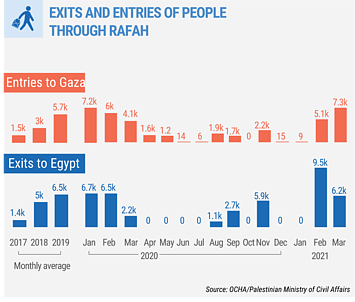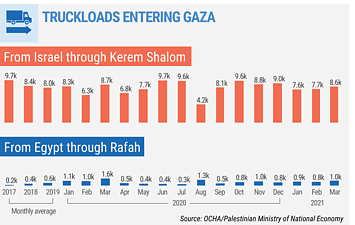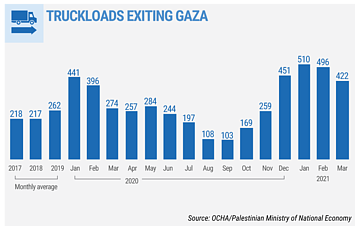 Services, Livelihoods and Shelter
The average supply of electricity in March increased slightly to 14 hours per day, up from 13 hours in February.
On a daily average, a 17 per cent decline in the volume of desalinated water produced by Gaza's public water utility was recorded in March (6,824 cubic metres per day), compared with February (8,204).
A recent survey by the Palestinian Water Authority reports that only four per cent of households in Gaza have access to safe water, and that more than 97 per cent of the water pumped from the coastal aquifer in Gaza does not meet the World Health Organization's water quality standards.
The pollution levels of wastewater discharged into the sea significantly declined in March to 80 milligrams per litre, the lowest recorded in years, due to an improvement in the operational capacity of two wastewater treatment plants.
The percentage of essential drugs at zero-stock level (less than a month's supply) was 50 per cent, compared with 45 per cent in February, due to the impact of COVID-19 response. This percentage is the highest recorded since September 2019.
An interactive database on electricity supply in Gaza is available at OCHA's website.