Gaza Strip: Snapshot | February 2021
Monthly highlights
Three people injured by Explosive Remnants of War; shooting incidents recorded, but with no casualties.
Thousands cross the Egyptian-controlled Rafah Crossing, as it opens indefinitely in both directions for five days a week.
The exit of people via the Israeli-controlled Erez Crossing increases slightly.
Local authorities lift most of the COVID-19 related movement restrictions imposed since August 2020.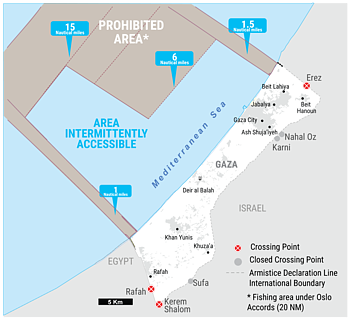 Protection of civilians and casualties
On at least 58 occasions, Israeli forces opened warning fire towards Palestinians near Israel's perimeter fence and off Gaza's coast, presumably to enforce access restrictions, causing no injuries. This is over 30 per cent below the number of shooting incidents in January 2021.
In two separate incidents on 21 and 25 February, two Palestinian men and one child were injured due to Explosive Remnants of War in northern Gaza.
Comprehensive data on conflict-related casualties is available at OCHA's interactive database.

Access
3,538 people crossed via the Israeli-controlled Erez Crossing in both directions, most of whom were Palestinian patients and their companions. This is a slight increase compared with January 2021 (3,284 people), but remains well below the monthly average of about 50,000 who crossed during January and February 2020, prior to the imposition of movement restrictions related to the COVID-19 pandemic.
During the month, 1,048 applications for exit permits were submitted to the Israeli authorities, by patients referred to specialized treatment in the West Bank or Israel, a ten per cent increase compared with January. Only 73 per cent of the applications were approved, while the remaining were denied or received no answer by the time of the medical appointment.
Following a closure of more than two months, the Egyptian-controlled Rafah Crossing with Gaza was opened on 1 February for four consecutive days in both directions. Since 9 February, the crossing has been open for five days a week until further notice. During the month, 9,537 exits and 5,120 entries were recorded.
A total of 7,696 truckloads of goods entered Gaza via the Israeli-controlled Kerem Shalom Crossing, and 843 others via the Rafah commercial crossing with Egypt. 496 truckloads of goods were allowed by Israel to exit Gaza, of which 136 were sent to Israel; 353, mostly strawberries and vegetables, to the West Bank; and seven to international markets. This represents a slight decrease compared with January 2021.
On 4 February, the local authorities lifted movement restrictions within Gaza, including movement between governorates. By the end of the month, a 61 per cent drop in active COVID-19 cases was recorded compared to end-January (from 4,485 to 1,737).
Comprehensive data on Gaza crossings is available at OCHA's interactive database.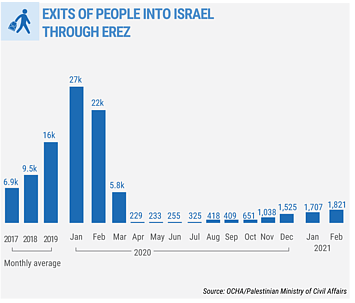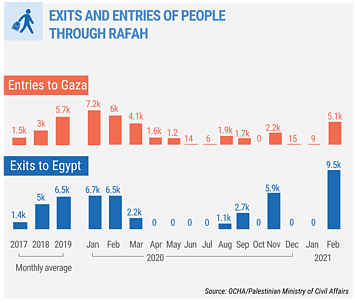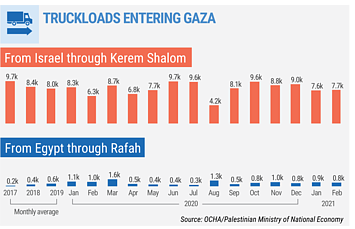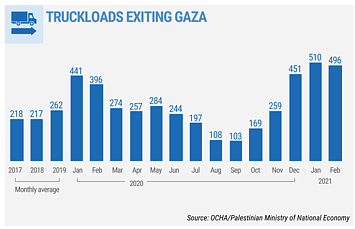 Services, Livelihoods and Shelter
The average supply of electricity in February declined to 13 hours per day, down from 14 hours a day in January.
On a daily average, a 33 per cent increase in the volume of desalinated water produced by Gaza's public water utility was recorded in February, compared with January. This is attributed to an increase of at least three operating hours a day by the utility, due to the availability of fuel to run generators.
The pollution levels of wastewater discharged into the sea are the same as reported in January, but remain lower than those recorded in December 2020.
The percentage of essential drugs at zero-stock level (supply for less than a month) increased from 42 per cent in January to 45 per cent in February.
An interactive database on electricity supply in Gaza is available at OCHA's website.