Posted on
12 February 2020
Gaza blockade | Restrictions eased but most people still 'locked in'
The Israeli blockade on the Gaza Strip imposed in 2007, citing security concerns, as well as the access restrictions imposed by Egypt, were eased in some ways during 2019. However, the movement of people and goods to, from, and within Gaza remained severely constrained.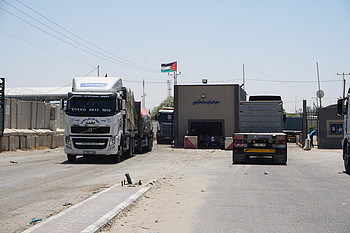 Movement of people
The movement of Palestinians in and out Gaza via the Israeli-controlled Erez crossing has remained largely prohibited. In 2019, a daily average of 526 permit holders exited Gaza via this crossing, the largest figure over the past decade.[1] This increase has been largely attributed to the granting of "trader permits" to labourers employed in Israel, who have been officially banned since 2006. On average, the number of exits via the Erez crossing during the 2010-2019 decade stood at 287 people a day, compared with over 20,000 exits a day in 2000, prior to the second Intifada.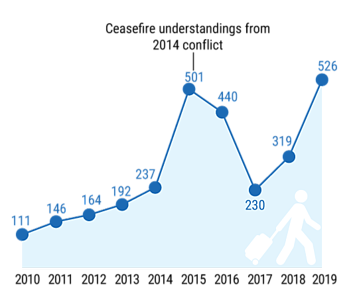 The approval rate for permit applications to leave Gaza via the Erez crossing for patients referred to medical treatment or check-ups outside Gaza (in the West Bank, including East Jerusalem, or in Israel) was 64 per cent in 2019. The remaining applications were either denied outright, or remained unanswered by the time of the appointment. While this represents an increase compared with the 2018 rate of approval (61 per cent), it is well below the average approval rate of 76 per cent during the decade.
76% average approval rate for patients' applications to leave Gaza via Erez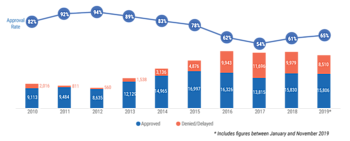 The Egyptian-controlled Rafah crossing has opened on a regular basis since May 2018, recording a daily average of 213 exits in 2019, up from 52 in 2015-2017, when it was mostly closed.[2] The peak in the volume of crossings from Gaza via Rafah (578 people a day) was recorded in 2012, during the Egyptian government of President Morsi. On average, during the decade between 2010 and 2019, 226 people a day exited via this crossing. Of note, the number of entries to Gaza via Rafah during this period stood at 210 people a day, which means that, cumulatively, nearly 60,000 more people left Gaza than returned during the decade.
A daily average of 226 people left Gaza via Rafah Crossing

Movement of goods
In 2019, approximately 95,600 truckloads of goods (excluding fuel) entered Gaza via the Israeli-controlled Kerem Shalom crossing.[3] Of these, 73 per cent carried either construction materials or food. The volume of imports into Gaza reached its highest point in 2016 and since then has been gradually declining. Entry of a wide range of goods defined by Israel as "dual-use items" that could be used for military purposes (including basic construction materials, equipment and electronics), has remained either prohibited, or subject to complex approval procedures.
On a monthly average, the volume of imports during the decade (6,375 truckloads) was more than 40 per cent below the equivalent figure in the first half of 2007 (11,200 truckloads), before the imposition of the blockade. Since 2007, Gaza's population has grown from 1.4 million to 2 million.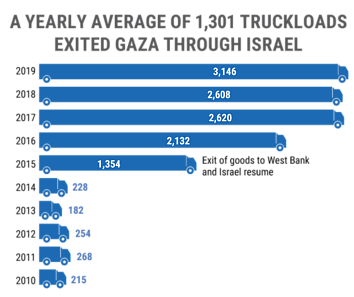 Additionally, in 2019 some 7,600 truckloads of goods entered Gaza from Egypt via the Rafah crossing and the 'Salah Ad Din gate' operating next to it, representing seven per cent of all imports into Gaza during the year. Compared with 2018, imports from Egypt increased by almost 50 per cent. This gate has been used on a regular basis for the entry of goods only since February 2018, following an understanding reached between Egypt and the Hamas authorities.
During 2019, a total of 3,146 truckloads were permitted to exit Gaza through Kerem Shalom, the largest such figure in a decade. Of these trucks, 84 per cent carried agricultural produce, the vast majority to the West Bank.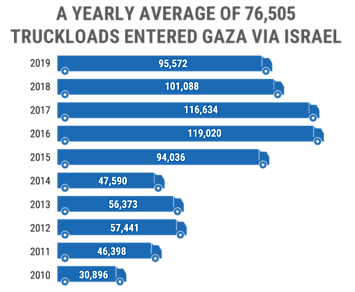 The exits of goods from Gaza has been increasing since 2015 when Israel resumed access by Gaza merchants to their traditional markets in the West Bank and Israel. Nevertheless, the 2019 volume of goods exiting Gaza is only one quarter of the figure recorded in the first half of 2007, before the imposition of the blockade. The ability of businesses to renew or increase their sales outside Gaza is impeded by multiple factors, including difficulties in accessing critical inputs, shortages of electricity, and crossing-related restrictions and uncertainties.
Siham's story: Siham, a 55 year-old mother of 10 children, lives in Gaza city. In 2013 she was diagnosed with leukemia, which later spread to her bone marrow. Since then, she has been struggling to reach the East Jerusalem hospital where she receives chemotherapy, as her applications for an exit permit have been occasionally delayed. "To be a cancer patient from Gaza is to be sentenced to a slow death by the permit regime, the harsh living conditions, the poverty and the blockade. I want just want to receive treatment and be treated with dignity", Siham told OCHA in 2017 (read more). At present, she has a permit allowing her to leave to East Jerusalem twice a month on a regular basis.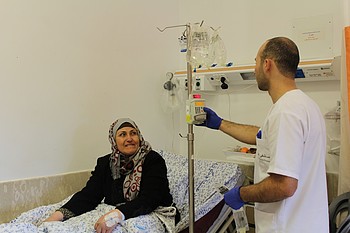 Rana's story: Despite the reopening of the Rafah crossing, movement of people remains impaired by a range of factors, including the multiple security checks on the road to Egypt and back. Rana, 44, exited Gaza in July 2018 via Rafah to visit her family in Jordan, whom she had not seen for five years. The journey back to Gaza took her four days. "It was extremely exhausting and involved sleep deprivation and hunger. We were stopped at dozens of checkpoints on the way and at every one, our luggage was unpacked and searched; then we spent 21 hours at the crossing", she told OCHA (read more).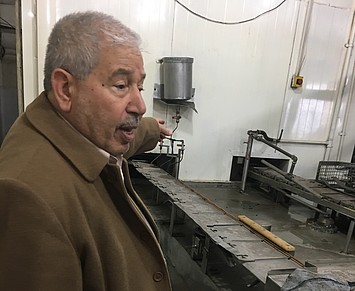 Ghazi's story: Ghazi Musht'ha owns an ice-cream factory in Gaza that used to export most of its production to Israel. The revocation of his permit to enter Israel in 2016, compounded by the difficulties in importing critical inputs and the shortages in electricity, led to a major decline in production levels. "I now employ only 50-60 people, down from 120 in the past", he told OCHA in December 2017 (read more). In July 2019, Ghazi was given his permit back, but he still struggles with the import restrictions and his business has not recovered.
---
[1] Daily averages are calculated by dividing the total number of exits each year by 365, regardless of the number of days the crossing operated.
[2] Ibid.
[3] Goods enter Gaza by means of a back-to back system: the goods are offloaded from Israeli trucks on the Israeli side of the Kerem Shalom crossing and transported into Gaza by Palestinian trucks. The figures presented here reflect the number of trucks that left the crossing into Gaza, which is sometimes different than the number of trucks that entered the crossing from Israel.
[4] In the years following the imposition of the blockade, the entry of goods to Gaza via the Karni, Nahal Oz, Sufa and Erez crossings were gradually halted, leaving Kerem Shalom the sole commercial crossing with Israel.