Posted on
10 November 2017
Four herding communities in the northern Jordan Valley at imminent risk of forcible transfer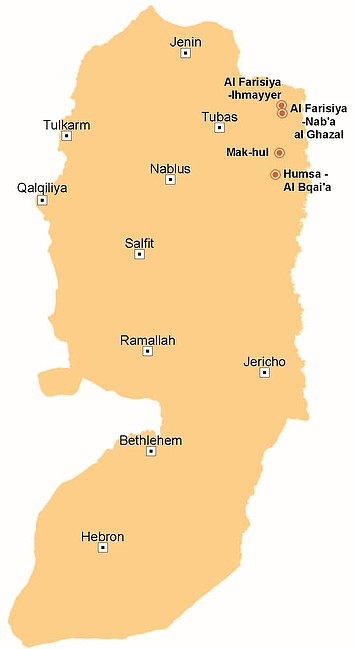 In October, legal cases filed with the Israeli HCJ in relation to four Palestinian communities in the northern Jordan Valley ruled in favour of demolitions due to lack of building permits, which are rarely granted by the Israeli authorities for Palestinians. Consequently, more than 200 structures, 26 per cent of which were donor-funded, in the communities of Makhul, Humsa al-Baqai'a, al Farisiya-Ihmayyer and al Farisiya-Nabe al Ghazal are under threat of demolition. An estimated 171 people, over 50 per cent of whom are children, are at imminent risk of displacement. Demolitions or the threat of demolitions, along with discriminatory planning policies that make it near impossible for Palestinian residents of Area C to obtain authorization for construction, are among the Israeli policies identified by the Secretary-General as generating a coercive environment that puts pressure on Palestinians to leave their communities and creates a risk of forcible transfer.
All four communities are located in Area C, where less than one per cent of the area is covered by a planning scheme for Palestinian communities.[1] There are currently over 12,500 demolition orders pending against Palestinian structures in Area C. Prior to the recent Israeli HCJ rulings, lawyers for these communities requested that a freeze on outstanding demolition orders be extended to enable detailed outline plans to be submitted to the communities.[2] The Court rejected the petitioners' request to extend the demolition freeze. However, in the case of Makhul, on 22 October, the HCJ issued a temporary injunction order preventing demolitions until 24 December 2017.
The northern Jordan Valley has been targeted by multiple demolitions. A wave of incidents in Makhul since 2013 has already resulted in the departure of half of the community: five out of 10 families. The remaining households, comprising 29 people and including 15 children, are now vulnerable: some 47 structures, of which 11 are donor-funded, face potential demolition. These include: seven residential buildings; 16 animal-related structures and five structures for fodder storage for the community's 1,110 sheep; five external kitchens and five taboun (traditional) ovens; four latrines; and five solar panel units. (See case study).
Of the households in Humsa al-Baqai'a, three households comprising 26 people and including 18 children are also affected and 21 structures, including two funded by donors, face the threat of imminent demolition. These include: three residential shelters; nine animal shelters and six structures for fodder storage for the families' 750 sheep; three kitchens and three taboun ovens; and two solar panel units.
In al Farisiya-Ihmayyer, 16 households with an estimated population of 84, including 41 children, are at risk of displacement. There are outstanding demolition orders against the families' 97 structures, of which 27 are donor-funded. Structures at threat include: 25 residential shelters; 17 animal shelters and eight structures for fodder storage for the families' 500 sheep; 12 kitchens and nine taboun ovens; 14 latrines; and 12 solar panel units.
In al Farisiya-Nabe al Ghazal, seven of 10 households comprising 32 people, including 16 children, are at threat of displacement and their 30 structures have no protection against demolition. These include: seven residential shelters; six animal structures and three structures for fodder storage for about 750 sheep owned by the families; four kitchens and three taboun ovens; and three latrines. Fourteen of the structures at risk are donor-funded.
Humsa al-Baqai'a, al Farisiya–Nabe al Ghazal and al Farisiya-Ihmayyer are partially or fully located within areas declared as 'firing zones'. These are just part of approximately 6,200 Palestinians in 38 mostly Bedouin or herding communities in such locations in Area C. These are some of the most vulnerable communities in the West Bank with limited or difficult access to education and health services, and to water, sanitation and electricity infrastructure. They are also subject to 'temporary relocation' due to military activity: Humsa al-Baqai'a has witnessed more than 38 incidents of evacuations for military training over the past five years.
We Lost Our Case in Court, Again.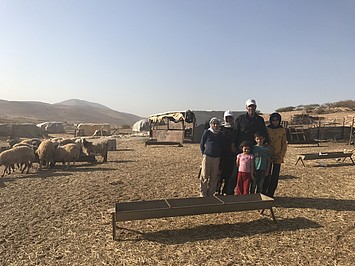 In describing their experience, Mr. Bisharat explained, "I have lived here in Makhul for the past 12 years, but I grew up in an area called Ar Ruwaq near Humsa al-Baqai'a, several kilometers away. 1n 1998, when I was 21 years old, I first saw an Israeli army bulldozer razing our home and animal shelters in Ar Ruwaq, where my parents and grand-parents had lived since the 1940s. I remember how they demolished or confiscated our tents and animal shelters, even using the bulldozer to damage our water tanks, and confiscated our water truck.
"We rebuilt our homes and filed a court case against demolitions. Five years later in July 2003, our lawyer informed us that we had lost our case in court because the area was designated as a closed military area. Between August and September 2003, we were all forced to demolish our homes and moved to nearby communities. I moved to al Hadidiya and two years later to Makhul. In October, I got married. Two months later, the Israeli army literally razed everything that was left standing in Ar Ruwaq, including a few animal pens, water tanks and three trees, and used earth to bury it.
"We never completely abandoned Ar Ruwaq but life has changed. In the old days, you would see more than 35 tractors working during the ploughing season and more than 15 harvesters and 20 tractors during the harvesting season. It was a time of joy with dozens of people. Now it is mostly empty, with only five or six families from Makul and al Hadidiya still planting some 7,000 dunums in the area. The other families, who mainly came from Tammun, stopped planting the area following the erection of trenches and other access restrictions along the western edge of the Jordan Valley in 2000.
"I live in Makhul with my wife and seven children. Like Ar Ruwaq, the land here is privately owned Palestinian land. I have a rental contract with the Palestinian land owner from Tubas and pay 250 Jordanian Dinars in annual rent. In 2013, a few days before the mass demolition of Makhul, we were informed by the lawyer that the case filed in court to have our structures legalized had been rejected.[3] That was the second demolition experience I witnessed in my lifetime. Following a series of demolitions and confiscations, including of humanitarian assistance, we rebuilt our structures and life here. But one family left. In 2015, four of the nine remaining households had their homes demolished: two of these families subsequently left. Two other families also left later. It seems demolitions or fear thereof had a heavy toll on them. Five households now remain in Makhul, including my family.[4]
"At the beginning of October this year, we were informed by our lawyer that we had lost our case in court yet again. He told us to expect a demolition at any time now, despite the appeal he submitted against the ruling by the Israeli Supreme Court. I console myself and say that I will rebuild my home. But if they demolish our home in winter when there is rain and very cold weather, it would be especially devastating for my family.
"Herding is the primary source of income for my family. In 2000, I bought 30 sheep and I now have some 350 sheep. If the Israeli army demolishes our homes and forces us out of Makhul, I may be forced to move to the Atuf area, west of the trenches. Grazing land in that area is limited and I would be forced to sell most of my livestock, which would have a serious impact on my family's income. It is also Area C there but it is not heavily targeted with demolitions as in Makhul.
Mrs. Bisharat added, "Inshallah we will continue to live here. I cannot imagine being forced out. It would be like taking a fish out of water."
(Interview conducted on 18 October 2017.)
---
[1] The average approval rate for applications for building permits by Palestinians in Area C in 2007-2016 was less than four per cent.
[2] To date, 110 local outline plans for communities in Area C have been prepared. If approved, these would significantly enhance the ability of residents to obtain building permits. However, only five of the 101 plans submitted have been approved by the Israeli Civil Administration (ICA) and 96 have been pending with the ICA for more than 18 months.
[3] See UNOCHA, Protection of Civilians Weekly Report, 10-16 September 2013
[4] In addition to the five families that moved out of Makhul over the past four years, ten other families relocated out of the community in earlier years due to movement and planning restrictions in a coercive environment that has gravely affected the community's access to grazing land and water resources. For more information, please UNOCHA, Movement and Access Update, September 2012, pages 25-26.