Excessive use of force and lack of accountability
Violent clashes between Israeli forces and Palestinian civilians in the West Bank, primarily during demonstrations and search and arrest operations, have been on the rise in recent years. In 2016, 19 Palestinians were killed and over 3,200 injured during such clashes; nearly 14 per cent of these injuries were from live ammunition. Serious injuries often result in long-term disability, rendering young Palestinians in constant need of medical treatment and humanitarian assistance, and disrupting the lives of their entire families.
At least some of the clashes leading to Palestinian casualties have raised concern about possible excessive use of force by Israeli forces, including the use of lethal weapons as crowd control measures. Such cases have only rarely led to effective investigations and holding to account suspected perpetrators within Israeli forces. Moreover, a series of amendments to Israeli tort law in recent years, including broadening the definition of "warfare activity" and the introduction of procedural restrictions, makes it virtually impossible for Palestinians to effectively claim compensation for violation of their rights through the Israeli court system.
Mohammed Al Ammasi from Al Fawwar refugee camp, Hebron
September 2016: "I went to the rooftop of my house to watch the clashes…A second later I was shot three bullets in my legs"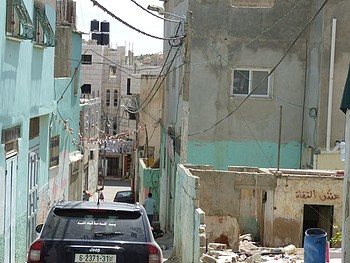 Just before dawn on 16 August 2016, large numbers of Israeli soldiers raided al Fawwar refugee camp (Hebron) and conducted a house-to-house search operation. The forces took over multiple rooftops across the camp and deployed snipers. Palestinian youths threw stones and, according to Israeli sources, also Molotov cocktails at the soldiers, who responded with live ammunition and tear gas canisters. During the clashes, an 18 year-old Palestinian youth was shot and killed by the soldiers and another 52 residents were injured, more than half of them by live ammunition. No Israeli injuries were reported.
Mohammed al Ammassi is a 22-year-old resident of the camp: "I went to the lower rooftop of my house to watch the clashes. The house is located on a hill away from the area of the clashes. At one point, I was called by a neighbor to check whether the upper roof of my house could be used by camera men and reporters from two TV channels covering the incident.
As soon as I got to the other roof, I heard an Israeli sniper positioned on a nearby building asking me in Arabic: 'Where do you want it?' I did not reply and turned my back. A second later I was shot with three bullets in my legs. One hit my knee and the other one hit my thigh, lodging in my hip. As I fell down shouting 'Stop!', the soldier fired another bullet that hit my right hand. I was evacuated to a hospital in Hebron but due to the complexity of my injuries, was transferred to a Ramallah hospital. I underwent two operations and the doctors feared I could have a life-time disability."
Case collected in September 2016 for September Humanitarian Bulletin – unpublished.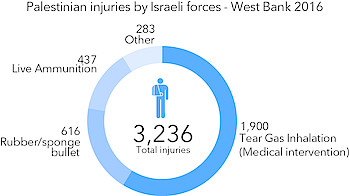 May 2017: "I missed the limited window of opportunity to obtain justice"
"It was only three months ago that I returned to work at the traditional oven that I run with my father. For seven months I had excruciating pain and could not do anything but physiotherapy sessions. My leg has sustained nerve damage and for months I had to wear boots, even at home, as I lost control over the left foot. My left knee moves involuntarily too. I cannot go down the stairs easily and have to rely on my right leg a lot. I cannot walk further than 500 metres before I feel pain and start to limp. I had to buy a car to help me move around, but running a car in the camp is not easy because of the narrow streets and alleys.
My right hand also has some form of disability and the pieces of shrapnel make it hard for me to do many things. Any awkward movement makes it stiff. I cannot bend my hand easily or hold things. The injury left me in chronic pain and has affected my work tremendously.
My work in the oven is mostly physical and entails chopping vegetables and carrying heavy stuff: sacks of flour, potatoes, etc. Now I cannot do many of these things. I mainly do administrative tasks and some supervision. My father is getting old and I was the one who ran the oven, which is our main source of livelihood.
I did try to seek justice but did not have any support, connections or someone to instruct me on how to go about it. I wanted to get in touch with an Israeli lawyer to open a file for compensation and was willing to pay the costs. I knew I had a strong case. My shooting was captured live by the camera crew and went viral. The footage shows that I posed no threat to anyone. I could not get a lawyer in time and missed the limited window for opportunity to register the complaint and obtain some justice."[6]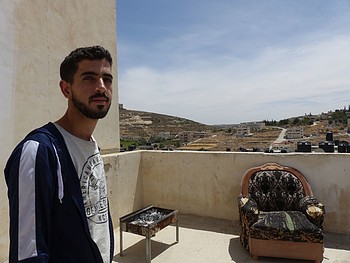 ---
[6] Under Israeli legislation, residents of the West Bank or Gaza cannot claim damages for harm suffered if they do not inform the Ministry of Defense in writing within 60 days of the incident.