Posted on
11 September 2017
Energy crisis takes its toll on Palestinian farmers in Gaza
Some 38 per cent of planted crops at risk of total loss
The severity of electricity outages in the Gaza Strip continued in August, ranging from 18 to 20 hours a day. This had a detrimental impact on the availability of essential services and undermined Gaza's already fragile economy.
The energy crisis has taken its toll on the agricultural sector and 30,000 out of 80,000 dunums planted with seasonal vegetable crops across the Gaza Strip are at risk of total loss due to irregular irrigation. This is directly linked to shortages in the electricity supply needed to support sufficient pumping hours from water wells. The Palestinian Ministry of Agriculture (MoA) estimates that up to 60 per cent of the demand for water is unmet as a result of electricity outages.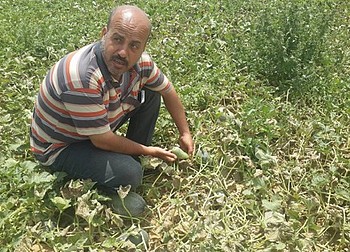 Farmers operating in the south-eastern communities of the Gaza Strip such as Shoka and Fukhkhari, plus parts of Khuza'a and Tuemat, are particularly affected. Farmers in these areas were already completely reliant on water pumped from the south-west of the Gaza Strip since the high salinity of underground water in these areas renders it unsuitable for irrigation. Before April 2017, farmers in these areas were already paying 100 NIS per pumping hour. Since the crisis began, prices have increased by 40-50 per cent, leaving farmers with the hard choices of paying the additional costs, which often involves taking loans, or going further into debt; raising the cost of the produce and losing competitive advantage; decreasing the period of irrigation and therefore reducing the quality of the produce; prioritizing types of vegetable that can survive on minimal water; or abandon farming altogether. Many farmers have discontinued the irrigation of their crops and have abandoned cropped land for cattle grazing.
Estimates from the Palestinian MoA suggest that eastern Khan Yunis is the agricultural area most affected, with anticipated losses in actual investment, as high as 60 per cent; in North Gaza and Gaza governorates losses are estimated at 40 per cent. Poor irrigation is also expected to reduce orchard and fruit tree productivity by 20 to 30 per cent, with losses of more than 170 million NIS. More than two-thirds of potato production is kept in refrigerated storage systems that need unbroken electricity. If the situation is not resolved, an estimated 24 million NIS will be lost due to crop damage and increased refrigerator operating costs.
The longer-term impact of the electricity crisis is that farmers will lose the incentive and ability to secure capital for investment in highly insecure businesses. As a result, agricultural land requiring costly irrigation may be planted with crops requiring less irrigation, which are normally significantly less profitable. Such a shift would not only drastically reduce farmers' incomes, but would also limit the quality and quantity of agricultural products (plant and animal) available in the Gaza Strip. This could lead to price increases and restricted access by vulnerable groups to items needed to meet basic dietary needs unless protective measures are put in place. In the long run, an increasing number of vulnerable, less resilient and moderately food secure households are at risk of food insecurity, leading to greater aid dependency. Any additional cuts to electricity will further exacerbate the challenges listed above and make agricultural production activities dependent on electricity even less viable.
Planned and ongoing interventions in the food security sector
In response to the worsening situation, humanitarian agencies in the occupied Palestin- ian territory (oPt) appealed to the international community in July to provide $25 million in humanitarian funding for urgent interventions to stabilize the situation in the Gaza Strip. Of this funding, $8.8 million were for 14 interventions in the food security sector that included food assistance, cash for work, recovery support, promoting resilient liveli- hoods, increasing production capacity of agricultural assets, and enhancing the income of vulnerable men and women. As of 25 August, 37 per cent of the appeal for the food security sector had been received and six interventions can be implemented.
133 of the proposed interventions in Gaza were part of the Humanitarian Response Plan (HRP) launched in December 2016. Of these, 34 interventions costing $215 million were presented by the food security sector but could not be implemented due to lack of funding.
The food security sector (FSS) is continuing to evaluate the short-term and anticipated long-term agricultural impact of continuing power cuts. In partnership with OCHA, the FSS monitors developments through established indicators, including the Coping Strategies Index[1] that monitors the retail price of some essential vegetables. The FSS also worked with MoA and PNGO to release a paper identifying the key impact of electricity cuts on the agricultural sector.
Palestinian internal divide and energy crisis: background
The energy crisis that began in 2006 worsened dramatically in mid-April 2017 following a dispute between the Palestinian authorities in Ramallah and Gaza over the funding and taxation of fuel for the Gaza Power Plant. In May the Ramallah- based government cut payments to Israel for electricity it purchases for Gaza. In June, Israel reduced the 60 per cent of the total supply of electricity it supplies by 33 per cent. While the de-facto authorities in Gaza have arranged to purchase fuel from Egypt, the quantity has fluctuated and is insufficient to return to the pre-April situation when power outages ranged from 14 to 16 hours per day (March 2017). These developments have been compounded by the salary crisis. In March 2017, the West Bank-based Palestinian Authority (PA) cut the salaries of 62,000 employees in Gaza by 30-50 per cent. Additionally, since 2014 around 22,000 employees recruited by the Hamas authorities have received less than half of their salaries on an irregular basis. The direct impact on staff and families spreads to the wider economy as a result of declining consumption.result of declining consumption.
Khan Younis farmers most affected by electricity crisis
Farming by Tareq al-Omour, a 44-year-old father of six from Khan Yunis governorate, has been severely hampered by the ongoing electricity crisis. In February, Tareq invested some 16,000 NIS in planting eight dunums of land in the al Fukhari area with four types of vegetable: eggplant, zucchini, Armenian cucumber and cantaloupe. Due to the high salinity of underground water in this area, farmers rely entirely on water pumped from the far west of the Gaza Strip through 8 to 10 kilometer water carrier lines. Prior to the latest energy crisis, Tareq paid 100 NIS per pumping hour for water. In April when the electricity crisis worsened and the pumping of water became more expensive, Tareq had to pay 160 NIS per pumping hour. As a result, Tareq was no longer able to afford the cost of irrigating his crops. To accommodate the new reality, he destroyed the crops that needed more irrigation than others, starting with the eggplant crop. As the power crisis continued, he could no longer afford to irrigate the remaining crops; in May 2017, he destroyed his cantaloupe and Armenian cucumber crops as well, leaving the zucchini. Even the zucchini, he could only afford to irrigate irregularly, which affected their quality and reduced the level of productivity, from 5 to 2 tons per dunum. Tareq estimates his loss at 10,000 NIS.
"As any other farmer, I wait until the end of the season to be able to afford to buy new things for my house or carry out house repairs. My current losses destroyed my plans for buying a new refrigerator and carrying out house repairs", said Tareq, who provides for a total of 10 people.
Asked about his future farming plans, he said: "Due to the losses, I will not plant any crops this summer. I am unable to afford it, but also I cannot risk further unexpected losses. I am thinking of planting peas in the winter and depending on the rainfall, I may also plant cabbage".
Endnote
[1] The Coping Strategies Index (CSI) is a tool for rapid measurement of household food security and the impact of food aid programs in humanitarian emergencies. The original manual, written in 2003, was based on a collaborative research project implemented by WFP and CARE in Kenya.
* This article was contributed by Food Security Sector.