Posted on
31 October 2014
East Jerusalem: protection concerns amid escalation in tensions
1,600 Palestinians injured in clashes with Israeli forces to date in 2014
Levels of tension rose considerably in East Jerusalem during October, reflected in the frequency and intensity of violent clashes, attacks, arrests and demolitions. This trend has raised serious concerns and prompted fears that it may trigger a wider escalation across the occupied Palestinian territory (oPt).
Although there were previous peaks in confrontations between East Jerusalem Palestinians and Israeli forces earlier this year, October's developments were unique in several aspects. While previous clashes in 2014 were confined to a few days around specific events and concentrated in the outer limits of the city (e.g. Qalandiya checkpoint), this month's clashes, which resulted in 171 Palestinian injuries, have been on an almost daily basis and have extended to most Palestinian neighbourhoods. Overall, two Palestinians have been killed by Israeli forces during protests and clashes (excluding the perpetrators of attacks against Israelis) since the beginning of 2014 (through the end of October) in East Jerusalem and approximately 1,600 injured; the majority of the injuries were recorded in July following the kidnapping and killing of a Palestinian child. In comparison, in all of 2013 there were no Palestinian fatalities and 320 injuries.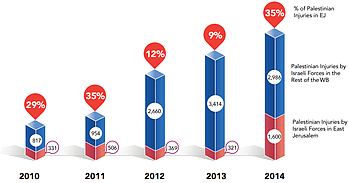 There was also a significant increase in Palestinian violence against Israeli civilians in the city during October. This included frequent stone-throwing incidents, an attack on people at a light rail station (a similar attack was recorded in early November), and an attempt to assassinate the leader (also a Rabbi) of an Israeli group campaigning for expanded Jewish access to the Al Aqsa Mosque compound. Since the beginning of 2014 (through the end of October) three Israelis have been killed and approximately 70 injured by Palestinians in East and West Jerusalem.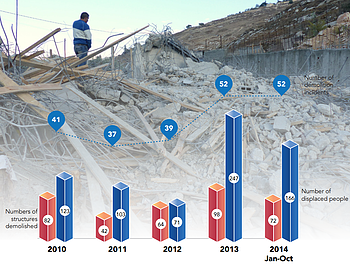 During October the demolition of Palestinian properties increased on the grounds of the lack of a building permit. According to media reports, the Mayor of Jerusalem recently ordered municipality officials to strengthen 'enforcement' measures against Palestinians in East Jerusalem, including house demolitions for buildings without permits. The objective is to pressure the Palestinian population to act against young demonstrators.10 October recorded the highest number of demolitions (23 structures) since the beginning of the year, and the second highest figure for people displaced (30). These events took place alongside the takeover by Israeli settlers of properties in two sections of the Silwan neighbourhood and various government announcements of settlement expansion in other areas of the city.[1]
The main driver of tensions during the month has been concern among Palestinians about a further erosion of the status quo on access arrangements to the Al Aqsa Mosque compound.[2]
These concerns are connected to the restrictions imposed recently by the Israeli authorities on access by Muslims to the compound, in conjunction with the growing frequency of Israeli right-wing and settler activists entering the compound in what is perceived as a provocative act. The entry of Israeli activists to the compound has increased in recent years from an average of once every two weeks in 2012, to once every four days in 2013, and once every two to three days in 2014. Restrictions on Muslim access include the denial of entry permits for West Bank ID holders and age/gender restrictions for East Jerusalem ID holders, as well as restrictions on an individual basis. In October the compound was closed for an entire day for the first time since 1967 and violent clashes took place with Israeli forces within the Al Aqsa Mosque itself. Israeli senior officials, including Prime Minister Benjamin Netanyahu, have denied any official intention to alter the status quo.[3]
East Jerusalem under international law
Israel's unilateral annexation of East Jerusalem and the surrounding West Bank hinterland in 1967 contravenes international law.[4] This annexation is not recognized by the international community, which considers East Jerusalem an integral part of the occupied Palestinian territory, and its Palestinian residents as persons protected by international humanitarian law.
Latest Developments: seven Israelis killed
On 5 November, a Palestinian man from Shu'fat Refugee Camp, allegedly affiliated with Hamas, ran his vehicle into a station of the light train around the boundary of East and West Jerusalem and subsequently attacked bystanders with an iron bar, killing a border policeman and injuring 12 other Israelis, including a 17-year-old boy, who died of his wounds on 7 November. The driver was killed by Israeli forces during the incident. On 18 November, two Palestinian men from East Jerusalem entered a synagogue in West Jerusalem and shot and stabbed people praying there, killing four of them and injuring another 12. The assailants, as well as an Israeli policeman, were killed during a subsequent exchange of fire.
The number of Palestinian children arrested since June 2014 rose sharply in the context of the rising tensions in East Jerusalem and this remains a key concern, alongside allegations of mistreatment of children in detention. Between June and August alone, OCHA recorded the arrest of about 200 children, nearly the same number as in the whole of 2013.
---