Demolitions in West Bank undermine access to water
Rate increases in first quarter of 2019
The demolition of residential, livelihood and service infrastructure, on the grounds of a lack of Israeli-issued permits, has continued throughout the West Bank, including in East Jerusalem. In the first three months of 2019, a total of 136 Palestinian structures were demolished in the West Bank, of which 48 were in East Jerusalem and 88 in Area C, displacing 218 people, including 97 children and 57 women.[1]
Forty-two per cent of the demolished structures were residential, 38 per cent were livelihood-related structures, and seven per cent were water, sanitation and hygiene (WASH)-related. On a monthly average, the first quarter of 2019 recorded a higher rate of demolitions than in the previous two years, but is still well below 2016, which recorded the highest number of demolitions and seizures of Palestinian properties since OCHA began monitoring the phenomenon in 2009 (See chart below).
In addition to those displaced, the demolitions have affected over 25,000 people this year, most of whom were impacted by the destruction of water connections and wells in five separate incidents in February. In the most serious incident, on 17 February, the Israeli authorities destroyed a 750 metre-long water pipeline, which formed part of a project to supply water to the villages of Beit Furik and Beit Dajan (both in Nablus). All of the estimated 18,000 residents of the two villages were affected. In two other incidents, on 13 and 15 February, the Israeli authorities damaged or confiscated two donor-funded water pipes, including 1.4 kilometre (km)-long pipes in the Massafer Yatta area (South Hebron), affecting around 1,300 people in 12 communities; and 2 km-long pipes in the Palestinian Bedouin community of Wadi abu Hindi (Jerusalem), affecting around 320 people.
Monthly average of structures demolished or confiscated (for lacking permits and on punitive grounds)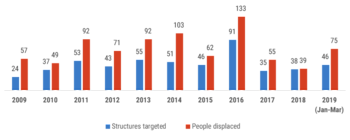 Also in February, the livelihoods of 30 people in two communities in the Jerusalem governorate, Al Khalayleh and Mikhmas, were affected by the demolition of two water wells, both donated. All the affected communities suffer from water shortages with no adequate access to water, especially in summer, as is the case of many villages across the West Bank, due to the absence of a water network and the difficulty of constructing water systems due to a lack of permits.
Demolitions represent one element of a coercive environment affecting many Palestinians throughout the West Bank, including East Jerusalem. Demolitions combined with other factors, including the promotion of plans to relocate communities; restrictions on access to natural resources; the denial of basic service infrastructure; and the lack of secure residency, create pressure on residents and generate a risk of forcible transfer. Only 13 per cent of East Jerusalem is zoned for Palestinian construction, much of which is already built up: in the first quarter of 2019, the level of demolitions in East Jerusalem continued at the same high rate as 2018, with 16 structures on average each month. In East Jerusalem and Area C, the restrictive planning regime applied by Israel makes it virtually impossible for Palestinians to obtain building permits, impeding the development of adequate housing, infrastructure and livelihoods.[2] Around 270,000 Palestinians in Area C are directly affected by Israeli restrictions and control of WASH-related infrastructure, such as water and sanitation networks, with around 95,000 people receiving less than 50 litres of water per capita per day, compared to the WHO recommendation of 100 litres per day, while over 83,000 people receive bad quality drinking water,[3] or have to resort to purchasing expensive and unregulated water.
The case of Beit Furik and Beit Dajan villages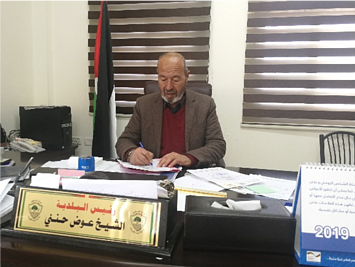 An estimated population of 18,000 people residing in the villages of Beit Dajan and Beit Furik continue to face inadequate access to water and sanitation. The two villages were designated as Area B, under the Oslo agreements, so the State of Palestine provides basic services, including water, to residents. However, due to continued Israeli control and exploitation of West Bank freshwater sources, it is difficult to construct the water projects in the West Bank to overcome water shortages. Mr. Awad Hanani, Head of the Beit Furik Village Council, explained the impact of the Israeli authorities' 17 February 2019 destruction of a pipeline that formed part of a local project to supply water to the two communities:
"The two villages are like two islands, surrounded by settlements to the north and south, a military training area to the east, and a bypass road to the west that connects Elon More and Itamar settlements, that we are not allowed to use. Most of the water network affected in February is implemented in Area B, and less than 1.5 km of the pipes should pass through Area C, for which we need an Israeli permit, and the permit is never granted.
"We only have one source of water, which is a well shared between the two villages. In recent years, the capacity of pumping water from the well dropped by more than half (from 65 to 29 cubic meters (m3) per hour), so the two villages are receiving less water. To fill this gap, people are forced to rely on tankered water, with a higher price than tap water. The average price for 1 m3 of tap water is 5 NIS, while 1m3 of tankered water is 12 NIS. Especially in summer when the demand is intense we need to wait for more than a month to receive the tankered water, due to delays and other difficulties.
"To receive an adequate amount of water is a very basic human and humanitarian right. We call upon all of the international and humanitarian communities to support and help us in solving our water problem".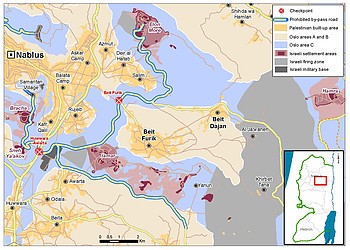 The case of Massafer Yatta
The Massafer Yatta area of southern Hebron is a cluster of 12 communities, located in an area designated by Israel since the 1980's as a "firing zone" for Israeli military training, on which basis and they have sought to remove the communities. Its residents are at heightened risk of forcible transfer, due to the coercive environment imposed on them.
Depending on the season, the communities rely on harvested rainwater and tankered water, which is sold at prices that are unaffordable for residents. Their main source of income is livestock, with their combined, estimated herd reaching over 25,000 sheep and goats, which consume about 75 per cent of the water.
Various NGOs have worked with the communities on water distribution projects to overcome the water shortages. In October 2018, Action Against Hunger (ACF), with donations from the oPt Humanitarian Fund (HF), implemented a network to supply the communities with water. The network secured water at a lower cost and better quality for the communities, but only operated for three months before the pipes were damaged by the Israeli authorities in February 2019.
Shifaa Abu Iram, a beneficiary and a resident, says: "We pay a lot of money for water. The network made us feel more secure. We used to receive water on time, and we watered our livestock, which is our main source of living. Without the network, we have to minimize our use of water and neglect some activities. For example, we wash our clothes only once a week, but when water is available, we wash them every other day. We were very happy, but now the network is effectively destroyed and we are suffering again."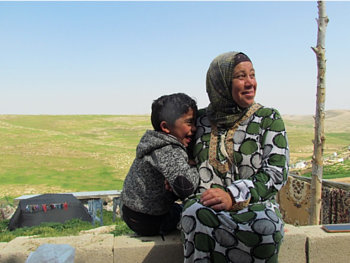 Closure of water openings in northern Jordan Valley continues
Between July 2018 and March 2019, the Israeli authorities shut down about a dozen unlicensed water openings serving farmers in Bardala, gravely affecting their livelihoods. Most recently, on 6 March 2019, local community sources reported that the Israeli authorities closed an unlicensed water opening that irrigated 1,150 dunums, affecting 47 farmers. According to Tubas governorate, Palestinians used to cultivate about 15,000 dunums of land in the northern Jordan Valley, but in the past few years this area has shrunk by almost 50 per cent to about 8,000 dunums, due to water scarcity, limited access of Palestinian farmers to water and the allocation of water in much larger quantities to Israeli settlers. In general, Tubas governorate estimates that the amount of water allocated for Israeli settlers in the area is eight times that allocated for Palestinians per hour.
---
[1] In addition, two residences were demolished on punitive grounds, one in Area A and the other in Area B, displacing eight people.
[2] As reiterated in previous reports of the Secretary-General and the Committee on the Elimination of Racial Discrimination, the planning regime adopted by Israel is discriminatory and incompatible with requirements under international law. Report of the UN High Commissioner for Human Rights, Israel Settlements in the Occupied Palestinian Territory, including East Jerusalem, and the Occupied Syrian Golan, March 2018, para. 29.
[3] HNO, p.23.