Posted on
6 September 2016
Decline in the number of Palestinians leaving Gaza, including humanitarian staff and patients
Increased restrictions on commercial imports for companies
As part of a 'separation policy' to separate West Bank Palestinians from Palestinians in Gaza, the Israeli authorities prohibit the passage of Palestinians in and out of Gaza. Exceptions are made for certain categories, principally businesspeople and traders, medical patients and their companions, and employees of international organizations issued with Israeli permits. During the easing of access restrictions following the 2014 hostilities, the number of Palestinians from exceptional categories crossing through Erez more than doubled in 2015 compared to the previous year. Nevertheless, numbers remain significantly lower than at the start of the second intifada in 2000, when some 26,000 Palestinians crossed Erez daily for wider purposes. In 2016, data for July show a 15 per cent decline in exits from Gaza versus the monthly average for the first half of the year, with a 27 per cent decline in the number of exits for businesspeople and traders.[1]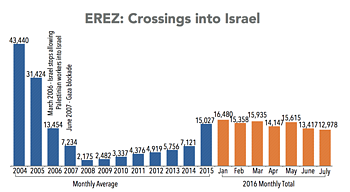 The decline in numbers follows a new policy introduced in June 2016 that largly limits residents of Gaza to four permits of one month duration per year, with a minority of residents entitled to apply for three-month permits; this is in contrast to the previous practice of unlimited permit applications for up to three months. Additionally, since March 2016, 1,545 of an estimated 3,200 to 3,500 businesspeople have had their permits cancelled or not renewed.5 There has also been a decline in the category of senior businesspeople who hold "BMC" permits, which facilitate easier access compared to the normal permits. The quota for this category was increased in early 2015 from 250 to 450 as part of the post-2014 easing measures, but since March 2016, some 150 BMC permits have been cancelled.6 This led to a demonstration by businesspeople on 16 July on the Palestinian side of the Erez crossing. In addition, the estimated 5,000+ companies that can be authorized to import goods into Gaza have been reduced by some two hundred.7 Businesspeople, medical patients and students with approved permits also face increased interrogation, detention and, in some cases, arrest by Israeli security authorities at the Erez crossing.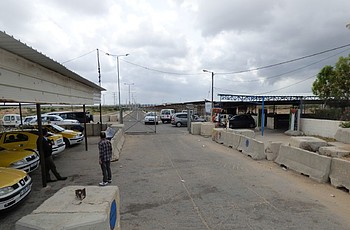 Decline in exits from Gaza for patients and their companions
As a result of the fragmented health-care system in Gaza, the Ministry of Health (MoH) frequently refers patients who need specialized health care to more advanced facilities in the West Bank, including East Jerusalem, and in Israel. Although there has been an increase in the absolute number of approvals since 2012, the rate of approval for patient permit applications to travel via Erez crossing has declined steadily and more patients have faced denied or delayed access.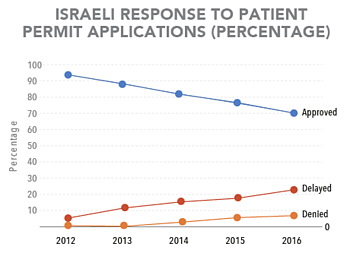 As Chart 2 demonstrates, this trend has become more pronounced in 2016. In the first seven months, the Palestinian MoH district liaison office submitted 14,452 applications for Gaza patients requiring Israeli permits for advanced medical treatment outside Gaza. Only 70.4 per cent were approved, 6.8 per cent were denied and the remaining 22.8 per cent had no response, forcing patients to miss their appointments. Almost one-third of applicants were children under the age of 18 and 15.7 per cent were over 60 years of age. Some 45.6 per cent of all applicants were female.
Restrictions on companions have also increased in 2016 after the Israeli authorities required strict security clearance for adult companions up to the age of 55, rather than up to 35 years old as previously. This has increased difficulties, especially if the patient is a young child, in finding a first degree relative required as a companion. Of the 15,434 applications for patient companions submitted in 2016, only 60.4 per cent were approved, 11.2 per cent were denied and 28.5 per cent were pending.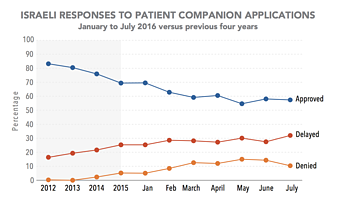 When a companion is rejected and patients have to find an alternative companion, the security process can take up to three weeks. In May the Israeli authorities lowered the restriction on female companions to those aged 45. However, data from the past two months do not show a significant improvement in access for companions (Chart 3).
Access for humanitarian health staff should be facilitated as a basic human right under international law. The World Health Organization (WHO) plays an important role in facilitating permit applications for health staff who need to cross Erez, including applications for WHO staff, MoH staff and international health organizations. Access by humanitarian health staff through Erez has declined recently (Chart 4). While fewer requests are pending, denials of access for health staff have risen sharply since May to almost eight in 10 requests. There has been no explanation from Israeli authorities regarding the deterioration.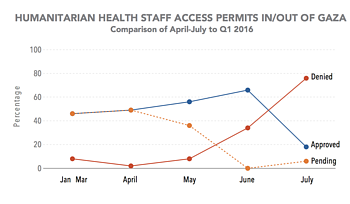 Decline in approval of permits for national staff working with international organizations
Since the 2014 hostilities, the approval rate for national UN and INGO staff wishing to travel in and out of Gaza on official business has remained low, while the ratio of unprocessed permits and the average processing time remain high. This is partly due to restrictions on access of East Jerusalem and Israeli ID holders into Gaza since July 2015, and also because of increased scrutiny of applications by Gaza ID holders in 2016. Despite compliance with the recent policy limiting the number and duration of permits (see above), humanitarian personnel continue to face great difficulties in obtaining a permit to exit Gaza, thereby hampering coordination.
Since the start of 2016, the denial of permits for UN national personnel based in Gaza has increased rapidly from three percent in January to 21 per cent in June. Over 100 permit applications have been denied; of these 32 UN and INGO personnel were prohibited from submitting a permit request again for another 12 months. The permit processing time has lengthened from an average of 20 days in 2015 to 25 days in 2016. Permit confiscation and denial of entry at Erez crossing has also increased. At least eight UN and INGO personnel have had their approved permits confiscated by security authorities so far in 2016, compared to two permits confiscated in all of 2015.