Critical services in the Gaza strip still reliant on limited supplies of emergency fuel amid ongoing electricity crisis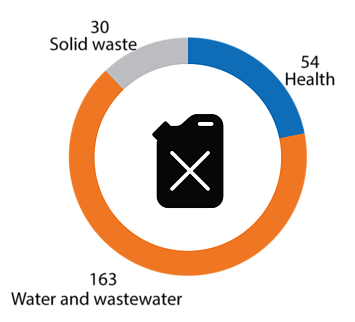 Supported by donors, the UN has been coordinating the delivery of emergency fuel to run back-up generators and vehicles in the Gaza Strip since 2013. This has ensured that a minimal level of life-saving health, water and sanitation services are maintained despite the severe energy crisis.
Fears that funding for this assistance would be exhausted by mid-February 2018 have been eased following donations worth US$3.5 million from the United Arab Emirates, the Islamic Development Bank and Qatar. These donations will cover some 54 per cent of the $6.5 million required to prevent a collapse of services, by providing 700,000 litres of fuel per month during 2018 to 175 service providers. These include only the most critical life-saving facilities, the number of which has been reduced from a total of 247 facilities supported at the end of 2017 to just 48 in early February due to the funding crisis.
In early January 2018, the Palestinian Authority (PA) in the West Bank resumed payment for the 50 megawatts of electricity purchased from Israel that had been cut in June 2017. As a result, electricity outages were reduced slightly from 20 to 16 hours per day. However, the improvement was short-lived as the PA ordered the Gaza Electricity Distribution Company (GEDCO) to cover part of the cost of the electricity purchased from Israel at the expense of the fuel purchased to run the Gaza Power Plant (GPP). On 14 February, the GPP was forced to stop operations temporarily due to lack of fuel, bringing power cuts back to the levels recorded during the second half of 2017 (approximately 20 hours per day).
Following the almost total exhaustion of fuel reserves, the Beit Hanoun hospital, which serves over 300,000 people in northern Gaza, announced a halt to medical services on 29 January. Diagnostic services at the other 12 public hospitals also risk being severely curtailed. A strike by hospital medical staff protesting the non-payment of salaries further threatens the health sector. In mid-February, the Gaza Municipality had to reduce the collection of solid waste due to lack of fuel, including UN-facilitated emergency fuel, leaving tens of thousands of tons of uncollected garbage to accumulate across the city (see interview in page 6). Without emergency fuel, 55 sewage pools are at significant risk of overflowing and the functioning of 48 water desalination plants has been reduced to around 20 per cent of their working capacity.
A historical background to emergency fuel deliveries
Basic services such as health, water, waste water management, education and other essential services rely on a reliable and affordable energy supply. Gaza has been faced with a chronic electricity deficit for over a decade. This has severely disrupted the delivery of basic services and undermined already vulnerable livelihoods and living conditions.
A key factor in the electricity deficit in recent years has been disruptions to the operations of the GPP, the second largest provider of electricity to Gaza, for reasons that include disputes between Palestinian authorities over the funding and taxing of fuel to run it; the halt to the smuggling of Egyptian-subsidized fuel since 2013; limited collection of payments from consumers; the destruction of fuel storage tanks by an Israeli airstrike in July 2014; and restrictions on imports of spare parts, equipment and fuel under the Israeli blockade.[1] The situation deteriorated further during the second half of 2017 with the cuts referred to above in PA funding for electricity supplied by Israel.
Humanitarian agencies provide emergency fuel funded by donors to prevent the collapse of the most critical life-saving facilities. In November 2013 deliveries started of some 200,000 litres per month distributed to around 80 water, sanitation and health facilities. Over time, this gradually increased to an average of 365,000 litres per month by early 2014, and reached almost 1.5 million litres in August 2014 during the escalation of conflict. In 2015, the supply declined to an average of 480,000 litres per month. With a lack of long-term solutions, compounded by a steep deterioration in supplies, demand for emergency fuel grew significantly. The number of critical facilities requiring fuel support increased from 189 in April to 247 in December 2017, while the quantity of fuel distributed per month grew from 720,000 litres in the first half of 2017 to around 950,000 litres in the second half of the year.
The goals of the emergency fuel program since its inception
Maintaining the provision of critical hospital/health services;
Ensuring clean drinking water, preventing raw sewage from overflowing into the streets, allowing some treatment of wastewater; and
Ensuring adequate solid waste management.
These priorities were used to identify the facilities to be supplied with emergency fuel. The list is revised on a monthly basis by the relevant clusters and the Office for the Coordination of Humanitarian Affairs (OCHA) on the basis of the availability of electricity, and changing needs and priorities. The facilities supported provide 1.27 million people with critical health services, 950,000 people with water and wastewater services, and 1.44 million people with solid waste management services.
To enable stakeholders to trace and analyze the evolution of the electricity supply and the emergency fuel programme, and to identify gaps easily, OCHA developed a dynamic, user-friendly dashboard, available online.
Emergency fuel distributed by priority area (in millions of litres)

Nine-year-old dialysis patient, Yahia
Najwan al-Samna is a 35-year-old mother of three from Gaza city. One of her children, 9-year-old Yahia, was diagnosed with kidney disease at the age of three months. When he turned five, the disease developed into a kidney failure requiring life-long dialysis.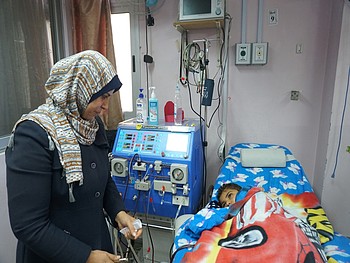 "Yahia receives dialysis at the Ar Rantisi hospital four times a week for 4-5 hours each time. During treatment, the electricity is often cut and leads to blood clots in the kidney. This causes Yahia to lose blood and gain weight due to extra fluid. The weight builds up in the body and causes breathing difficulties.
"One day when we were returning home after the treatment, Yahia felt very bad and couldn't breathe. I thought I was losing him. I began to scream at the taxi driver to drive us back to the hospital to save Yahia's life. We managed to save him. There are many children who passed away because they could not reach the hospital on time."
25,000 tons of solid waste accumulate in the streets of Gaza city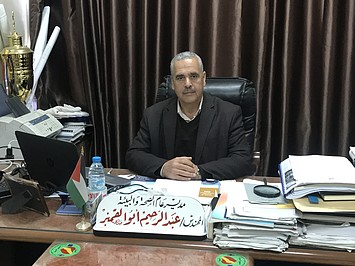 Engineer Abdel Raheem Abulkumboz, head of the Health and Environment Directorate in Gaza Municipality, highlighted the impact of the ongoing energy crisis on solid waste collection capacity in a meeting with OCHA.
"Our capacity to collect solid waste has been depleted due to the lack of fuel to run solid waste collection trucks. Until mid-2017 the Municipality of Gaza collected around 700 tons of solid waste per day, but this has gradually declined to 500 tons. In some neighbourhoods we have recently been forced to collect only once a week instead of twice.
"We estimate that around 25,000 tons of garbage are currently scattered in the streets and public areas in the eastern and southern parts of Gaza city, posing environmental and health risks. During 2017 we maintained a fair level of operation thanks to the emergency fuel we receive from the UN. If this support is interrupted, as we have been told, the situation will deteriorate.
"Having fuel to run the trucks is not enough to solve all the problems. The maintenance and repair of trucks is severely impaired by the lack of spare parts and the long outages because these activities rely on electrical equipment. In addition, it is almost impossible to bring new trucks into Gaza due to Israeli restrictions on imports of utility vehicles.
"The municipality is facing an unprecedented financial crisis. Residents cannot pay their municipal taxes so we are currently able to collect only around 15 per cent of bill payments, down from 30 per cent in the first half of 2017. This is detrimental to the provision of basic services and the ability to pay salaries on a regular basis. In January we had to reduce the already very low salaries by 25 per cent, but if the situation continues even that will not be possible. Many employees have asked for loans from the municipality, but we cannot afford to do that.
"We are worried about a potential increase in disease due to poor hygiene caused by the accumulation of solid waste. We are also receiving complaints about respiratory problems caused by the smoke of the garbage burned in the streets."
---
[1] The situation has been exacerbated by the poor state of the distribution network that results in significant electricity losses. The GPP needs approximately NIS45 million per month to procure sufficient fuel to operate at half capacity (60MW approximately). Currently, it can only secure some NIS20-23 million per month through customer payments.