Posted on
31 October 2014
Child protection assessment in Gaza indicates extreme hardship
425,000 children in Gaza are in need of immediate psychosocial and child protection support
Nearly 425,000 children in Gaza are in need of immediate psychosocial and child protection support following this summer's military operation. These include at least 3,373 children injured over the course of hostilities, some of whom will suffer permanent disabilities, more than 1,500 children who were orphaned, and hundreds of thousands who had their homes damaged or had to flee the fighting and move elsewhere, including tens of thousands still displaced. All of them need urgent support from the child protection and broader welfare sectors to regain a sense of normalcy and to deal with acute levels of psychosocial distress and vulnerability at a time when several neighbourhoods and villages of the Gaza Strip still lie in ruins.
In the aftermath of the conflict, the UNICEF-led Child Protection Working Group carried out a child protection assessment across the Gaza Strip to identify priorities for intervention. While the data are still being collated and analyzed, initial findings reveal a generation of children facing extreme loss and hardship.

Among other findings, the assessment indicates an increase in physical violence against children within their families and communities, occurring in the context of increased stress faced by parents and other caregivers. Growing numbers of children are driven into child labour, in some cases in high risk activities such as foraging for scrap metal. This brings children into contact with the pervasive explosive remnants of war that now infest most of Gaza. Cases of sexual abuse, particularly of adolescent girls, have been reported in shelters and in host communities.
Many children reported being afraid to travel far from home to attend school. Aggressive behaviour, anger and frustration are common among boys, particularly bullying and violence against siblings. A high incidence of unusual crying, screaming, bedwetting, nightmares and general sadness has been observed, mainly among girls.
Overall, the assessment confirms the urgent need to strengthen existing child protection systems and protocols to identify and respond to child protection needs. It is equally important to identify and prioritize the most vulnerable and poorest families for the provision of socio-economic support and referral to essential services through a case management system. With support from the UN Central Emergency Relief Fund (CERF), UNICEF has mobilized partners implementing a range of psychosocial interventions which aim to reach approximately 100,000 children by early 2015.
Death toll among children continues to rise
At least 538 Palestinian children were killed during the 50-day armed conflict in Gaza: 341 boys and 197 girls, aged between one week and 17 years old. Sixty-eight per cent of them were 12 years old or younger. The number of child casualties continues to rise from children with serious injuries who are still being treated in hospitals and further verification of earlier incidents is ongoing
"I cannot sing"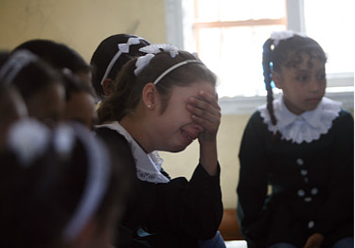 Ten-year-old Shaima lives in Ash Shuja'iyeh in eastern Gaza, a crowded neighbourhood now mostly reduced to a vast expanse of rubble. The threat of explosive remnants of war looms around every corner.
Ten days into the conflict, as the neighbourhood was being pounded with heavy artillery, mortars and air strikes, Shaima's family moved to her grandfather's apartment on the ground floor, which was thought to be a safer place. "In the early morning, the shelling got closer," Shaima relates. Her father, Adel, was on the sofa in the living room with her 2-year-old sister, Dima, in his arms, trying to rock her to sleep, when a shell struck the neighbour's house. Both Adel and his daughter were killed by shrapnel that burst through the walls.
"I saw my uncle carrying my sister," Shaima says. "I realized her head was cut off in the shelling. I didn't look at my father's body because I was afraid his wounds were as bad. I ran away... I cannot sing anymore. I think of my dad and my sister who are dead. I feel guilty."
Shaima is visited regularly by a counsellor from the Palestinian Centre for Democracy and Conflict Resolution (PCDCR), who sees her at home and helps her talk about her experience with the aim of reducing psychosocial distress and increasing wellbeing.
* This article was contributed by UNICEF.