Addressing rehabilitation needs of Palestinians seriously injured during Gaza demonstrations: Over 1,400 may suffer long-term disability
This article was contributed by the World Health Organization and the Disability Working Group
Although the number of casualties recorded during the 'Great March of Return' demonstrations in Gaza declined during June (see infographic), the health sector has continued to struggle with the cumulative caseload of serious injuries, particularly those requiring long-term rehabilitation.
Weekly injuries by live ammunition 30 March - 3 july 2018

The recent increased demand on health services exacerbates a number of longstanding challenges to the capacity of the health sector in Gaza. These challenges include on-going shortages of medicines and medical disposables, large electricity deficits for health facilities, a continuing salary crisis affecting government employees and Israeli restrictions on access for vulnerable patients requiring health care not available in Gaza. Additionally, the import to Gaza of materials required for the production of artificial limbs, including carbon fiber and epoxy resins, is restricted, due to Israel's consideration of these materials as 'dual use' items, which could be used also for military purposes.
Types of injuries sustained
The health cluster indicates that since the start of demonstrations on 30 March up to 30 June, a total of 15,501 Palestinians were injured by Israeli forces, of whom 8,221, or over half, required hospitalization. Among the latter, 63 per cent were limb injuries, and nearly half (4,023) were the result of gunshot wounds (see Table 1).
Some injuries have caused long-term disability: as of 3 July, 53 had received lower limb amputations and eight had upper limb. Eleven of the amputees are children. Additionally, at least ten other Palestinians have been left paralyzed following spinal cord injuries.
In the majority of the additional cases the full implications of the injury will only become clear in the future, depending on the quality of treatment and rehabilitation. As of 26 June, over 1,400 people with severe injuries are at risk of longer-term physical disability. These include 454 patients who suffered severe vascular injuries and 954 patients who sustained comminuted fractures, where the bone is splintered into more than two fragments and there is a higher risk of limb shortening and need for assistive devices once fractures have healed.
Response by health partners
The Ministry of Health (MoH) in Gaza coordinates rehabilitation services for patients discharged from hospital via local non-governmental organizations and health cluster partners.
Health cluster partners have developed a single referral tool and pathway to monitor those injured in demonstrations, which is coordinated and overseen by the newly established Trauma and Rehabilitation Working Group. At least eight partners are delivering rehabilitation services for physical and mental health needs. The international NGO 'Humanity and Inclusion' (HI) has deployed ten outreach teams across the five Gaza governorates, comprising occupational therapists, physiotherapists and nurses, supported by psychologists and social workers. So far, the HI outreach teams have delivered post-operative and rehabilitation care to 576 patients, the majority of whom have suffered severe injuries to lower limbs. Also, HI works closely with four national rehabilitation partner organizations in Gaza that provide multi-disciplinary rehabilitation support through outreach. Care is coordinated by referral to partner organizations, and where necessary to other medical or rehabilitation centres.
Deaths and injuries from Gaza demonstrations and other incidents 30 March to 30 June 2018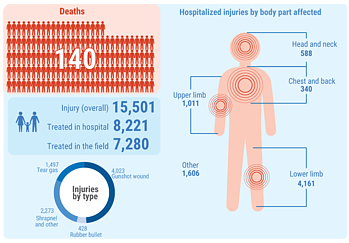 HI collaborates with Medecins du Monde (MdM) to reinforce the skills of its outreach teams and to standardize the provision of psychosocial support, while coordinating with the International Committee of the Red Cross (ICRC) to provide ongoing support to patients discharged after amputation. The ICRC provides logistical and monitoring support to facilitate the import for needed materials for the Artificial Limbs Center in Gaza.
Doctors Worldwide Turkey (DWWT) conducts an outreach programme that has delivered rehabilitation care to 300 patients, including nursing, physiotherapy and psychological support, medication and assistive devices. UNRWA has provided more than 2,530 post-operative consultations at their 22 primary health clinics, offering treatment, review and wound dressing, including care for gunshot injuries and severe cases.
The Palestinian Medical Relief Society (PMRS) has mobilized five outreach teams in all five governorates, to conduct post-operative care, including wound dressing and physiotherapy services. As of 4 July, PMRS provided post-operative care to 527 casualties, of whom 123 received assistive devices. PMRS is running one mobile clinic. The mobile clinic has visited 5 locations and served 337 patients; to date, the mobile clinic served 637 patients.
HI has identified the need for increased financial support and resources to ensure adequate care for approximately 3,500 patients with long-term care needs, including psychosocial support needs for those severely affected by their experience of conflict or facing the prospect of long-term disability. The majority of these patients suffered severe injuries that require sustained outreach and rehabilitation services for adequate management and care.
Mental health and psychosocial support is an essential part of rehabilitation, particularly for those who face the prospect of long-term disability. Ongoing interventions in this area will be addressed separately in an upcoming Humanitarian Bulletin.
Funding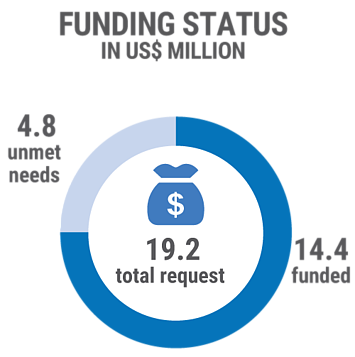 In order to effectively respond to needs that have emerged following the commencement of the demonstrations, humanitarian partners identified that US$20.8 million was urgently required for the immediate response until September 2018. This included a request for $19.2 for health partners to respond in the area of trauma management and emergency healthcare for injured patients, including the provision of physiotherapy and assistive devices. As of the time of writing, $4.8 million is still required urgently for the trauma management and emergency healthcare response (excluding ICRC and MSF responses.)
The funding required is necessary to support enhancing post-operative and multi-disciplinary rehabilitative care, as well as:
Continued deployment and coordination of quality-assured emergency medical teams (EMTs)
Strengthening the pre-hospital care by enhancing the trauma stabilisation points
Provision of essential medical supplies for the treatment of injured patients
Enhancing coordination, technical guidance and information sharing of trauma management standards across the trauma pathway
Provision of essential medical supplies for the treatment of non-trauma emergency patients
Strengthening the reporting and monitoring of attacks on healthcare
The case of 16-year-old Mohammed al Ajouri: A follow up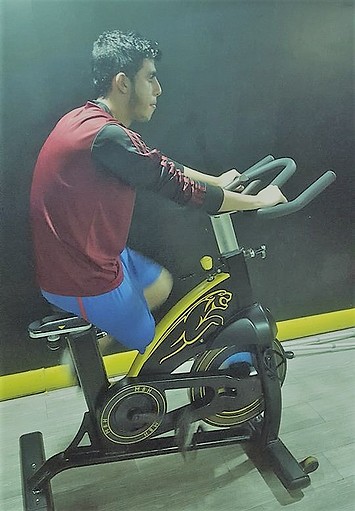 The April Humanitarian Bulletin featured the case of Mohammed al Ajouri, a 16-year-old boy from Jabaliya refugee camp whose right leg was amputated following an injury sustained during the first demonstration on 30 March. Prior to his injury, Mohammed had been a keen athlete who participated in district athletics competitions with his school.
Following his discharge from hospital, Mohammed received follow up care and rehabilitation from DWWT, including regular physiotherapy sessions. He is reliant on crutches for mobility but is on the waiting list to receive an artificial leg from Gaza Municipality's Artificial Limbs Center; waiting times are long due to high demand and a lack of available materials for prosthesis.
Mohammed discussed the impact that losing his leg has had on his life:
"Before I was injured I used to love running and playing football. I'm going to the gym now to keep fit, but I really miss playing football – I used to play a lot with my friends. I hope that I can get an artificial limb so I can go back to running. I always wanted to run a marathon."
Mohammed lives with his parents and three younger brothers in Jabaliya refugee camp. He and his family are affected by Gaza's dire economic situation. Both Mohammed's parents have been unable to find work and depend on food vouchers to make ends meet, as well as help from their extended family.