Posted on
11 November 2016
Winter weather threatens living conditions of Internally Displaced Persons (IDPs) residing in caravan sites in Gaza
In Gaza, some 60,000 people remain internally displaced after losing their homes in the 2014 escalation of hostilities. A minority of them continue to live in vulnerable housing conditions. The Shelter Cluster has identified some 900 families (approximately 4,500 people) living in caravans in temporary displacement sites who are particularly exposed to the extreme weather conditions, a concern ahead of the approaching winter.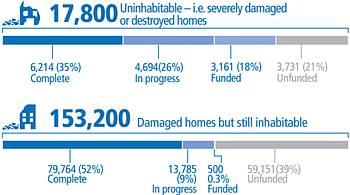 There are also safety concerns about the increasingly dilapidated state of the caravans, the floors and roofs of which are collapsing, the limited hygiene facilities, and erratic and unsafe water and electricity supplies.[7] This has resulted in the death of at least two people in 2016, including a 25-year-old mother of five who died from an electric shock in Beit Hanoun in September, just days after she met with the UN Special Rapporteur on Violence against Women to explain the challenges of living in the caravan site. Several people, many of them children, have been injured in accidents caused by candles during electricity cuts or the general unsafe conditions of the caravans.
A "lessons learned" report, commissioned by the Shelter Cluster on the 2014 shelter response, notes that Transitional Cash Assistance (TSCA) was perceived by beneficiaries as a more appropriate response to temporary shelter needs as it provided flexibility and dignity. In-kind caravans were not perceived as appropriate in the Gaza context.[8] This is due to the high cost of the caravans; a lack of agreed-upon standards and the varying quality of caravans, with many not providing sufficient thermal comfort in winter or summer; and the protection and privacy concerns associated with temporary displacement sites.[9] A Ministry of Public Works and Housing (MoPWH) survey conducted one year after the conflict indicated that 90 per cent of caravan dwellers preferred to receive TSCA rather than remaining in the caravans.[10]
Despite some important achievements in the coordination and delivery of temporary shelter responses to IDPs from the 2014 conflict, significant challenges continue to delay the implementation of durable solutions.
These include restrictions on imports of building materials considered by Israel as "dual use items", lack of funding, and a range of housing, land and property documentation issues.
Beit Hanoun caravan site case study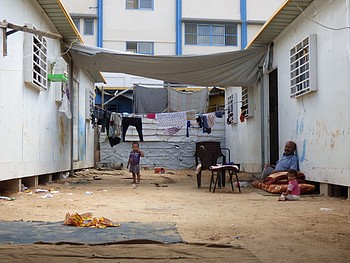 In early October, OCHA, together with Shelter Cluster coordinators, the MoPWH and representatives from the Beit Hanoun municipality, organized a visit to one of two caravan displacement sites in Beit Hanoun, to assess living conditions and explore possible mitigating measures ahead of winter. Health Cluster representatives joined the visit to examine public health issues and to support the medical referral of one urgent health case.
The caravan site is home to some 37 internally displaced families, approximately 180 individuals living in 40 caravans. Most of the caravans were moderately or severely degraded and in need of substantial repairs to roofs, floors, walls, windows, doors, and electrical and water connections. Families expressed serious concerns about their health and that of their children due to the condition of the caravans and exposure to insects and other pests. Some of the families include individuals with medical conditions or disabilities in need of ongoing care. The families noted that they were forced to live in these harsh conditions due to the absence of long-term housing solutions, lack of financial means to rent suitable accommodation or to reconstruct their homes, shortages of construction materials to complete their homes, especially cement, and a lack of legal documents.
To address the situation in advance of the winter, detailed lists of the families and their status will be compiled for re-verification with MoPWH and/or UNRWA, and a response plan with a specific time frame will be developed. In urgent situations, vulnerable families will be relocated to rented and safer accommodation. The Health Cluster will follow up urgent medical cases.
---
[7] The dilapidated state of caravans is due to their poor quality, overcrowding, lack of maintenance and the limited resources of IDPs.
[8] The report, produced with financial support from the European Union and REACH organization, and reviewed by the Shelter Cluster Strategic Advisory Group including UNRWA, UNDP and MoPWH with OCHA as an observer, will be published shortly and will be covered in more detail in a forthcoming Humanitarian Bulletin.
[9] Temporary wooden housing provided on the site of damaged and destroyed homes was well received by the affected population.
[10] Shelter Cluster, Lessons Learned from Gaza Shelter Response, unpublished draft, p. 31.