Posted on
12 October 2018
West Bank demolitions and displacement | September 2018
Highlights
Demolitions remain below the 2018 and 2017 monthly averages.
Seven donated structures demolished in Area C herding communities.
Israeli court ruling provides green light for the demolition of Khan al Ahmar-Abu al Helu.
Overview
In September, a total of 29 Palestinian-owned structures were demolished or seized by the Israeli authorities, resulting in the displacement of 51 people, and otherwise affecting 79 others. The number of affected structures remains below the monthly average of structures targeted in the past eight months and in 2017 (both 35). All the demolitions and seizures during September were due to the lack of Israeli-issued permits, which are nearly impossible to obtain.
Twenty-one (21) of the targeted structures were in eight Area C communities, of which, all but one are small herding or Bedouin communities. In one incident, in the Jordan Valley community of Humsa al Basaliya, the Israeli authorities demolished an EU-funded caravan, recently provided in response to a previous demolition, which served as a residence for five people.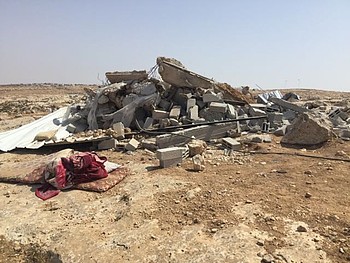 In the community of Qawawis (Hebron), a home provided as part of a project funded by the oPt Humanitarian Fund was also demolished, displacing 13 people. In August, in the same community, the Israeli authorities seized EU-funded construction materials and served six structures with stop-work orders.
On 5 September, the Israeli High Court of Justice rejected all petitions related to its 24 May ruling, which allowed the demolition of the entire Palestinian Bedouin community of Khan al Ahmar-Abu al Helu. However, as of the end of the month, the demolitions have not taken place, except for five structures donated by the Palestinian Authority, which served activists for solidarity activities.
In East Jerusalem, eight structures were demolished during the month, also below the monthly average in previous months and in 2017. The largest incident, involving the demolition of five structures and the displacement of 17 people, occurred in a part of Al Walaja community, which is located within the municipal boundaries of Jerusalem, but is separated from the rest of the city by the Barrier (see map on page 4); the demolitions triggered clashes between the residents and Israeli forces, resulting in the injury of 13 Palestinians.