Posted on
16 February 2018
West Bank demolitions and displacement | January 2018
Highlights
Six EU-funded structures demolished and eight placed at risk.
Nearly 60 per cent of the structures targeted this month (19 out of 32) were in East Jerusalem.
At least 45 schools in Area C and East Jerusalem have pending demolition or stop-work orders.
Demolitions and displacement: January 2018 overview
The Israeli authorities demolished or seized 32 Palestinian-owned structures across the West Bank, approximately the same number of structures as the 2017 monthly average. As a result, 37 people were displaced and another 82 were otherwise affected.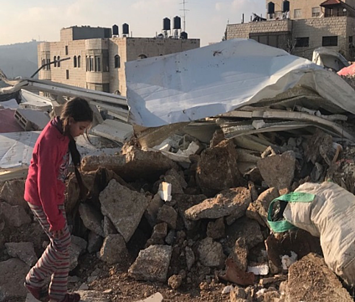 Nearly 60 per cent of the structures targeted this month (19 out of 32) were in East Jerusalem, all demolished on grounds of lack of Israeli-issued building permits, which are nearly impossible to obtain. The largest incident occurred in the neighborhood of Al 'Isawyia, where the Jerusalem Municipality, along with the National Parks Authority, demolished 12 commercial and animal-related structures. Another two structures, two multi-story buildings under construction, were demolished in Bir Onah, a residential area within the municipal boundary of Jerusalem, which is physically severed from the city by the Barrier.
Four incidents took place in Area C, involving the demolition or seizure of nine structures, also on grounds of lack of Israeli-issued building permits. In the Palestinian Bedouin community of Al Jiftlik Abu al Ajaj, in the central Jordan Valley, the authorities demolished six EU-funded structures worth about €7,700 (two residential and four animal shelters), which had been provided in response to a demolition that occurred a year ago. The incident affected a family residing in an area of this community, which is designated by the Israeli authorities as a 'firing zone'; the road leading to that area was also damaged and blocked following the demolitions. Another eight structures funded by the EU and its member states were served with stop-work orders.
Also this month, humanitarian organizations expressed concern about the imminent risk of demolition affecting an EU-funded school in Al Muntar, one of the 46 Bedouin communities in the central West Bank at risk of forcible transfer, due to the coercive environment exerted on them. It is estimated that at least 44 schools in the West Bank (36 in Area C and 8 in East Jerusalem) have pending demolition or stop-work orders. In 2017, two EU-funded schools in the communities of Abu Nuwar and Jubbet Adh Dhib, in the Jerusalem and Bethlehem governorates, were affected by seizures on grounds of lack of Israeli permits, and a kindergarten in the Jabal al Baba community in the Jerusalem governorate, not funded by the EU, was demolished. Children living in other Area C communities lacking a school often must walk or travel long distances to reach their schools and are exposed to settler harassment or searches at checkpoints. These constraints undermine the quality of education and increase the chances of early dropout.
Finally, during a military operation in Jenin city, reportedly aimed at arresting the suspected perpetrators of a shooting attack in which an Israeli settler was killed, the Israeli military bulldozed and destroyed another four structures, including three homes and a greenhouse.
Charts and tables with additional figures are available in the full version of this report.