West Bank demolitions and displacement | February 2019
Highlights
Demolitions in February above 2018 levels.
Ten donated structures demolished or seized and two others at risk
Water connections damaged, affecting access to water for thousands.
Overview
In February, 53 Palestinian-owned structures were demolished or seized, constituting a 40 per cent increase compared with the monthly average recorded in 2018 (38). The number of people displaced in February was more than double the monthly average in 2018 (105 vs. 39). In addition, thousands of people were affected by the demolition of parts of water distribution systems in three different areas. All the structures were demolished on the grounds of a lack of Israeli-issued permits, which are nearly impossible to obtain.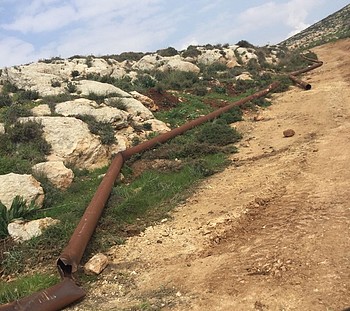 About 60 per cent of the demolitions in February were recorded in seven communities in Area C. In three incidents, the Israeli authorities destroyed parts of water connections lacking permits, affecting access to water for thousands who already suffer from severe water shortages, especially in the summer. In one incident, the Israeli authorities damaged 1.4 km-long water pipes (funded by the oPt Humanitarian fund), affecting around 1,300 people residing in 12 communities in the Masafer Yatta area, which is designated by Israel as a "firing zone" for military training and its residents are at heightened risk of forcible transfer due to the coercive environment imposed on them. In a second incident, 2 km-long EU-funded water pipelines were either damaged or confiscated in the Bedouin community of Wadi abu Hindi (Jerusalem), affecting about 320 people. In an additional incident, the Israeli authorities damaged 750 m-long pipes, which are part of a project intended to supply water to the communities of Beit Dajan and Beit Furik villages (both in Nablus). This affected all residents of the two communities, who are more than 18,000 people.
IAlso in Area C, Israeli forces destroyed eight agricultural structures, including five retaining walls, two water wells and one road in two communities in Jerusalem (Mikhmas and Al Khalayleh), affecting the livelihoods of 30 people. Four of these structures had been donated. Sixteen (16) additional seasonal Bedouin structures, half of which were residences, were demolished in a closed military area called Al Buqa'a in the Bethlehem governorate.Twelve (12) of the structures were demolished and consficated by Israeli forces, while the rest of the structures were dismantled by their owners, who were forced to do so to avoid their confiscation, displacing 30 people.
Overall in Area C, ten donor-funded structures were targeted this month, bringing to 15 the total number of such structures targeted since the beginning of the year, compared with 14 in the same period last year.
In East Jerusalem, 15 structures, including 13 homes, were demolished in February; seven of the structures were destroyed by their owners to avoid additional fines and destruction by the Israeli authorities. As a result, 69 people were displaced, well above the monthly average of displacements recorded in 2018 (about 15 people). So far, the Israeli authorities have demolished 21 houses in East Jerusalem since the beginning of the year, compared with eight in the equivalent period in 2018. This month's demolitions affected the neighbourhoods of Jabal al Mukabbir, Silwan, Ath Thuri, Beit Hanina Sur Bahir, Ras al Amud, Al Walaja and Bir Ona. The latter two communities are separated from the rest of Jerusalem by the Barrier. Additionally on 17 February, the Israeli Police forced two families, comprising eight members, out of their apartment located on the second floor of a three-storey building in the old city of Jerusalem. The apartment was handed over to Israeli settlers, with the other two floors already resided in by settlers. At least 870 Palestinians in East Jerusalem have pending eviction cases filed, mainly by settler organizations.