Posted on
17 September 2018
West Bank demolitions and displacement | August 2018
Highlights
Decline in demolitions and displacement compared to the past months.
One donor-funded structure confiscated and six others at risk.
Imminent demolition of Khan al Ahmar community.
Overview
In August, a total of 25 Palestinian-owned structures were demolished or seized and 14 people displaced, compared to monthly averages of 36 structures and 39 people, respectively, recorded in the past seven months. As of 31 August, 277 structures had been demolished or seized and 287 people displaced, marking a 14 and 43 per cent decline, respectively, compared to the equivalent figures in 2017. All but one of the structures demolished this month were due to the lack of Israeli-issued permits, which are nearly impossible to obtain.
Fourteen (14) structures were targeted during August in Area C, well below the monthly average of structures demolished or seized in the past seven months (20). The largest incident took place in Barta'a ash Sharqiya (Jenin), a village separated from the rest of the West Bank by the Barrier, where the Israeli authorities demolished six livelihood-related structures and an electricity network, affecting 34 people.
In Al Khader village (Bethlehem), an agricultural storage structure funded by the EU and provided as humanitarian assistance in response to a previous demolition, was seized on grounds of lack of permit, bringing the total number of donor-funded structures demolished or seized so far this year to 30.
In the herding community of Qawawis, in the Masafer Yatta area of southern Hebron, the Israeli authorities seized EU-funded construction materials, provided for the building of residential shelters, and served six structures (including four homes) with stop-work orders. In the same area, the Israeli authorities seized a four-by-four vehicle, which was provided by Italy, serving to transport the staff and equipment of a mobile health clinic operating in the Isfey al Fauqa community (not counted as a structure); as a result, the clinic was forced to halt services and direct patients to clinics in Yatta town. In recent weeks, humanitarian staff working in the Masafer Yatta area have experienced heightened access restrictions. The area has been designated in the 1970s as a firing zone for Israeli military training, and its 1,300 residents face a coercive environment placing them at risk of a forcible transfer.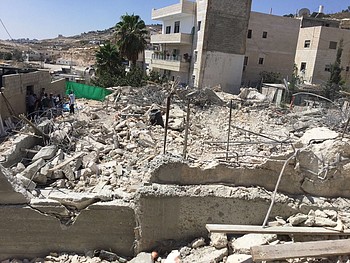 On 5 September, the Israeli High Court of Justice rejected all petitions related to its 24 May ruling, which allowed the demolition of the entire Palestinian Bedouin community of Khan al Ahmar-Abu al Helu. An earlier injunction against demolitions expired on 12 September, leaving the community, which is home to 35 families comprising 188 people, more than half of whom are children, at risk of mass demolition and forcible transfer. The UN, as well as the EU and its Member States, have previously called on the Israeli authorities to end its demolition and relocation plans for the community, which would run counter to its obligations under international law.
Also in Area C, Israeli settlers demolished two residential structures in the Beit al Barakeh settlement compound, next to Al Arroub refugee camp (Hebron), displacing a Palestine refugee family of four who have been living in the compound for the past 45 years. The demolition took place despite an Israeli court injunction preventing the eviction of the family. In 2012, a settler organization secretly purchased the land and buildings in this compound from a Swedish Christian organization, and, in 2015, the area was annexed to the Gush Etzion settlement Regional Council.
Ten of the structures demolished in August were in East Jerusalem, including residential buildings under construction and livelihood-related structures, affecting 52 people, but resulting in no displacement. On average, 15 structures were demolished and 13 people displaced monthly in East Jerusalem, in the past seven months.
Also this month, the Israeli authorities demolished a home in Kobar village (Ramallah), in Area B, on punitive grounds, displacing a family of six. The home belonged to the family of the 17-year-old Palestinian who, on 26 July 2018, killed an Israeli settler in the settlement of Adam (Jerusalem governorate), and was subsequently killed by another settler.
Additionally, in Area B, citing Israeli environmental regulations, the Israeli authorities destroyed over ten tons of wood in a charcoal factory located near Ya'bad town (Jenin), affecting the livelihoods of two families. This is the third incident of this kind taking place in the area since 2016.