Statement by the Humanitarian Coordinator for the occupied Palestinian territory, Jamie McGoldrick, on the occasion of World Humanitarian Day
Sunday, 19 August, marks World Humanitarian Day, an annual occasion dedicated by the United Nations General Assembly to raising public awareness of the millions of people who risk their lives in order to provide food, water and other assistance to people in desperate need in conflicts, in natural disasters and other emergencies. This year, humanitarians around the world call for greater protection of civilians, humanitarians and health workers in conflict zones.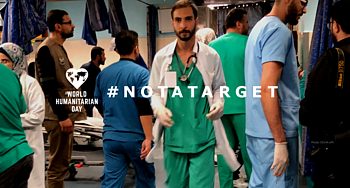 Today, I applaud the committed humanitarian workers in the occupied Palestinian territory (oPt), especially my national colleagues, who regularly face personal risk and assaults on their dignity, often while withstanding the same restrictive conditions that drive the humanitarian crisis in the oPt. Particular admiration goes to the health workers of Gaza, who, since 30 March, have exerted heroic efforts to treat people injured during demonstrations along Israel's perimeter fence. I mourn the deaths of the three Palestinian health workers who were killed in this context and am outraged by the injury of over 370 others, who risked their own lives while trying to save the lives of other Palestinians.
Overall, two million Palestinians in the oPt have been identified as being in need of active protection measures in 2018, due to exposure to conflict and violence, displacement or restricted access to livelihoods and essential services. In recent weeks, the lack of protection has been particularly evident during escalated hostilities between Palestinian armed groups and Israeli forces, which have again threatened civilians in the Gaza Strip and southern Israel. As a result, since 1 July, we have seen the deaths of four Palestinian civilians, including that of a pregnant mother and her toddler child while asleep in their beds in Gaza, and the injury of two Israeli girls by rocket fire in Sderot, among some 100 Palestinian civilians and nearly 30 Israelis injured. In spite of this, the outside world appears numb to the tragedy unfolding.
Civilians on both sides continue to live in fear of another major escalation in hostilities, while civilians in Gaza are still attempting to recover from the previous escalations; 17,700 Palestinians remain displaced from the 2014 escalation alone. Of concern, in spite of credible evidence pointing to serious violations of international law during these hostilities, accountability for the victims remains elusive.
Protection concerns also continue in the West Bank, where many Palestinians in Area C, East Jerusalem and the H2 part of Hebron city endure occupation-related policies and practices that deprive them of their rights and generate pressure on them to leave their communities. Overall, the protection available to Palestinians in the oPt is growing weaker by year, resulting in a pattern of increased dependency on humanitarian assistance that will be hard to reverse.
This year, on World Humanitarian Day, I call on all actors to ensure that humanitarian workers are able to operate in line with humanitarian principles and free from restrictions and harassment. I call on Israel to uphold its obligations as an occupying power and for the Palestinian Authority and Hamas authorities to ensure they act in line with their obligations under international law. Finally, I join UN Secretary-General António Guterres in his call on countries to undertake credible and effective investigations into allegations of serious violations of international humanitarian law and to hold perpetrators to account.
* * *
This year's World Humanitarian Day campaign is built around creating the first 'living petition,' where people from around the world use a 'selfie' to advocate for the protection of civilians and respect for International Humanitarian Law. These 'signatures' will become a digital installation representing the combined global voices. The 'living petition' will be on display at UN Headquarters in New York, starting on 17 August and continuing through the opening of the General Assembly in September, when world leaders will be able to see the level of global support for the protection of civilians and humanitarian workers. Individuals from around the globe can join the campaign by going to www.worldhumanitarianday.org and sharing a 'selfie' that will appear as part of the 'living petition.'