Sardine season in the Gaza Strip ends with average yield
Restrictions on access to the sea and on imports of equipment continue to undermine fishing livelihoods
Twice a year, from April to mid- June and from mid-September to November, the sardine season dominates the agenda of fishermen in the Gaza Strip. Sardines historically make up 60 percent of the total fish catch and form the bulk of the income of Gazan fishermen.
Fish, particularly sardines, is a major source of protein, micronutrients and essential Omega 3 fatty acids for Palestinians in Gaza, and contributes to nutritional diversity.
According to the Ministry of Agriculture in Gaza, the total sardine catch from January to November 2015 was 617 tons. This is approximately the same as the average yield for the past five years (624 tons), but is less than half the average for the period between 1997 and 2005 (1,439 tons).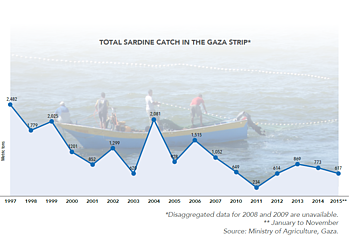 In part, the decline in the sardine catch since 2006 can be attributed to the reduction by the Israeli military of the permitted fishing zone to a maximum of 3-6 nautical miles (NM) off the Gaza Strip coastline instead of 6-12 NM in previous years. The richest sardine shoals out to sea have, therefore, become inaccessible. The fish available in the area currently permitted (up to 6 NM) tend to be smaller in size, limiting the types of nets that can be used, reducing the value of the catch and undermining the sustainability of marine resources.
Fishing activities are also affected by import restrictions imposed by the Israeli authorities on items needed to maintain the fishing fleet, such as fibreglass and engine spare parts. These items are classified by Israel as "dual use items" for security reasons.
The easing of restrictions on imports of these materials, coupled with an extension of the accessible fishing zone from 6 to 12 NM, would significantly contribute to protecting and promoting the livelihoods of over 3,500 Palestinian families of fishermen in the Gaza Strip.
* This article was contributed by FAO