Posted on
14 December 2018
Rise in incidents disrupting schooling across the West Bank
This school year (since August 2018), the Education Cluster has observed an upward trend in the number of incidents involving Israeli forces and/or settlers reported as taking place in or near Palestinian schools in the West Bank and that disrupt access to and activities at these schools. Incidents recorded include delays and harassment of children travelling to school, at checkpoints and elsewhere; clashes in the vicinity of schools; and violent raids and search operations inside schools.
At least 17 such incidents recorded by OCHA since the beginning of 2018 (up to mid-November) have resulted in injuries to 323 Palestinians, including 225 children. Of these injuries, three were caused by live ammunition, 15 by rubber bullets, and most of the rest due to tear gas inhalation requiring medical treatment.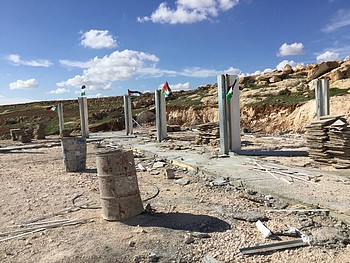 Apart from the physical injury and related absence from school, these incidents impact children socially and psychologically by creating anxiety, trauma and harm to their sense of safety, which ultimately makes learning more difficult.
In at least 48 schools in Area C and East Jerusalem, insecurity and uncertainty are exacerbated by the risk of demolition or seizure of all or part of the school by the Israeli authorities on the grounds of the lack of building permits.
Through the 2018 Humanitarian Response Plan (HRP), humanitarian partners have appealed for $3.2 million to implement a range of psycho-social support and protection interventions targeting children living in vulnerable communities across the West Bank; however, only about a third of this request was actually raised. On the other hand, 73 per cent of the approximately $1.7 million appealed in the HRP for reporting, documentation and advocacy activities in West Bank were raised, allowing a more robust intervention.
As Sawiya al-Lubban school (Nablus)
Located on Road 60, south of Nablus, as Sawiya al-Lubban school is one of 13 schools where pupils face a continuous military presence at the school gates and on the route to school. Between January and September 2018 there were 24 settler and military-related incidents at this school, bringing the total in the past four years to 89, with the frequency of incidents rising steadily. Many of such incidents have involved raids by Israeli forces on the school, often accompanied by Israeli settlers, in response to settlers' claims of stone throwing by students from the school premises or its vicinity. Children and staff report that they are often forced to take longer journeys to avoid harassment by soldiers and settlers. The presence of the soldiers is viewed by some pupils as provocation and has led to clashes that disrupt classes and place children at risk of physical harm.
On 14 October 2018, the Israeli military issued an order closing the school on the grounds that children had thrown stones at soldiers; this claim was refuted by the school administration. Despite the order, the Palestinian Ministry of Education and Higher Education (MoEHE), along with the school and parent council, decided to open the school the following day. A heavy military presence that day resulted in confrontations between the Israeli soldiers and school staff and pupils, with soldiers firing tear gas and sound bombs. Classes resumed on 16 October.
Urif Boys' School (Nablus)
Urif is one of six Palestinian communities in Nablus governorate with a total population of about 21,000. The community undergoes systematic violence and harassment originating from the Israeli settlement of Yitzhar and its surrounding outposts.[1]
On 7 November around 50 Israeli settlers, reportedly from Yitzhar, some of them armed and accompanied by Israeli soldiers, approached Urif Boys' School during the school day. Clashes broke out with the students. Eleven Palestinians, including three students, were injured, four of them (all adults) shot with live ammunition or rubber bullets.
In two separate incidents on 10 and 17 October, the school had to be evacuated. In the first incident the school was attacked by settlers with stones; the second incident was the threat of an attack. On 18 October, Israeli settlers, reportedly from the settlement of Yitzhar, armed with axes and stones entered the village and threw stones at the school, causing children to flee. While pupils were leaving the school, soldiers fired tear gas, causing 15 children and 21 staff to require medical treatment. At least seven children and one teacher were injured by rubber bullets.[2]
Hebron city
In recent months, several schools in the H2 area of the city reported multiple incidents of tear gassing, particularly at Hebron Elementary School. These incidents cause physical injuries and spread panic among pupils and teachers.
An Nhada school for boys in Hebron city reports frequent incidents caused by the regular Israeli military presence. In one incident on 25 October, several children and teachers were affected by the shooting of a tear gas canister into the school by soldiers.
Following the release of a video taken on 18 November, showing an Israeli soldier firing a tear gas canister into this school, the IDF spokesperson stated that the incident was unusual and would be investigated and regulations clarified.[3]
Across Hebron governorate, around 4,200 pupils have their journey to school obstructed by checkpoints every day, frequently facing harassment, intimidation and delays that result in lost school time.
Bethlehem governorate
The Al-Khader school complex in Bethlehem governorate comprises eight schools and three kindergartens. A regular military presence frequently leads to confrontations, tear gas being fired and the loss of school time. There have also been several incidents in Said Al As school and Tuqu' school in Bethlehem where soldiers have entered the school premises and clashed with children.
At risk of demolition
The demolition of schools and classrooms not only represents a loss of educational opportunities for children, but the impending threat causes anxiety that is detrimental to children's learning. According to the Education Cluster, four of the 48 schools under threat of demolition have received stop work or demolition orders in the past three months.
Khan al Ahmar school in Jerusalem governorate, which serves children from five Bedouin communities, has been under threat of demolition since 2009. In September 2018 the Israel High Court of Justice issued a final ruling to allow the demolition of the school, along with the rest of the Khan al Ahmar/ Abu al Helu community. While the demolition has been temporarily postponed, the threat has had a considerable impact on children, disrupting their schooling and affecting their mental health and wellbeing.
Other recent cases of school demolitions and stop work orders include Zanouta school, south of Hebron, which was opened in March this year, but was demolished overnight by Israeli forces in April. The MoEHE began rebuilding the school in August but a stop work order was issued in the same month. Classrooms at Ibziq school in Tubas governorate were dismantled by the Israeli authorities in October. Daher al Maleh school, located in the closed area behind the Barrier (the 'Seam Zone') in Jenin governorate, and Khillet Dabe school in Yatta were issued stop work orders in October and November 2018 respectively.
Palestinian Schools at Risk of Demolition, & Schooling disrupted in Oct-Nov 2018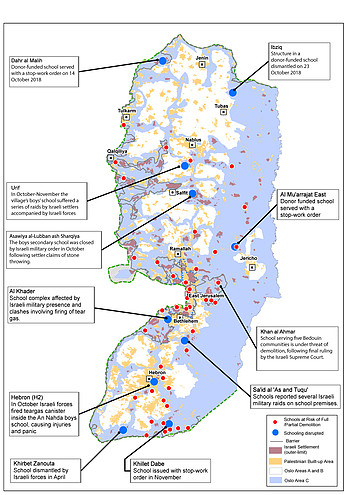 Students arrested following claims of stone throwing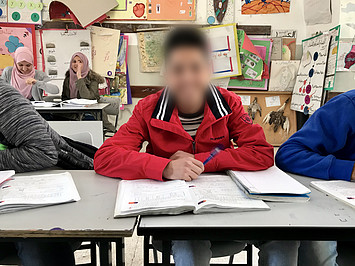 Seventeen-year-old Mohammed (real name withheld) is an A-grade student in his twelfth year at As Sawiya al Lubban Secondary School. On his way home after school on 12 November 2018, he was detained by Israeli soldiers along with 11 other students. They were accused of throwing stones at Israeli yellow-plated vehicles passing on Road 60.
"It was really difficult and saddening to see my mother crying and begging the Israeli soldiers to free me- it's an image I cannot erase", said Mohammed.
After two hours, during which they were questioned and searched, all the students were released, apart from Mohammed who was placed in the military vehicle and taken near the village of Sinjel, around 10 km from the school.
"The soldiers took me out of the jeep, uncovered my eyes and brought me before a female Israeli settler. She had her mobile in her hands and was showing them photos. They started threatening me and saying that I would see my picture while throwing stones, and that I would go to jail. I was not worried at the time because I had not thrown stones."
"Regardless, they handcuffed and blindfolded me. This time, they forced me to lie down on the floor of the jeep and took me to the Israeli military base in Huwwara [Nablus]. At this point I was really frightened. All I could think about was them [the Israeli soldiers and settlers] falsely pinning a crime on me and throwing me in jail…not finishing my last year in school…not attending university."
After being detained for six hours, Mohammed was handed over to the Palestinian Police, who took him back home.
---
[1] For an in-depth analysis of patterns of violence around Yitzhar settlement, see Yesh Din, Yitzhar – a case study, August 2018.
[2] "Protection of Civilians Report: 6-19 November 2018, published on 23 November 2018 by UNOCHA. Accessed at https://www.ochaopt.org/content/protection-civilians-report-6-19-november-2018
[3] In its initial response the spokesperson denied that the soldiers fired tear gas canister at the school, but it retracted following the release of the video. Berger,Yotam. "Israeli Army Denied Soldiers Threw Gas Canister into Hebron School. Then a Video Surfaced." Haaretz, December 6, 2018.