Posted on
10 February 2017
Overview of access of Palestinians from Gaza in 2016
After a rise in the first half of 2016, the number of Palestinians permitted to cross Erez fell compared to 2015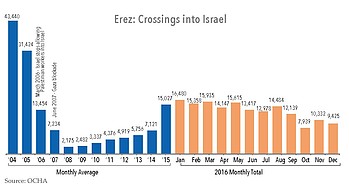 As part of the "policy of separation" between the Gaza Strip and the West Bank, the Israeli authorities prohibit the passage of Palestinians in and out of Gaza.[6] Exceptions are made for certain categories - principally businesspeople, medical patients and their companions, employees of international organizations and specific humanitarian cases - who are eligible for exit permits, subject to security checks. The situation has been compounded by the restrictions imposed by the Egyptian authorities on the Rafah Crossing since October 2014 and the inability of the Government of National Consensus to assume control over of the Palestinian side of the crossings, due to the ongoing internal divide.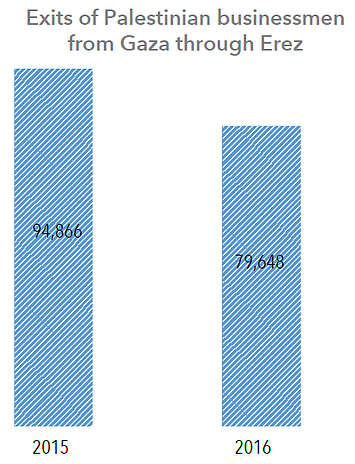 Following the ceasefire which ended the summer 2014 hostilities, there was an increase in the volume of Palestinian exits from Gaza through the Erez crossing, with the numbers more than doubling in 2015 compared to the previous year.[7] This trend continued into 2016, but was reversed in the second half of the year: overall, 2016 witnessed a 13 per cent decrease compared to 2015.[8] Prior to the start of the second intifada in 2000, some 26,000 Palestinians exited Gaza daily for wider purposes, primarily for work in Israel: work permits for Palestinians from Gaza were suspended in 2006.
This downward trend was particularly pronounced for businesspeople, with this category witnessing a 20 per cent decline in the number of crossings in 2016 compared to the previous year.[9] Restrictions were also increased on senior businesspeople who hold businessmen Gaza permits "BMG", which is intended to facilitate easier access compared to the normal permit.[10]
Number of medical permit applications increases while approval rate declines
In 2016, there was an increase of about 20 per cent in the number of applications for permits by patients to cross through the Erez Crossing, but a decline in the approval rate; 63.8 per cent in 2016 compared to 76.6 per cent in 2015.[11] The majority of those patients whose permit applications were not approved fall into the 'delayed' (30 per cent) rather than 'denied' category (6 per cent). A 'delayed' application means that no response was provided by the date of the hospital appointment, requiring patients to re-schedule the missed appointment and submit another permit application. The rise in denials and delays has led to recent protests in Gaza on the part of female cancer patients, who claim that restrictions on their access to treatment in Israel and the West Bank amounts to a "premeditated death sentence." [12] (See Case Study). Approval rates for patients' companions have also declined steadily to the lowest levels monitored by WHO, from 83 per cent in 2012 to under 35 per cent in December 2016.[13]
Deterioration in access of humanitarian staff to and from Gaza
Israeli restrictions on the entry of national staff of aid organizations to and from Gaza also intensified, with the rate of permit denial for Gaza ID holders increasing, on average, from four per cent in 2015 to 34 per cent in 2016.[14] The average time for processing permit applications increased from 21 days in 2015 to 26 in 2016. By year's end, at least 28 UN national staff based in Gaza, had been prohibited from obtaining a permit for a further twelve months. Additional access obstacles include lengthy interrogations of national staff and instances of permit withdrawal, with at least eight permits of UN and INGO staff cancelled or confiscated at the Erez crossing since January 2016. Such restrictions are gradually hindering the ability of aid organizations to operate and restrict Gaza-based humanitarian and development operations by prohibiting communication, planning and programme development between West Bank and Gaza offices. Over time, current access constraints risk limiting the ability of organizations to respond to the needs of vulnerable populations and increase the costs of humanitarian and development operations.
Relative rise in the opening of the Rafah Crossing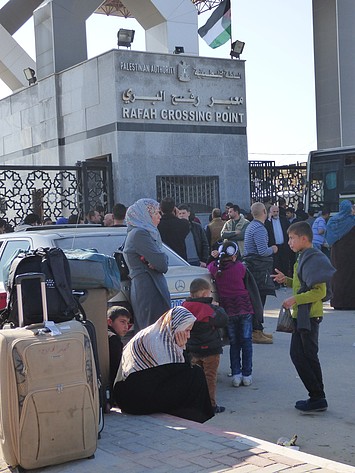 The Rafah Crossing with Egypt, which until recent years was the main crossing point used by Palestinians in Gaza given the broad restrictions on the Israeli-controlled crossings, has been largely closed including for humanitarian assistance since 24 October 2014. Rafah opened on a partial basis for 44 days in 2016 compared to 32 days in 2015. Some 42,200 crossed in both directions compared to 28,700 in 2015, an increase of 47 per cent: in 2013, the figure was approximately 300,000. Even when operational, procedures regarding the opening times and the permitted categories are unpredictable: on occasion, only pilgrims have been permitted to exit or return. In 2016, only 1,713 patients were permitted by the Egyptian authorities to travel to Egypt for health care on the 38 days it was open for patients. Prior to the 2014 closure, more than 4,000 residents from Gaza crossed to Egypt monthly for health-related reasons. Over 20,000 people, including humanitarian cases, are pre-registered to cross Rafah, according to the Palestinian authorities in Gaza.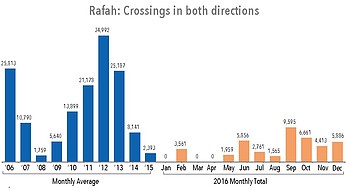 Account of a cancer patient from Gaza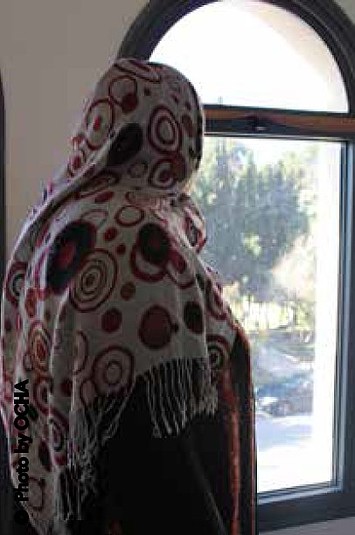 Salma [15] is a 53-year-old refugee woman from Gaza with cancer. She is a mother of 10 children. She lives with her husband, and children, including four married sons, their wives and 10 children, in a five-bedroom house. Her married sons are university graduates but are unemployed. During the 2014 Gaza hostilities, her house was partly damaged. Fearing further delays in getting a permit, Salma refrained from applying for a permit for her husband to accompany her. The following is her account of being a cancer patient from Gaza:
"In 2013 I was diagnosed with chronic lymphocytic leukemia. This was the beginning of a long, painful and expensive journey. The tumor started with the neck but spread to the armpits. For further investigation and because of shortages in medical equipment and drugs in Gaza, as well as the difficulties of getting permits to cross via Erez, the doctor referred me to Egypt. Crossing to Egypt was physically, psychologically and economically exhausting, and at times dangerous. At the crossing there are no concessions for cancer patients. You are never sure whether you'll be allowed to cross. The road to Cairo is dangerous with all the security tensions in the Sinai. Egyptian taxi drivers also take advantage of our condition and charge us more. While receiving treatment in Cairo, I contracted hepatitis C. The doctors there did not inform me and I only learned that I had it a few months later when I was back in Gaza.
Last May (2016), I was put on chemotherapy as new cancerous tumors were found in my stomach and hips. The course of treatment ran for seven sessions that had to be completed without interruption every 21 days. I only managed two because the drugs were not sent from Ramallah to Gaza. I waited more than two months and then my doctor referred me to the Augusta Victoria hospital in East Jerusalem. Twice I missed my appointment because I lacked a permit. All I heard from the [Israeli] authorities was that the permit application was being processed. About five months after I first applied, and only after referring my case to human rights organizations and protesting, did I finally get a permit to leave Gaza. A day before coming to Jerusalem, I learned that the cancer has spread to the thyroid.
The repeated closure of Erez and Rafah sentences cancer patients to death. It's a slow death. We are humanitarian cases. We demand our right to be treated.... We just want to be treated and go home. We are not dangerous or a threat to anyone's security. We should have an open permit to avoid all the difficulties. The permit they give us is valid for one day only. If we encounter a checkpoint in Jerusalem, they send us back to Erez. A one-day permit is not enough." Salma, Augusta Victoria Hospital, East Jerusalem.
---
[6] See for example: State response in High Court petition of behalf of four women students who wanted to travel from Gaza to the West Bank to complete their Master's degrees (HCJ 495/12 Azat v. Minister of Defense). For further examples of official statements about the "separation policy," see, Gisha, "Separating Land, Separating People", June 2015.
[7] These figures reflect the number of "exits" from Gaza, not people, with those granted permits allowed to make multiple exits during the validity period of the permit.
[8] The decline followed a new policy introduced in June 2016 that largely limited residents of Gaza to four permits of one month duration per year (with a minority of residents entitled to apply for three-month permits), in contrast to the previous practice of unlimited permit applications of up to three months. In December, the limitation of four permits per year was replaced with an unlimited number of permits, provided the total travel time does not exceed 120 days per year
[9] In August, the Gaza Ministry of Civil Affairs reported that since March, 1,545 of an estimated 3,200 to 3,500 businesspeople had had their permits cancelled or not renewed. See 'Decline in the number of Palestinians leaving Gaza', OCHA Humanitarian Bulletin, August 2016.
[10] The quota for this category was increased in early 2015 from 250 to 450 as part of the post-2014 easing measures, but the Gaza Ministry of Civil Affairs reported in August that, some 150 BMG permits have been cancelled since March 2016. Ibid.
[11] World Health Organization, "Health Access for Referral Patients from the Gaza Strip", December 2016. December, with 41.7 per cent approved, represented the lowest approval rates recorded by WHO since April 2009. About 22 per cent of patient applications in December were repeat applications by patients to cross Erez.
[12] "Gaza Cancer Patients: Israel's refusal to let us in for treatment is a death sentence," Ha'aretz, 7 January 2017. According to the Israeli intelligence service, ' there have been a number of recent cases in which terror organizations cynically took advantage of patients seeking medical treatment outside of Gaza, were given entry permits to Israel and in whose possessions we found utensils and money designed for use in terror attacks. Therefore, the requests that we receive from Gaza for entry permits into Israel are thoroughly vetted before any such permit is issued.' 'Gaza Cancer Patients: Israel's refusal to let us in for treatment is a death sentence.'
[13] World Health Organization, "Health Access for Referral Patients from the Gaza Strip", November 2016. Only one first-degree relative is permitted to accompany a patient and permits are conditional on security clearance for all patient accompaniers under the age of 55. When a companion is rejected and patients have to find an alternative companion, the security process can take up to three weeks.
[14] See 'Serious deterioration in access of Humanitarian staff to and from Gaza', OCHA Humanitarian Bulletin, November 2016.
[15] Patient's real name was changed.