Over 100 Palestinian injuries reported in Gaza during continuing demonstrations along the fence with Israel
The 'Great March of Return' demonstrations along Israel's perimeter fence with Gaza took place again today, with the number of demonstrators estimated at around 5,000, similar to the previous week. As of 20:30, Israeli forces have injured 109 demonstrators, of whom 54 were transferred to hospitals, including 23 due to live ammunition injuries, according to the Ministry of Health (MoH) in Gaza. For cumulative casualty figures and breakdowns, see the OCHA Snapshot.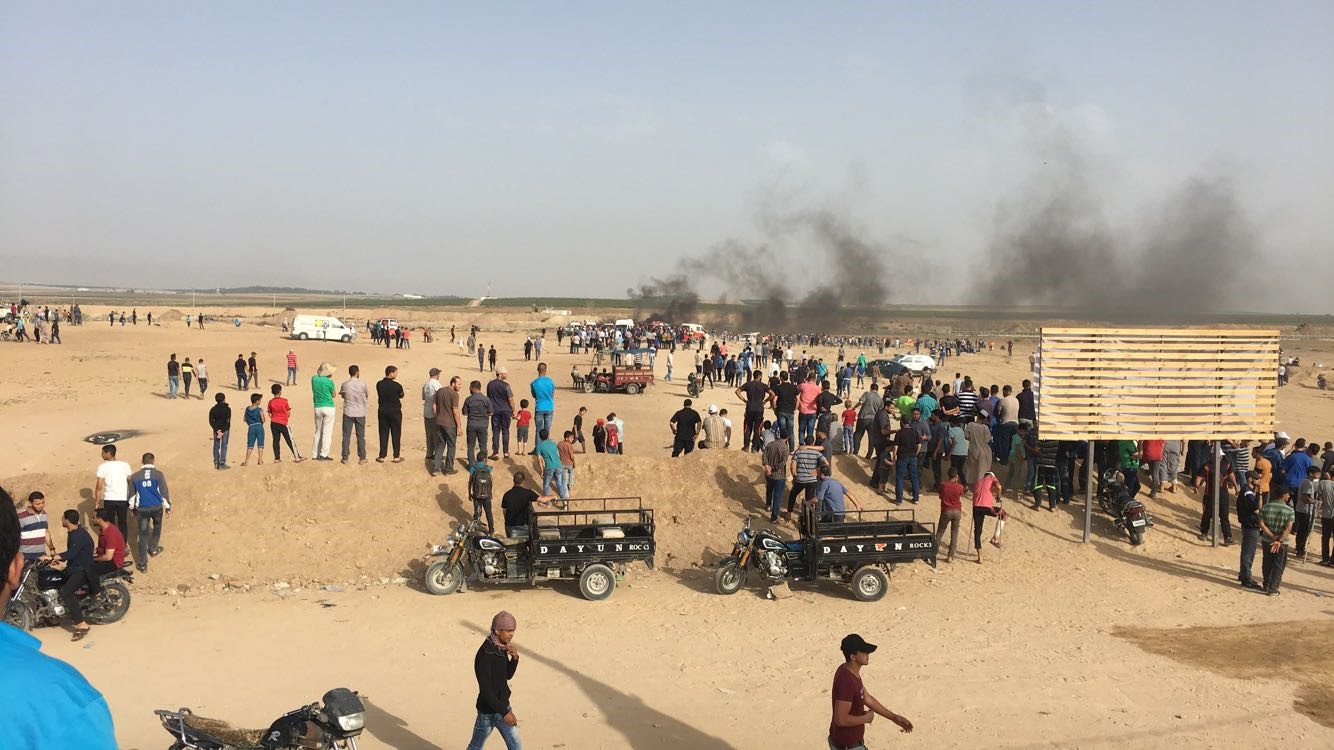 As in previous weeks, hundreds of demonstrators marched towards the perimeter fence and threw rocks and other objects at Israeli forces, and flew kites with flammable materials towards Israel; according to media reports, the latter caused a number of fires inside Israel. It was also reported that some protesters removed parts of the barbed wired fences set up by Israeli forces dozens of meters on the Gaza side of the fence.
On 23 May, following a visit to a hospital and a rehabilitation center in Gaza, UNRWA's Commissioner-General Pierre Krähenbühl, highlighted the ramifications of recent events:
"I truly believe that much of the world completely underestimates the extent of the disaster in human terms that occurred in the Gaza Strip since the marches began on 30 March […] As many people or even slightly more were injured during a total of 7 days of protests than were injured during the full duration of the 2014 conflict. That is truly staggering. During the visits, I was also struck not only by the number of injured but also by the nature of the injuries [...] The pattern of small entry wounds and large exit wounds, indicates ammunition used caused severe damage to internal organs, muscle tissue and bones. Both the staff of the MoH hospitals, NGOs and UNRWA clinics are struggling to deal with extremely complex wounds and care."
The Health Cluster has indicated that despite recent allocations, some US$1.2 million is still needed immediately for drugs and disposables to respond to the casualties, while another $3.9 million is needed to cover medical supply needs and emergency medical teams.
During the past week, the operation of the Kerem Shalom crossing with Israel returned to nearly the same levels as recorded prior to the damage it sustained over the course of demonstrations on 11 and 14 May, including entry of fuel and aid supplies. The Rafah Crossing is expected to remain open through the entire month of Ramadan (which started on 17 May), allowing for the movement of passengers, including wounded people, as well as goods.
The protests are expected to continue up to 5 June, which marks Israel's 1967 occupation of the West Bank and Gaza Strip. Barring a significant increase in casualties or another major development, this will be the last Flash Update in this series.
Disclaimer: Data and analysis provided in this Flash Update is based on preliminary information available. Further assessments are pending.