Multiple Palestinian casualties during demonstrations at the perimeter fence surrounding the Gaza Strip
Flash update
As of 22:00 today, 30 March, 15 Palestinians were killed and 1,416 were injured by Israeli forces in the Gaza Strip, according to the Ministry of Health (MoH) in Gaza. Of all injuries, approximately 750 were hit by live ammunition, including twenty, who are reported to be in a critical condition.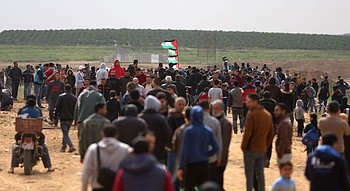 Medical facilities in Gaza, which have already been overstrained by the longstanding shortages of medical supplies, electricity and fuel, are struggling to cope with the overwhelming number of casualties. The MoH has requested support from the international community, including humanitarian organizations through the Health Cluster. The MoH has also reported shortages of essential medical supplies, including emergency and anesthesia drugs and disposables, in addition to essential laboratory materials. The Health cluster is monitoring the situation and providing support, in coordination with all health partners. The Israeli-controlled Gaza crossings are closed until Sunday, 8 April, due to the Passover holiday, except for urgent humanitarian cases.
The casualties occurred in the context of mass demonstrations by Palestinians on the Gaza side of the perimeter fence with Israel, where the Israeli army imposes a 'No Go Zone'. Today's event, which marked the Palestinian 'Land Day', was the first in the 'March of Return', a series of mass peaceful protests leading up to the 70th anniversary of what Palestinians refer to as the 1948 'Nakba', on 15 May. The events include the establishment of tent camps in all five Gaza governorates, some 700 metres from the fence.
During today's demonstrations, some Palestinians approached the fence, threw rocks and, according to Israeli sources, also Molotov cocktails at Israeli forces. In anticipation of the protests, and following a number of recent infiltrations from Gaza into Israel, the Israeli army had significantly increased its presence in the area, including the deployment of more than a hundred snipers.
Palestinian human rights groups in Gaza have expressed concerns over possible excessive use of armed force by Israeli forces, citing the high number of casualties among unarmed demonstrators. According to the Israeli authorities, two of the Palestinian fatalities were in response to shooting at the Israeli army, and one overnight, while conducting suspect activities near the fence. No Israeli casualties were reported. Damage to parts of the perimeter fence and to a number of surveillance facilities fixed on or near the fence have been reported.
The Government of the State of Palestine has announced a state of mourning tomorrow, Saturday, when all government offices, schools, universities will close.
Disclaimer: Data and analysis provided in this Flash Update is based on preliminary information available. Further assessments are pending.