Posted on
16 November 2018
More casualties sustained during the 'Great March of Return' in Gaza
This article was written by the Office of the High Commissioner for Human Rights with contributions by Protection Cluster partners
While participating in a demonstration near the Gaza fence with Israel on 6 April 2018, a university student in his mid-twenties was shot and injured in his left hip by Israeli forces. He was standing about 30-40 metres from the barbed wire fence inside Gaza territory and burning a tyre with other demonstrators.
"It was my first time at a demonstration; I did not feel any danger as I was inside Gaza. I heard no warnings addressed to us by the Israeli soldiers, but suddenly I fell on the ground and started bleeding", he said.
Hospitalized in Gaza, his condition turned out to be so serious that his left leg was later amputated.
The student remained in intensive care in a critical condition and suffered from post-operative complications, including a severe infection. As a result, he was referred for medical treatment to a West Bank hospital and applied for a permit from Israel to leave Gaza, as is required. Due to a delay by the Israeli authorities in approving his permit request, he was unable to leave Gaza on time for his medical appointment. Following a legal intervention by Al Mezan Center for Human Rights [1], the Israeli authorities approved the exit request. After receiving initial treatment in the West Bank, he returned to Gaza with a long road ahead to recovery. Another appointment to fit an artificial limb and receive rehabilitation was set for early October at a West Bank medical centre. Again, the student was unable to leave Gaza for treatment due to delays by the Israeli authorities in approving his exit request, which is still pending.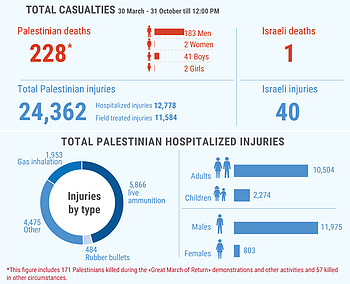 As reported by the World Health Organization (WHO), up to 21 October 2018, 86 amputations had taken place in Gaza on people injured during demonstrations, including 15 children.[2] Initial screening indicates that approximately 1,200 patients will require long-term limb reconstruction that can involve up to seven surgeries and extensive rehabilitation and treatment for up to two years.[3] Many services are unavailable in Gaza as the health care system is already overstretched and unable to cope with the massive influx of trauma casualties; elective surgeries have been postponed and trauma patients are discharged early.
By the end of October, only 74 of 335 exit permit applications (22 per cent) had been approved by the Israeli authorities for Palestinians injured during the 'Great March of Return' demonstrations and requiring medical treatment outside Gaza, paid for by the Palestinian Authority.[4]
Meanwhile, the university student is trying to cope with his new condition: "It is hard to recover from such an experience, both physically and emotionally", he explained.
The Gaza Community Mental Health Programme is supporting him with mental health and psychosocial support (MHPSS). The programme has identified high levels of trauma, depression and anxiety in injured demonstrators and their families, many of whom are unable to afford medicines for their injuries.
Other Protection Cluster partners specialized in Child Protection and MPHSS have provided initial psychological first aid to at least 7,124 injured people and their families, including at least 2,084 children. More specialized MHPSS services were provided to 949 of these people, including 461 children, and case management services to 291 injured children. The response is well below needs as over 52,000 people, including more than 26,000 children, are estimated to require MHPSS as a result of the violence experienced at the fence.
Since the start of the 'Great March of Return' demonstrations on 30 March 2018 and up to the end of October, 171 Palestinians have been killed, including 33 children, during the demonstrations. A further 57 people, including 10 children, were killed in other contexts, including Palestinian attacks, Israeli airstrikes and infiltration attempts into Israel, according to information collected by OCHA. One Israeli soldier was killed by a Palestinian sniper. A total of 24,362 Palestinians have been injured, of whom nearly a quarter are children, including 5,866 people (24 per cent) hospitalized due to live ammunition injuries. A total of 40 Israelis have been injured.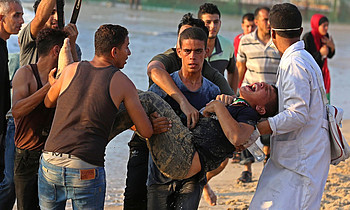 According to WHO,[5] by 6 October 2018, three health workers had been killed and 462 injured in 270 recorded incidents against health staff and facilities; 75 ambulances, five other health service vehicles and two health facilities were also damaged.[6]
Protection Cluster partners have repeatedly indicated that under international law, all Palestinians, including children, have the right to freedom of expression and demonstration. The Israeli and Palestinian authorities are required to respect, protect and fulfil freedom of assembly and expression for all Palestinians.[7]
Israeli sources have indicated that demonstrations along the fence during September and October became more violent, with increased throwing of Molotov cocktails and homemade grenades, the launching of incendiary kites and balloons,[8] and attempts to breach the fence by Palestinian demonstrators.
Even when taking the reported rise in Palestinian violence into consideration, concerns remain about the excessive use of force, including lethal force, by Israeli forces during the demonstrations.
The killing of children in the demonstrations along the fence is of particular concern. Humanitarian agencies in the oPt have called on all actors to ensure that children are never the target of violence, and must not be put at risk of violence or encouraged to participate in violence.[9]
In accordance with international norms,[10] Israeli forces policing the Gaza fence must use only necessary and proportionate means to discharge their duties. Exceptionally, they may resort to lethal force in cases of extreme necessity, as a last resort in response to an imminent threat of death or risk of serious injury. All allegations of possible violations of international human rights and humanitarian law must be duly and promptly investigated and the perpetrators held to account. Civil remedies, including financial compensation, are also clearly established under international law.[11]
According to media reports,[12] the Israeli military advocate general has ordered the opening of criminal investigations into the killing of three Palestinians by Israeli forces during the Gaza demonstrations: a man shot in the back on 30 March, a 21-year-old female health volunteer killed on 1 June, and a 15-year-old boy killed on 13 July. All investigations are ongoing.
---
[1] Al Mezan Center for Human Rights and the Palestinian Centre for Human Rights provided legal aid services to least 29 injured demonstrators requiring an exit permit for medical treatment outside Gaza, of which seven applications were successful.
[2] WHO, Situation Report, oPt, 7-20 October 2018.
[3] Information provided by WHO.
[4] Information provided by WHO.
[5] WHO, Situation Report, oPt, 7-20 October 2018, page 5.
[6] Ibid, page 5. A specialized health centre for people with disabilities and the Ministry of Health central ambulance station were damaged as a result of an Israeli air strike on 14 July.
[7] International Covenant on Civil and Political Rights (ICCPR) Articles 19 and 21, and the Convention on the Rights of the Child (CRC) Articles 13-15.
[8] According to the Israeli authorities, incendiary kites and balloons launched from Gaza since late April have caused over 1,500 fires on cultivated land and nature reserves, but have not resulted in any Israeli casualties.
[9] See for example: Statement by the Humanitarian Coordinator in the oPt, 29 September 2018. Also: Joint press statement from the Humanitarian Coordinator in the oPt, the Head of OHCHR in oPt and the UNICEF Special Representative in State of Palestine, 1 August 2018.
[10] Code of Conduct for Law Enforcement Officials Articles 2-3 and Basic Principles on the Use of Force and Firearms by Law Enforcement Officials, Principles 5, 9 and 13-14.
[11] ICCPR Articles 2,14,26, and Basic Principles and Guidelines on the Right to a Remedy and Reparation for Victims of Gross Violations of International Human Rights Law and Serious Violations of International Humanitarian Law.
[12] Y. Kubovich, "Israeli military opens criminal probe", Ha'aretz, 21 August 2018; Y. Kubovich, "Israeli army opens criminal investigation into killing of Gaza paramedic", Ha'aretz, 29 October 2018.