Posted on
9 February 2016
Monthly Overview: January 2016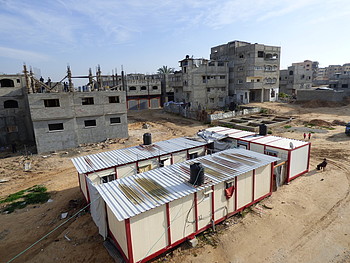 "Security measures alone will not stop violence" – UN Secretary General
The impact of the 2014 Gaza-Israel hostilities continues into 2016; more than 16,000 families (approximately 90,000 individuals) in Gaza remain displaced due to their homes being destroyed or severely damaged. Despite progress in repairing some 160,000 homes that suffered minor to major damage, reconstruction has been at a slow pace. By the end of January 2016, only 15 per cent of displaced families had been able to return to repaired or reconstructed homes. Work is ongoing to an additional 2,000 homes, but the reconstruction or repair of the homes of 74 per cent of displaced families is yet to start.
In his monthly briefing to the Security Council, the UN Secretary-General Ban Ki-moon warned that: "The humanitarian situation in Gaza remains perilous ... chronic security and governance challenges and funding shortages have slowed the pace of reconstruction .... [which] cannot be accomplished without critical support from donors."
To meet humanitarian needs throughout the occupied Palestinian territory (oPt), the 2016 Humanitarian Response Plan (HRP) is to be launched in February and includes 206 projects worth US$571 million. At least 65 per cent of the project requirements are for Gaza.
In the West Bank, Palestinian attacks against Israeli forces and settlers have continued. In January 2016, these resulted in the killing of two Israeli women and 14 Palestinian perpetrators or suspected perpetrators, including one girl and five boys. The frequency and intensity of protests and clashes with Israeli forces declined sharply during the month, leading to 530 injuries (no deaths) compared with a monthly average of nine deaths and over 4,000 injuries in the previous three months.
A rapid survey conducted by OCHA during the last week of 2015 found that since October 2015, Israeli security forces had deployed 91 new obstacles (checkpoints, roadblocks, earth mounds, etc.) on West Bank roads to restrict Palestinian vehicular movement, with the stated aim of preventing attacks. Nearly 60 per cent of the obstacles were in Hebron governorate, although the restrictions were eased slightly in January 2016.
West Bank tensions are reflected in a sharp rise in the number of Palestinian children in detention. At the end of 2015, 428 children were in the Israeli prison system, the highest number since March 2009, including six teenagers under administrative detention without charge or trial. Affidavits collected by Defense for Children International-Palestine from hundreds of Palestinian children over a three-year-period indicate that three-quarters of them endured some form of physical violence following arrest.
During January the Israeli authorities intensified the destruction and confiscation of Palestinian properties in Area C and East Jerusalem on the grounds of lack of building permits. The properties targeted included items provided as humanitarian assistance to Palestinian Bedouin communities in the Jerusalem area who are at risk of forcible transfer.
In his Security Council briefing, the UN Secretary-General noted that: "Sadly, 2016 has begun much like 2015 ended – with unacceptable levels of violence and a polarized public discourse across the spectrum in Israel and the occupied Palestinian territory." While condemning "Stabbings, vehicle attacks, and shootings by Palestinians targeting Israeli civilians", Ban Ki-moon declared that: "Security measures alone will not stop the violence. They cannot address the profound sense of alienation and despair driving some Palestinians – especially young people. ... Palestinian frustration is growing under the weight of a half century of occupation and the paralysis of the peace process. ... So-called facts on the ground in the occupied West Bank are steadily chipping away the viability of a Palestinian state and the ability of Palestinian people to live in dignity." He appealed to the international community to help "Palestinians and Israelis to rebuild trust and achieve an enduring peace before it is too late".