Israeli occupation is the main trigger of humanitarian needs among Palestinians in the occupied Palestinian territory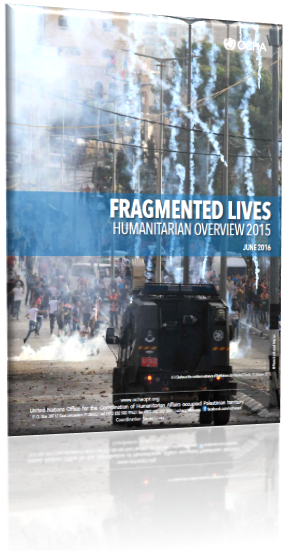 Humanitarian needs in the occupied Palestinian territory (oPt) continue to be driven by practices related to Israel's prolonged occupation and continued conflict, the UN Office for the Coordination of Humanitarian Affairs (OCHA) says in its 2015 Annual Humanitarian Overview, "Fragmented Lives," released today.
"This month, Palestinians enter their 50th year under Israeli occupation," said David Carden, Head of OCHA in the oPt. "'Fragmented Lives' shows clearly the devastating impact of this ongoing situation, mainly on 4.8 million Palestinians who are increasingly vulnerable due to violations of international humanitarian and human rights law."
According to the new report, fatalities and injuries among West Bank Palestinians by Israeli forces were the highest since OCHA began recording such figures in 2005, as were such casualties among Israelis from attacks by West Bank Palestinians. Among the main concerns in 2015 were the attacks on Israelis and the response of Israeli forces, including issues related to excessive use of force. In Gaza, the August 2014 ceasefire has largely held, as reflected in the relatively low number of fatalities, although casualties also rose in the final quarter of the year, alongside the deterioration seen in the West Bank.
While the number of Israeli settler attacks against Palestinians in the West Bank decreased in 2015, the number of Palestinian-owned trees damaged, stolen or uprooted (11,254) in settler-related incidents was the highest since 2006. By the end of 2015, there were more Palestinians held in Israeli prisons (over 6,000) than any year since 2010 and more Palestinian children held (422) than since 2008.
Displacement also remained a prominent concern. While no new displacement occurred in the Gaza Strip, at least 70,000 Palestinians remain displaced and facing difficult living conditions, following the destruction of their homes during the 2014 escalation of hostilities. In the West Bank, displacement due to home demolitions decreased in 2015, but then rose dramatically in the first four months of 2016, with more structures demolished and more Palestinians displaced then than in all of 2015 (598 vs. 548 structures demolished; 858 vs. 787 people displaced, respectively). These demolitions exacerbate the risk of forcible transfer facing Palestinian communities.
The report indicates that positive increases in the numbers of people and goods allowed out of the Gaza Strip by Israel in 2015 have continued into 2016, but that its nine-year long blockade continues to undermine livelihoods and prevent the realization of a broad range of human rights. Egypt's closure of the Rafah crossing and the unresolved internal Palestinian political divide continue to exacerbate the humanitarian situation there.
Alongside these trends are increasing restrictions on humanitarian interventions. "Throughout the oPt, humanitarian actors are facing more and more difficulty in giving aid to Palestinians in need," said Mr. Carden. "Humanitarian assistance in Area C, for example, is increasingly obstructed or destroyed by the Israeli authorities, while access to Gaza continues to be impeded by permit requirements."
"We need a fundamental shift in the approach to the oPt," he concluded, "particularly far greater respect for international law and concrete efforts towards accountability for those who violate it."