Posted on
11 November 2016
The impact of the internal divide on municipal services in the Gaza Strip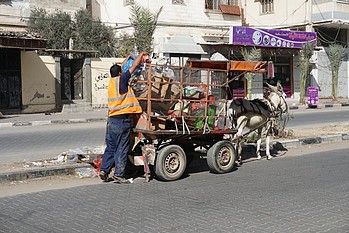 The ten-year-long political dispute between Hamas in the Gaza Strip and the Palestinian Authority in the West Bank, along with the Israeli-imposed blockade and repeated outbreaks of hostilities, continue to severely disrupt the provision of basic services in Gaza, including those provided by Gaza's 25 municipalities. These municipalities face profound challenges in meeting their responsibilities to a population approaching two million, crammed into one of the most densely populated and confined areas in the world.
Municipalities are mandated to provide 27 direct, regulatory and supervisory functions, including the provision and management of basic services in the fields of public hygiene, infrastructure maintenance and environment, and at times of natural or man-made disasters.[11] Prior to 2007, municipalities were largely able to finance these services from local revenues, including building permits, household waste, water and sanitation charges, parking fees, and market and slaughterhouse licences.
Over the past ten years, municipal revenues have steadily declined and debts have risen dramatically due to the impact of the Israeli blockade, non-payment for services and the lack of effective cooperation between the authorities in Gaza and the West Bank. Municipal performance has been undermined further by limited international funding due to political considerations, including counter-terrorism legislation. The limited services provided by municipalities, especially water, sanitation and road maintenance, are funded by the Municipal Development and Lending Fund (MDLF).[12] Last year, for example, the MDLF allocated 20 million euros; a further US$22 million were also provided to alleviate municipal losses of an estimated $58.6 million resulting from the 2014 hostilities.
The political divide has severely delayed the payment of staff salaries and resulted in a hiring freeze which has critically undermined the performance of municipalities. Around 4,400 staff are employed by the municipalities, around half of them by the municipality of Gaza City, which alone provides services to over one third of the Gaza population. Staff in most municipalities have not been paid their salaries for seven to eight months, nor have their pension and health insurance payments been made. Staff salaries account for approximately 60-80 per cent of municipal budgets. In recent years, municipalities have used the limited revenues to partially pay staff salaries and to subsidize some services. Municipalities have been unable to hire around 120 new staff who are mostly needed for urban planning, GIS and information management.
In the Ministry of Local Government (MoLG) which regulates the functioning of the municipalities, 62 of the 119 staff members have not received regular salaries since April 2014. Of these, 50 were recruited by the Gaza de facto authorities between July 2007 and August 2014 and another 12 were appointed by the Palestinian Authority in Ramallah, but their salaries were cut. Another 14 staff continue to receive regular salaries from Ramallah but have not worked since 2007.
The work of the winter weather emergency committee, chaired by the MoLG, has been undermined by limited resources and a lack of executive powers caused by the political divide. This is particularly challenging in times of crisis such as potential winter weatherrelated emergencies.
As a result of this scenario, municipal water and sanitation networks have not been adequately upgraded or maintained. Thousands of households in Wadi Gaza, Wadi El Salqa, Al Mughraqa, Abassan, Al Musader, Al Zanna, Bani Suaila, Al Qarara, Al Shouka, East El Maghazi and Al Buraij are not connected to public sewage networks and families are forced to create in-house cesspits which can be unsafe. The municipalities in these areas face extreme difficulty in helping families to empty the cesspits due to the lack of sewage utility vehicles. This situation poses significant public health risks.
The lack of new vehicles, spare parts and fuel has forced many municipalities to resort to employing donkey carts to support the collection of approximately 1,750 tons of solid waste produced in Gaza daily. Some municipalities carry out emergency repairs but not systematic maintenance, and scores of essential infrastructural development projects have not been implemented. Any function that requires an investment budget is dependent on external funding, which is difficult for municipalities to secure due to counter-terrorism restrictions. Since 2013, municipalities have been receiving between 100,000 - 150,000 litre of emergency fuel per month from the UN (coordinated by OCHA) to ensure timely removal of solid waste.
Gaza municipalities need a multi-dimensional programme of support if they are to continue to provide first-line services, including during emergencies, and to maintain, restore and improve services that have borne the brunt of the long years of disinvestment and conflict. For this to happen, political disagreements must be resolved and access secured to essential resources, including those restricted under Israeli policies.
---
[11] As set out in the Local Councils Law of 1997, these functions include water supplies, sanitation, solid waste collection, road maintenance and street lighting, in addition to public health monitoring to prevent epidemics, and emergency responses to natural or man-made disasters.
[12] MDLF set up in 2005 by the Council of Ministers Decree No. 32/36/09 "as an autonomous juridical entity to accelerate Palestine's drive toward self-sustained, decentralized, prosperous, and creditworthy local government." MDLF receives funding from the PA and international donors.